Swan Lake, Royal Opera House, London, review: A high stakes new production pays off
A new Swan Lake is a once-in-a-generation thing – and Liam Scarlett's starry and spectacular staging proves suitably grand 
Zo Anderson Comments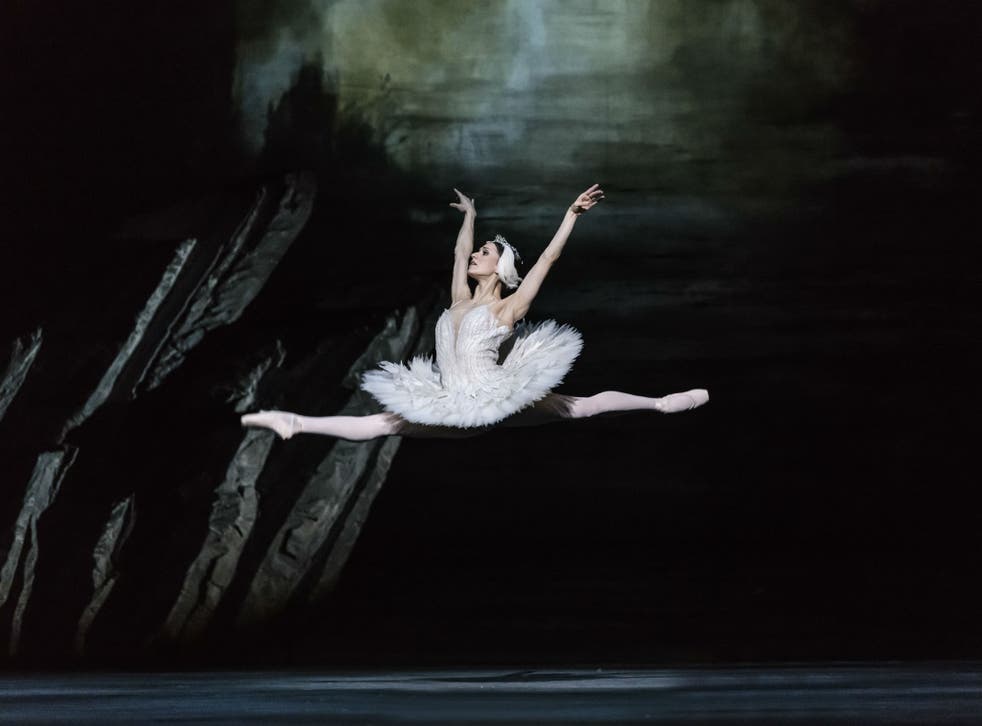 The Royal Ballet's new Swan Lake is handsome, very grand and danced to the hilt. From glittering court acts to the misty romantic lakeside, it balances spectacle, storytelling and powerful dancing from the entire company, with Marianela Nuñez and Vadim Muntagirov on glorious form in the leading roles.
A new Swan Lake is a huge undertaking. The major classics are a central part of The Royal Ballet's identity, while the scale and expense of a new production mean it is expected to last a generation, framing dozens of different interpretations of the leading roles. The Royal Shakespeare Company will have another Hamlet every few years; the last Royal Swan Lake was created in 1987.
You can see the high stakes in the way the company has thrown everything behind Liam Scarlett's new staging, from high production values to astonishingly starry casting. It's not often you see Matthew Ball and Marcelino Sambé among the courtiers of a crowd scene, but there they were.
It's paid off. There's a confidence about the performance that sweeps the evening forward, a shared conviction in the dancing, supported and framed by John Macfarlane's magnificent new designs. Scarlett and Macfarlane follow Anthony Dowell's 1987 production by setting the ballet in the 1890s. The prince's birthday celebrations are held on a lawn framed by cedars, a landscape that melts away to reveal act II's lakeside, all inky shadows and a Turner moon – although David Finn's lighting keeps everything visible.
Macfarlane's setting for the act III court ball is a marvel of gilding, marble and painted ceilings, with proportions that keep it airy rather than heavy. His costumes have sculptural weight while moving beautifully, with the swans in delicate high tutus. The corps de ballet's dancing combines poignant swan softness with attack and thrilling speed.
Scarlett was a controversial choice, a choreographer whose narrative ballets have often been messy. He's firmly on traditional ground here, preserving the ballet's Petipa and Ivanov setpieces – the act I pas de trois, the act II swan scenes, the Black Swan pas de deux – and following their style in his new dances.
There's some cautious tinkering. The villain Von Rothbart now appears in a new prologue and as a sinister presence in act I, without really increasing his impact in the story. The pas de trois dancers – scintillating Alexander Campbell, Francesca Hayward and Akane Takada – also have expanded roles. Scarlett's choreography for act IV is weaker, lacking the scale and fluidity of the Ivanov version. I'm curious to see how that beds down over time, but on opening night the the production's romantic, lyrical mood never faltered.
A great Swan Lake must give its stars room to shine. Scarlett's delivers in spades. Nuñez's dancing is rich as cream, with long, floating phrasing in the white acts and seductive dazzle as the Black Swan alter ego. Muntagirov, most princely of princes, combines virtuoso splendour with aristocratic grace. Together, they create a human tenderness at the heart of this opulent new production.
Until 21 June (roh.org.uk)
Register for free to continue reading
Registration is a free and easy way to support our truly independent journalism
By registering, you will also enjoy limited access to Premium articles, exclusive newsletters, commenting, and virtual events with our leading journalists
Already have an account? sign in
Join our new commenting forum
Join thought-provoking conversations, follow other Independent readers and see their replies