Symphonic Dances, The Royal Ballet, Royal Opera House, London, review: The choreography is full of activity but lacks weight
The Royal Ballet's young Artist in Residence Liam Scarlett creates a new one-act ballet set to music by Rachmaninoff which fails to impress 
Zo Anderson
Thursday 25 May 2017 10:18 Comments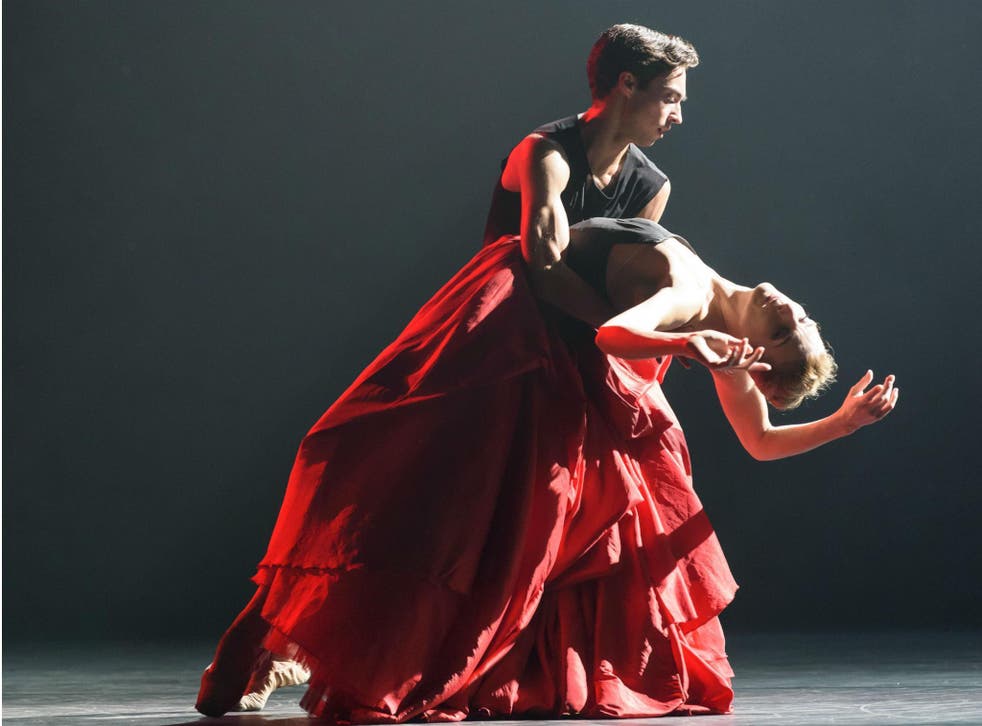 The Royal Ballet's latest mixed bill starts with two showstoppers, then wanders into aimlessness. Worse, it's the company's own new and recent commissions that bog it down.
There's a lot riding on Liam Scarlett's new Symphonic Dances. This young choreographer has had a meteoric rise within The Royal Ballet and beyond; he will also be staging the company's next Swan Lake. Yet his narrative works have been messy and derivative, particularly the high-profile Frankenstein. Symphonic Dances, set to music by Rachmaninoff, is a return to plotless works, and a celebration of Zenaida Yanowsky, who retires from the company at the end of this season.
Symphonic Dances understands that Yanowsky is magnificent, but doesn't quite know what to do with this knowledge. Tall and commanding, she sweeps forward to a rush of music, swirling crimson skirts about her. Or she stands statuesquely about while other dancers scurry around her.
Scarlett and his designer, Jon Morrell, dress their large cast in shade-dyed black and red. In one scene, the men of the company appear in flowing skirts, while Yanowsky changes into a suit jacket. A video screen looms overhead.
The choreography is full of activity but lacks weight. The duets have so many lifts that they lose all impact, women endlessly lifted upside down and waved about. The Rachmaninoff storms on, but Scarlett doesn't find a way to shape and harness it. The dancers are impressive, particularly Yanowsky, Marcelino Sambé and Reece Clark.
Christopher Wheeldon's 2016 Strapless is about a 19th century art world scandal: the painter John Singer Sargent's portrait of Amélie Gautreau, with one shoulder strap slipped down, shocked Paris. Wheeldon has made small revisions, but the ballet seems saggier than ever. His story is full of waved paintbrushes and pointing fingers, but even this superb cast can't show us why it matters. Natalia Osipova, one of the most exciting dancers in the world, has a long solo while waiting for the portrait to be unveiled; I was shocked to find myself wishing they'd get on with it.
The evening opens with William Forsythe's The Vertiginous Thrill of Exactitude, a superfast sprint through formal classical steps. The Royal Ballet cast is individually strong but doesn't quite gel. Marianela Nunez is wonderfully stylish, finding expansive moments at the highest speeds.
The joy of the night comes from George Balanchine's Tarantella. Sambé and Francesca Hayward dance this party piece with enchanting warmth and naughtiness: pure delight.
Register for free to continue reading
Registration is a free and easy way to support our truly independent journalism
By registering, you will also enjoy limited access to Premium articles, exclusive newsletters, commenting, and virtual events with our leading journalists
Already have an account? sign in
Join our new commenting forum
Join thought-provoking conversations, follow other Independent readers and see their replies