Tango Fire, The Peacock, London: A stripped-down spectacular
In a crowded field, German Cornejo's troupe is one of the most popular touring tango companies
Wednesday 30 January 2019 12:51 Comments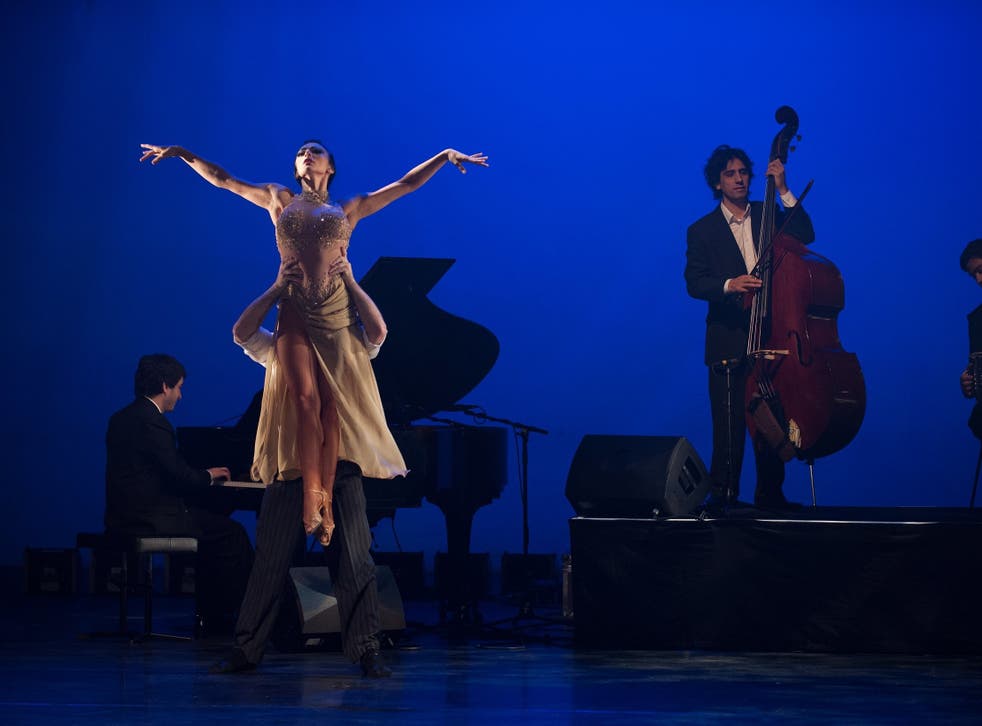 Tango Fire is a feast of tango. Led by choreographer and Argentine tango champion German Cornejo and his partner Gisela Galeassi, it's a stripped-down spectacular: six couples, musicians Quarteto Fuego playing live on stage, and a parade of seductive show dances.
In a crowded field, Cornejo's troupe is one of the most popular touring tango companies: this is Tango Fire's seventh London season, due to popular demand. It's easy to see why. Feet flash so fast your eye can barely keep up, legs flicking and intertwining with intricate, teasing speed. Dancers dip into deep backbends and deeper lunges, wind around each other, clash or melt.
Cornejo's production feels both luxurious and no-frills. The clothes are glamorous, the stage bare: it's all about the dancing. There are some group numbers, a hint of scene-setting, but the duets are the heart of the show. Each couple is given a chance to shine, each with their own personality. The first half suggests tango in social settings, as if the dancers were gathering at a bar, trying out steps and flirting. The second ramps up the performance: more lifts, more acrobatics.
Cornejo and Galeassi combine silken line with phenomenally strong partnering. They're tango all-rounders: the high-speed footwork never becomes hectic, and they share a powerful onstage glamour. When it comes to the lifts, Cornejo whirls Galeassi as if she were a lasso, her body swinging and curling in the air, both daring and utterly at ease.
I loved Ezequiel Lopez and Camila Alegre, who combine tight, sharp footwork with a voluptuous breadth of movement. In an evening of show tango, they find a particular intimacy – they're the closest to the spontaneous, improvised quality of social dance. Even their most theatrical numbers have a sense of give and take, shared breath and grand display.
The best theatre of 2018

Show all 10
Julio Jose Seffino and Carla Dominguez have a distinctive sense of momentum: steps seem to have the unstoppable swing of a pendulum, until they snap to a halt. Sebastian Alvarez and Victoria Saudelli have an unpredictable recklessness in their acrobatic numbers, leaping into position.
Marcos Esteban Roberts and Louis Junqueira Malucelli bring an almost brittle speed to their footwork; I like them best in the shimmying steps and tiny quarter turns on the spot: her sequinned dress seems to shimmer with trembling movement. Esteban Simon and Marilu Leopardi dance with prowling grace.
The show also gives space to its musicians, the quartet of piano, violin, bandoneon and contrabass bringing attack and individuality to both traditional and more recent tango music.
Until 16 February. Box office 020 7863 8000
Register for free to continue reading
Registration is a free and easy way to support our truly independent journalism
By registering, you will also enjoy limited access to Premium articles, exclusive newsletters, commenting, and virtual events with our leading journalists
Already have an account? sign in
Join our new commenting forum
Join thought-provoking conversations, follow other Independent readers and see their replies