The Captive Queen, Sam Wanamaker Playhouse, London, review: Daringly conceived, but a touch undercooked in its execution
Barrie Rutter's swansong as artistic director of Northern Broadsides is a reimagining of John Dryden's 1675 tragedy 'Aureng-zebe'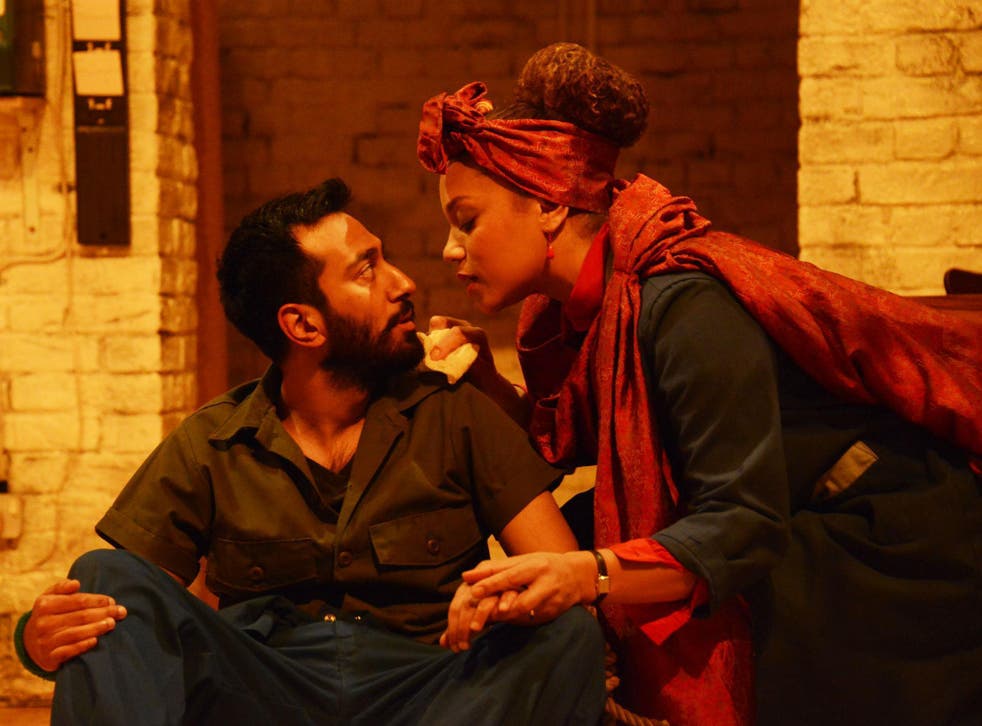 This co-production with Shakespeare's Globe is Barrie Rutter's swansong as artistic director of Northern Broadsides, the Yorkshire-based touring company which he founded in 1992. Under his vigorous leadership, this outfit has established itself as a singular force in British theatre, with its trademark style of (in Rutter's words) "northern voices, doing classical work in non-velvet spaces". It has widened the repertoire (with its ground-breaking premieres and adaptations), while beating down any perceived barriers between "them" and "us". So I wish I could say that this last hurrah is up there with his greatest achievements. But while it is daringly conceived, it feels a touch undercooked in its execution.
The Captive Queen is a reimagining of John Dryden's 1675 tragedy Aureng-zebe. Dryden's high reputation as a poet is still secure but he is best known to theatregoers these days as Purcell's librettist in works such as King Arthur. His once-acclaimed plays have long fallen from favour, as has the taste for heroic drama in rhyming couplets which was his principal mode. Rutter widens our cultural horizons by resurrecting the form in this retitled and abridged version of the last play Dryden wrote in rhyme.
Set in Agra in 1660, the piece focuses on two sons of an ageing emperor who are fighting over the succession. The old man (played by Rutter who directs) knows that he should bestow favour on the long-sufferingly loyal Aurangzeb (Naeem Hayat) and repudiate Dharmesh Patel's vicious, vaunting Morat. But he burns with a twisted lust for Indamora (Neerja Naik), the captive queen whom Aurangzeb loves. It seems that every man she meets becomes besotted by this captivating as well as captive figure (including Morat), resulting in drastic power-shifts which she resourcefully weathers.
Rutter gives a new framework to the drama by transferring the action from Mughal India to a 20th century northern woollen mill in the dying days of the trade. This shift certainly does away with all the phoney trappings of the "exotic". We watch the British-Asian workers clock in and slip into character by draping themselves in snatches of gorgeously colourful fabric over their still-visible boiler suits. Indicating military victories and reversals, vivid bolts of cloth emblazon and slip from the white brick wall at the back of Jessica Worrall's design. Incorporating the concussive clout of banged tools, Niraj Chag's beautiful music, performed by three onstage musicians, provides some evocative underscoring.
This production does not cop out by presenting the play as a send-up. Far from debunking the piece, the switch from the high-flown to the down-to-earth gives the couplets (often derided as see-sawing and windy) a tonally supple urgency and forward impetus, even if the verbose and static nature of the drama can't be fully disguised. At the same time, the production is very alert to the broad comedy in the marital ding-dongs between Rutter's testy old Emperor (more than half aware he's past it but obstinately staggering on) and Angela Griffin who is is in wonderfully funny form as Nourmahal, the Empress. She'd have been more than a match for Elsie Tanner at one end of the scale or Fiona Shaw at the other, you feel, as she morphs from rowdy battleaxe to lust-inflamed stepmother to raving tragedy queen. When she declares: "Your days I will alarm; I'll haunt your nights/And, worse than age, disable your delights...", she leaves you in little doubt about what she means.
A belatedly retiring emperor, who arouses pathos and ridicule while he havers over the succession, is a witty choice of valedictory role for Rutter and he performs it with typical panache. A pity though the framing device is underdeveloped. There's a puzzling lack of interaction here between the lives of the mill workers and characters they assume in the drama. This feels like a missed trick.
Until 4 March (shakespearesglobe.com)
Join our new commenting forum
Join thought-provoking conversations, follow other Independent readers and see their replies