The Comedy of Errors, NT Olivier, London The Heart of Robin Hood, RST, Stratford upon Avon Hamlet, Barbican, London
Dubious casting does not guarantee laughter in Shakespeare's farce of mistaken identities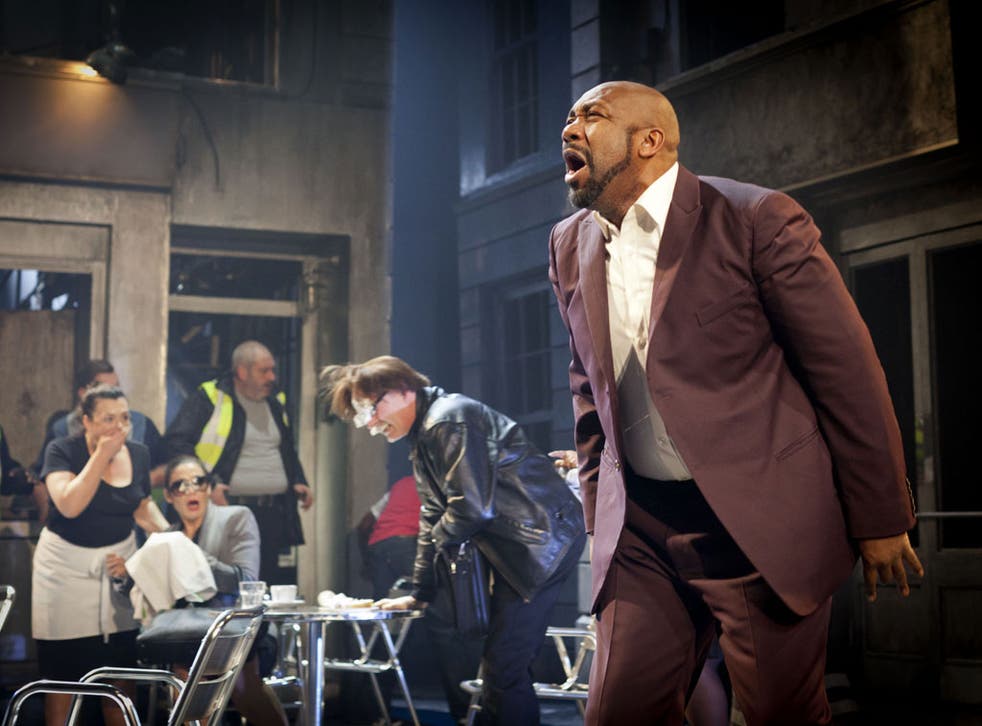 Shakespeare's Comedy of Errors is a case of multiple mistaken identities, of doubles doubled, two times two. Four long-lost twins zigzag the streets of Ephesus, farcically confusing everyone – and themselves.
Antipholus of Syracuse, new in town, is accosted by Adriana who insists she's his missus. His identical brother, Antipholus of Ephesus, is dogged by merchants demanding payment for goods not received, while the interchangeable manservants, Dromio of Ephesus and Dromio of Syracuse, produce ever more crossed wires. So, the NT's new, modern-dress Comedy of Errors is going to be exponentially hilarious, right? Uh-uh. By comparison with the National's hugely entertaining One Man, Two Guvnors (now in the West End), this is a disappointing flop, with Lenny Henry as Antipholus of Syracuse.
Director Dominic Cooke appears to have set out to plumb some gloomy depths in Shakespeare's early romp. Grey slums encircle the stage as the Duke of Ephesus's cockney Mafiosi haul in Egeon of Syracuse (the Antipholi's dad) with a sack over his head. He's an unwelcome foreigner, albeit in a society that appears multicultural. Question marks are left hanging over the happy ending too with the twins – strangers reunited – hesitating to embrace. That's quite interesting, but what about in between? Frankly, the best joke is the correction slip in the programme, pointing out that "Adriana should be listed as wife to Antipholus of Ephesus (not Syracuse). A comedy of errata. Crucially, the slapstick hasn't been finessed, with badly feigned drubbings and a chase with little sense of escalating madness. Cooke's design team strains to compensate with spinning sets, flashing lights and a gamut of ripe fart noises.
The star-casting of Henry – not a great stage actor – is also a miscalculation. Portrayed as a naïve, superstitious Nigerian in a purple business suit, his Antipholus mainly just galumphs, looking mildly surprised. Still, he and his Dromio (Lucian Msamati) are delightfully jubilant when, evading capture, they celebrate with a tongue-in-cheek, bottom-waggling and whooping tribal dance. Cooke risks being un-PC, counterbalancing with hints that white townsfolk believe in quackery too.
His director's ideas can lack clarity, not least in having the abbess, Aemelia (Pamela Nomvete), dressed as a mental-health matron. However, her reunion with Joseph Mydell's Egeon is tender beyond words – foreheads gently touching. Claudia Blakley and Michelle Terry, as Adriana and her sister, also invest bottle-blonde, nouveau-riche caricatures with heart, as they totter around in towering heels.
Our renegade hero steals from the rich and, erm, pockets the spoils in the RSC's outstanding new family show The Heart of Robin Hood, scripted by David Farr and directed by Gisli Örn Gardarsson. In this feisty variation on the folk legend, James McArdle's Robin has an elfin touch of Peter Pan. He and his "merry men", with trilling cries, whizz down ropes from an overhanging oak. They're also hoodlums, though, with bare midriffs and leather bracelets.
They stab friars and, we gather, molest ladies, until Iris Roberts's Marion teaches them a lesson. A duke's daughter who loathes her psychotic suitor – Martin Hutson's comical Prince John – Marion runs away to join Robin's gang. Only he's banned girls. So, she disguises herself as "Martin" (in moss-green doublet and hose) and starts robbing aristos to give to the poor – aided by the gargantuan court fool, Pierre (Ólafur Darri Ólafsson). Robin ends up following Martin's lead, then admits he's fallen for Marion.
This energetic, English-Icelandic collaboration wears its feminist, green and socialist message lightly. Farr and Gardarsson have nabbed ingredients from here, there and everywhere, but Roberts and McArdle (the new David Tennant?) will enchant both boys and girls. And Börkur Jonsson's set is fantastic: a vertiginously sloping, verdant sward, a giant slide down which the actors swoop only to vanish, like rabbits, into hidden holes.
Meanwhile, the Barbican has had a flying visit from Hamlet, as envisaged by the diehard avant-gardist Thomas Ostermeier. His Schau-bühne ensemble, from Berlin, play fast and loose with the script, (performing in German with English surtitles). They're "mucking around" with Shakespeare's tragedy literally too, for Elsinore is a wasteland of mud in which they tussle and try to bury each other.
Old Hamlet's funeral is staged as a dumb show, with a clowning gravedigger slipping into the trench with the coffin. Lars Eidinger's Prince Hamlet is, in turn, a desperately messed-up jester, a Grand Guignol nutter. Pallid and paunchy in a saggy suit, he falls face-down in the earth at his sexpot mother's wedding, spewing soil from his mouth – a powerfully morbid image. Later, he dons stockings and launches into rock songs.
There is a freewheeling wildness about Judith Rosmair's Ophelia, and the same actress plays dirty-dancing Gertrude, underlining the prince's Freudian confusions. While this Hamlet is spasmodically thrilling, it is also overly bitty.
'The Comedy of Errors' (020-7452 3000) to 1 Apr; 'The Heart of Robin Hood' (0844 800 1110) to 7 Jan; 'Hamlet' (020-7638 8891) 3pm today
Next Week:
Kate Bassett sees Richard II, Michael Grandage's farewell to the Donmar
Theatre Choice
Compiled from interviews with community leaders and rioters, police and politicians, The Riots is a gripping docudrama about August's anarchy, at London's Tricycle to 10 Dec. The British debut of Neil LaBute's Reasons to be Pretty is tender and funny, with Billie Piper, at the Almeida, London to 14 Jan.
Register for free to continue reading
Registration is a free and easy way to support our truly independent journalism
By registering, you will also enjoy limited access to Premium articles, exclusive newsletters, commenting, and virtual events with our leading journalists
Already have an account? sign in
Register for free to continue reading
Registration is a free and easy way to support our truly independent journalism
By registering, you will also enjoy limited access to Premium articles, exclusive newsletters, commenting, and virtual events with our leading journalists
Already have an account? sign in
Join our new commenting forum
Join thought-provoking conversations, follow other Independent readers and see their replies