The Gamblers, Dundee Rep Theatre, review: A cautionary metaphor for our times
Many may find this realisation depressingly resonant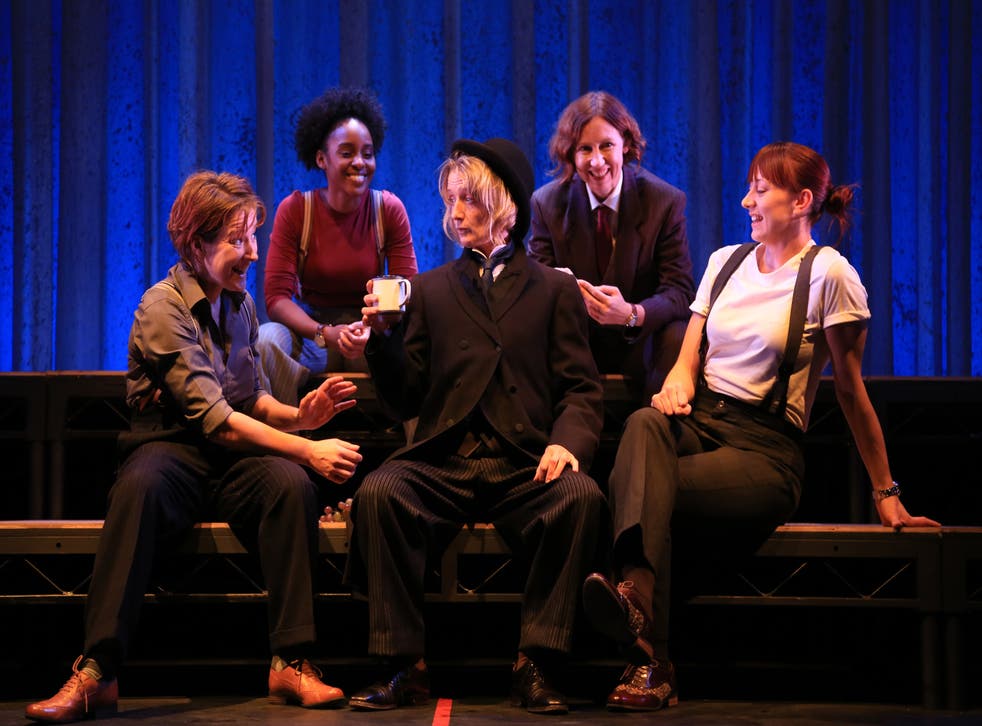 "If there are no losers, how could anyone ever win?" ponders Uteshitelny, captain of the gang of mid-19th century card sharks and conmen planning an elaborate sting operation in this update of Gogol's The Gamblers, and such is the soft hiss of brutal relish in his smooth, mercilessly convincing voice that it jars upon our ears to hear his words delivered by a female actor, in this case the suitably suave Hannah McPake.
Of course, it's not that a woman can't be avaricious or cruelly conniving, but this all-female update sees its high-quality ensemble of six actors (including future Star Wars: Episode VII performer Crystal Clarke) portraying a particularly bullish, male form of greed. The juxtaposition is striking.
In contemporary appraisals of Gogol's playwriting, The Gamblers tends to be all but ignored in favour of Marriage and The Government Inspector - or possibly mistaken for Dostoyevsky's novel The Gambler, written two decades later.
Yet this new collaborative version from Newcastle's Greyscale, the Dundee Rep Ensemble, Northern Stage and all-female Scottish company Stellar Quines doesn't so much revisit the original as reinvent it as a compulsive but cautionary metaphor for our times.
Amanda Hadingue, whose well-travelled list of credits has seen her appear with the National Theatre, the Young Vic and the National Theatre of Scotland, is Iharev, a wide-eyed, fresh-faced prospective conman with a beloved deck of cards whose obscured faces he can identify at five paces. This deck has been named Adelaida Ivanovna by its owner, who treats it as if it were a precious new lover who will bring him all he ever dreamed off. He checks into a cheap hotel and buys his way into the residents' card game with Uteshitelny and his crew, who soon recognise him as something other than a 'civilian' and invite him to join them in their exploits.
The cast flit through a simple arrangement of benches and an elevated upstage area, playing incidental Russian folk for accordion, fiddle and balalaika as they go, a snapped deck of cards providing percussion. Their suits are ill-fitting but smart, accompanied by braces, waistcoats and loosened ties, their talk bawdy as they jostle their collective way into the affections of a foolish young son and heir of a wealthy mark they want to turn over. In their looks and language, we come to realise, there is much of the ruthless entitlement and bravado which we have been led to believe infests Wall Street and the City of London.
On one level, director Selma Dimitrijevic has crafted a sharp and fast-moving pocket heist thriller (it's under two hours long, with interval) which culminates in a satisfying bait and switch finale. On the other it's a philosophical meditation on greed from the skewed perspective of the greedy, in which the skilled act of extracting "dead capital" from the pockets of the trusting and gullible is viewed as "social engineering of the highest order", and in which it's recognised that true happiness depends on being blind to the workings of a world out to fleece you.
Amidst the crisp wit on display here, many may find this realisation depressingly resonant.
Touring until Sat 15th Nov
Register for free to continue reading
Registration is a free and easy way to support our truly independent journalism
By registering, you will also enjoy limited access to Premium articles, exclusive newsletters, commenting, and virtual events with our leading journalists
Already have an account? sign in
Register for free to continue reading
Registration is a free and easy way to support our truly independent journalism
By registering, you will also enjoy limited access to Premium articles, exclusive newsletters, commenting, and virtual events with our leading journalists
Already have an account? sign in
Join our new commenting forum
Join thought-provoking conversations, follow other Independent readers and see their replies