The Intelligent Homosexual's Guide to Capitalism and Socialism With A Key to the Scriptures, Hampstead Theatre, London, review: Massively stimulating evening
Michael Boyd's passionately-acted production at Hampstead is about a suicidal, retired longshoreman and a most unusual family reunion in a Brooklyn brownstone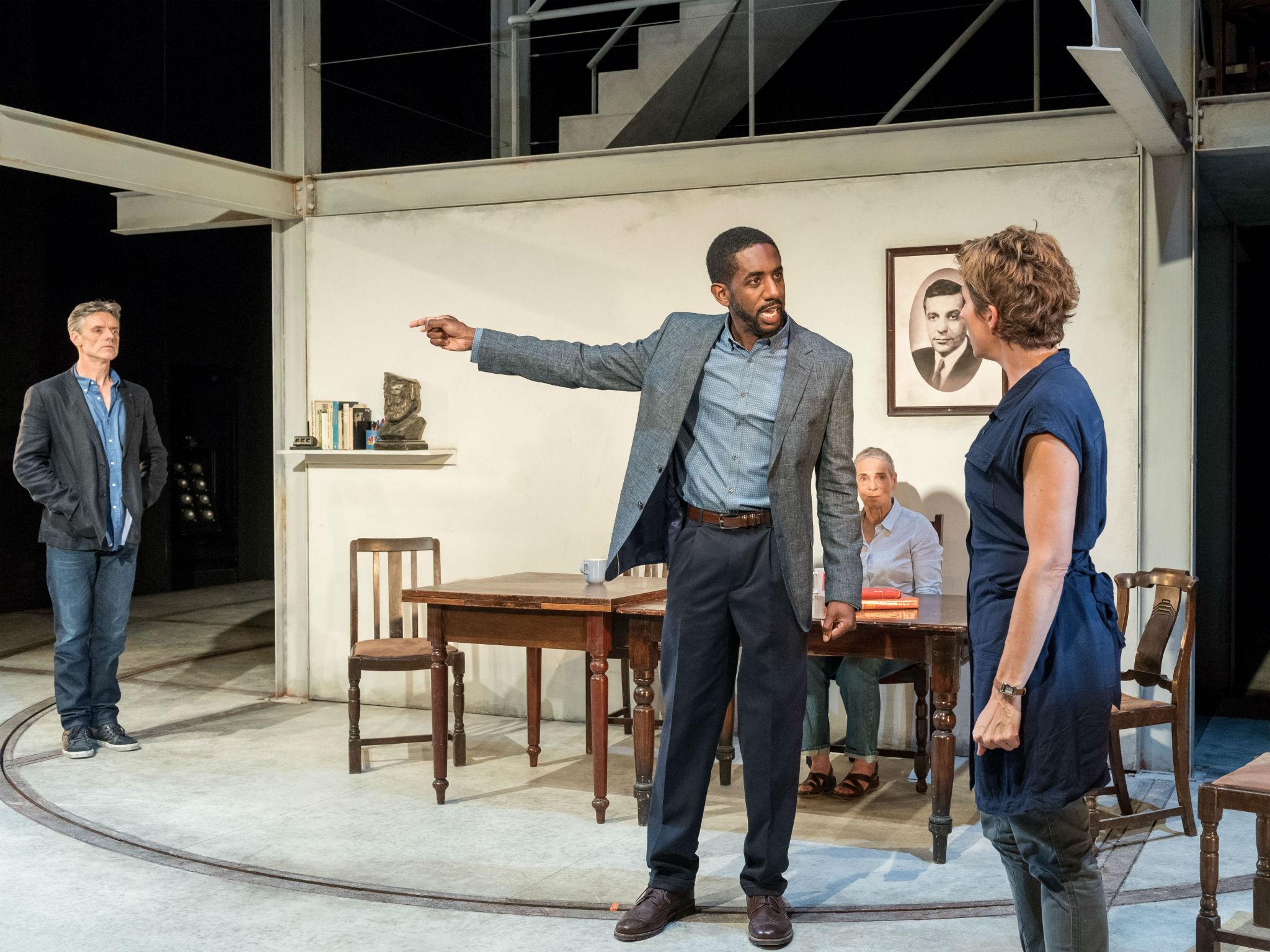 An angel doesn't come crashing through the ceiling here as happens in his masterpiece, Angels in America, which will be revived by the National Theatre next year. But a bust of Guiseppe Garibaldi, the Italian nationalist, does get punched into the wall, leaving a gaping hole, during one of the Marcantonio family's many voluble rows in this latest Tony Kushner work which was unveiled in Minneapolis in 2009 and now, several drafts on, receives its British premiere in Michael Boyd's extremely adroit and passionately acted production at Hampstead.
Angels probes the psyche of Ronald Reagan's America in a fluid "fantasia" form that allows characters to meet in each other's dreams as it ranges between New York and the Kremlin, Antarctica and Heaven. By contrast, the new three-and-half-hour piece (its snappy moniker fuses the titles of works by Shaw and Mary Baker Eddy) is firmly set in 2007 in a Brooklyn brownstone and conducts its examination of the state of the American left from within that country's great tradition of brutal, realist family drama which embraces Eugene O'Neill and Arthur Miller. The patriarch of the Italian-American clan is 72 year old Gus (David Calder), a retired longshoreman and Communist Party union organizer. He's already made one attempt on his life and when he decides on a second suicide bid, he summons his three troubled children and their appendages to a family council. He pleads incipient Alzheimer's but he's still vigorously pursuing his hobby of translating Horace...
In the first scene, the gay son, Pill (Richard Clothier) mentions that he's just seen Shaw's Major Barbara and describes its effect on him: "Dizzying, a head rush, sort of like... oh, I dunno poppers, or speed or E". Then he calmly disses Shaw as "a sentimental pseudo-socialist, peddling an idealist conception of history". "Oh yeah, baby, talk commie talk," replies Eli (excellent Luke Newberry) the Yale-educated rent-boy with whom he's infatuated. It's a teasingly witty and knowing moment that sets us up for an evening that consists, in part, of raucous, rampantly well-read dialectical slanging matches and brain-knottingly baroque family entanglements. You laugh out loud at how surprised you aren't when heavily pregnant Maeve ((Sirine Saba) – married to Gus's daughter and inseminated by his other son – complains that it's "not exactly a bull market for us apophatic theologians with, you know, pronounced kataphatic inclinations". The impenetrability of that is Kushner's delicious, self-parodying gag.
But the burden that Gus's idealism has placed on his children becomes painfully clear. Pill rightly admires it but, in his relations with Eli (hauntingly dramatised) is plagued with his awareness of the Marxist labour theory of value as it applies to sex-workers and the way this youth's willingness to "objecify" himself for him paradoxically expresses real love. Tamsin Greig turns in a deeply intelligent and subtly anguished performance as the lesbian turned labour lawyer who has to cope with her father's eventual insistence that his declaration of suicide is not the despairing response of an idealist to a world he no longer recognises but a political act to galvanise them back into revolutionary radicalism. Sara Kestelman gets the most appreciative laughs with her softly-spoken put-downs as Gus's provokingly serene and wise sister who has been a nun, a Maoist and a shining path follower in Peru. It's arguable that the sheer abundance of the play clogs up the rhythm and that the revelations of why, crucially, the best thing that Gus did in his life was also the worst and why he discloses this first to Vin (Lex Shrapnel), the furious son he froze out, are not ideally paced. Quite a few things are left dangling. But while it may require stamina from an audience, this is a massively stimulating evening, well worth the investment of time.
Join our commenting forum
Join thought-provoking conversations, follow other Independent readers and see their replies