The Mariinsky Ballet, Royal Opera House, London, review: I wanted them to turn up the volume, to sell it harder
The Mariinsky Ballet opens its London season with the company's production of Petipa and Gorsky's classic, 'Don Quixote', starring Kimin Kim and Viktoria Tereshkina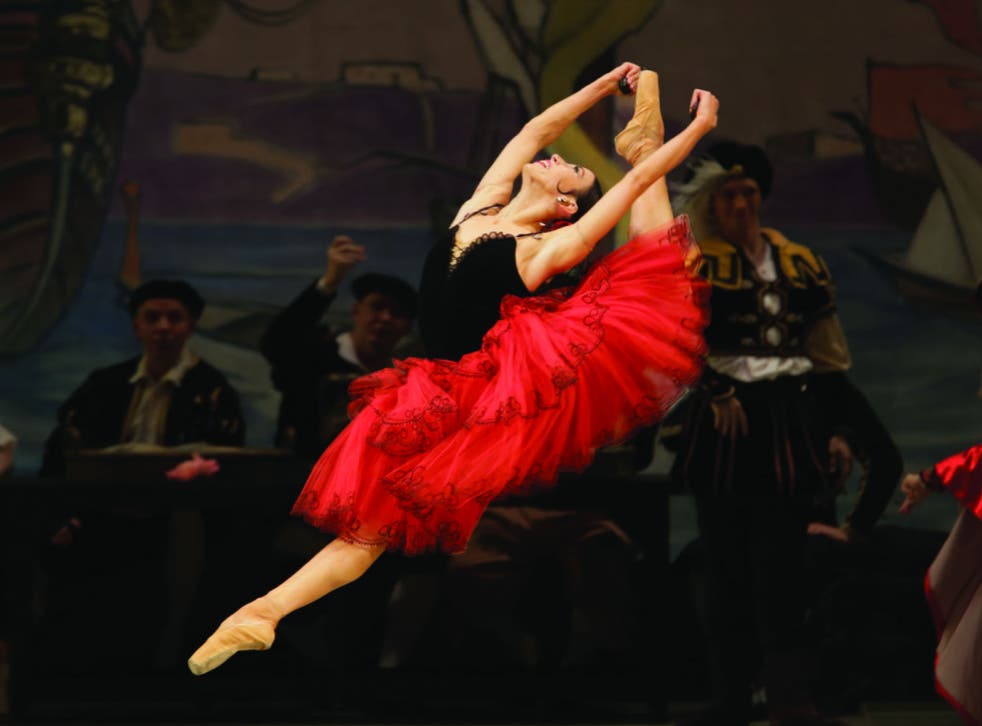 The Mariinsky Ballet returns to London with serene authority. This St Petersburg company prides itself as the birthplace of many of ballet's greatest classics. Looking over the ranks of dancers, you see clear lines, gorgeously pliant backs, a glowing belief in their style.
Since the end of the Soviet Union, Russia's major ballet companies have become welcome regular visitors in the West. The Mariinsky has opened up, too: the stars for this visit include the British Xander Parish and Korean Kimin Kim. The repertory is still dominated by classics and warhorses, including the opening Don Quixote.
In some ways, it's an odd choice. Created by Marius Petipa and revised by Alexander Gorsky, Don Quixote is a very, very long way after Cervantes, a tale of village lovers in ballet's fantasy of Spain. Kitri loves the handsome Basil, but her father wants to marry her to a rich fop; the idealistic Don Quixote steps in to help with a happy ending, tilting at windmills along the way. It's a mix of oompah Minkus tunes and flashy steps, demanding gusto from a company that specialises in aristocratic refinement.
In the first act, for all the cleanness of technique, I wanted them to turn up the volume, to sell it harder. The imperious Viktoria Tereshkina isn't obvious casting for Kitri, the innkeeper's daughter. As Basil, Kim soars on with a divinely high leap, but he's not naturally cheeky.
The whole company is happier in the vision scene – this being 19th-century ballet, of course Don Quixote's dream is a stageful of women in pastel tutus. It's as fluffy as candyfloss, but the dancers' discipline saves it from too much sugar. Tereshkina's grandeur shines out in her clear lines and delicate phrasing. Ekaterina Chebykina, as the Queen of the Dryads, moves with expansive grace and warmth.
The more classical the ballet gets, the more fun they have with it. In the final pas de deux, Kim and Tereshkina combine elegance with dazzle. His jump hangs in the air, giving him time to unfold slowly from one pose to the next, while his spins are both bold and smooth. Tereshkina flutters her fan with glittering wit, even while whizzing through multiple fouetté turns. There's a lovely contrast between her beautifully shaped poses and the sparkling speed of her footwork.
Across the company, there are assured performances, including a dashing fandango from Elena Bazhenova and a lively Mercedes from Olga Belik.
Register for free to continue reading
Registration is a free and easy way to support our truly independent journalism
By registering, you will also enjoy limited access to Premium articles, exclusive newsletters, commenting, and virtual events with our leading journalists
Already have an account? sign in
Register for free to continue reading
Registration is a free and easy way to support our truly independent journalism
By registering, you will also enjoy limited access to Premium articles, exclusive newsletters, commenting, and virtual events with our leading journalists
Already have an account? sign in
Join our new commenting forum
Join thought-provoking conversations, follow other Independent readers and see their replies