The Moderate Soprano, Hampstead Theatre, review: Roger Allam delivers a stunning performance
Above all, in its very different way, it strikes me as being in the grand tradition of Black Snow
Paul Taylor
Friday 30 October 2015 14:16 Comments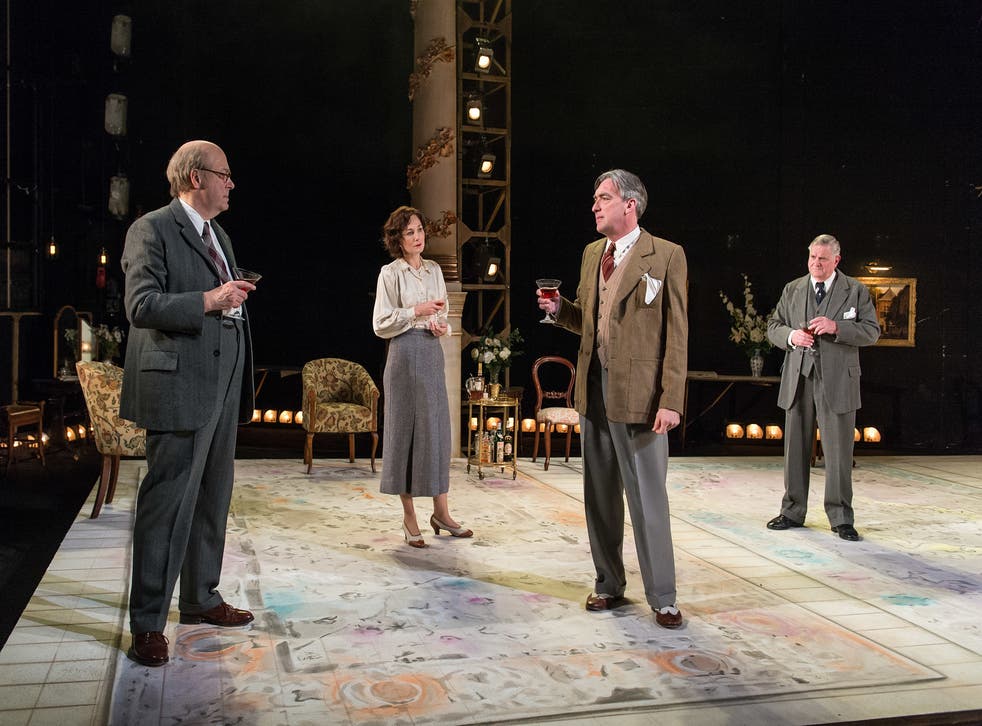 A reader of this newspaper once rebuked me in a (perhaps rightly) shirty letter for describing a group of people in some play as "of that class of person that emerges from the womb already equipped with a picnic rug, a Fortnum & Mason's hamper, tickets for Glyndebourne, and a lifetime's subscription to the Daily Telegraph". But just when the letter had succeeded in making me feel a tad guilty about my reverse snobbery, the writer continued with the unkindest cut of all: "Have you ever been to Glyndebourne???"
As it happens yes, though never as a paying punter. Several times with a friend lucky enough to get comps; and twice through the tradesman's entrance, so to speak, in order to write features for the Independent. The piano-only dress rehearsals I attended at Glyndebourne of Deborah Warner's Fidelio and Katie Mitchell's St Matthew Passion I count as two of the most profound musico-dramatic experiences of my life. And paradoxically not "enhanced" by those things that, rightly or wrongly, Glyndebourne refuseniks jib at: the middle and upper-middle classes manufacturing a mirage of the Good Life on sunlit lawns. I think we all know privileged folk who fancy that they are terrific opera-lovers, while being constitutionally insensitive to what is centrally going on. They love something, all right; it just doesn't happen to be opera apprehended at its fullest as the supreme melding of art forms.
David Hare has long had Severe Doubts about all this. I remember a rollicking-Roundhead denunciation of opera for its ravenous eating-up of financial resources and for the (alleged) vaporous generality of its analysis of experience in an edition of Opera magazine in the late 1980s. In his new play, The Moderate Soprano – which I loved while recognising that it is, somewhat self-contradictorily, liable to be appreciated most by the cognoscenti – he explores his mixed feelings more thoughtfully by focusing on Glyndebourne's origins and on the paradoxical nature of its having become a byword for Englishness.
Roger Allam delivers a stunning performance – killingly funny and achingly sad – as the founder of this Sussex country house Mozartian Mecca. A fifty year old virgin (until he married the titular soprano) who combines the empathetic tentativeness of Patrick Mozart and the driving skills and left-wingery of Toad, this Etonian is seen cooking up the opening season with the musical geniuses and impresarios who had to flee a Germany ruled by that cardinal "opera-lover" Adolf Hitler. Immaculately directed by Jeremy Herrin on an elegant composite set by Rae Smith that combines moneyed domesticity with motifs from the sets of Glyndebourne triumphs, the piece (which has some plonking exposition) sometimes feels like the self-questioning late chamber operas of Strauss and sometimes like a piercing portrait of a marriage – Nancy Carroll is pitch-perfect as the finally wheelchair-bound Audrey Mildmay, who ruled with a rod of graciousness. Above all, in its very different way, it strikes me as being in the grand tradition of Black Snow, Bulgakov's brilliant insider-lowdown on the Moscow Art Theatre: a penetrating way of investigating the politics of life in general through the troubled internal politics of a particular theatrical institution. Fervently recommended.
Register for free to continue reading
Registration is a free and easy way to support our truly independent journalism
By registering, you will also enjoy limited access to Premium articles, exclusive newsletters, commenting, and virtual events with our leading journalists
Already have an account? sign in
Join our new commenting forum
Join thought-provoking conversations, follow other Independent readers and see their replies