The Nightmares of Carlos Fuentes, Arcola Theatre, review: Witty and rawly topical
Paul Taylor
Wednesday 30 July 2014 12:39 Comments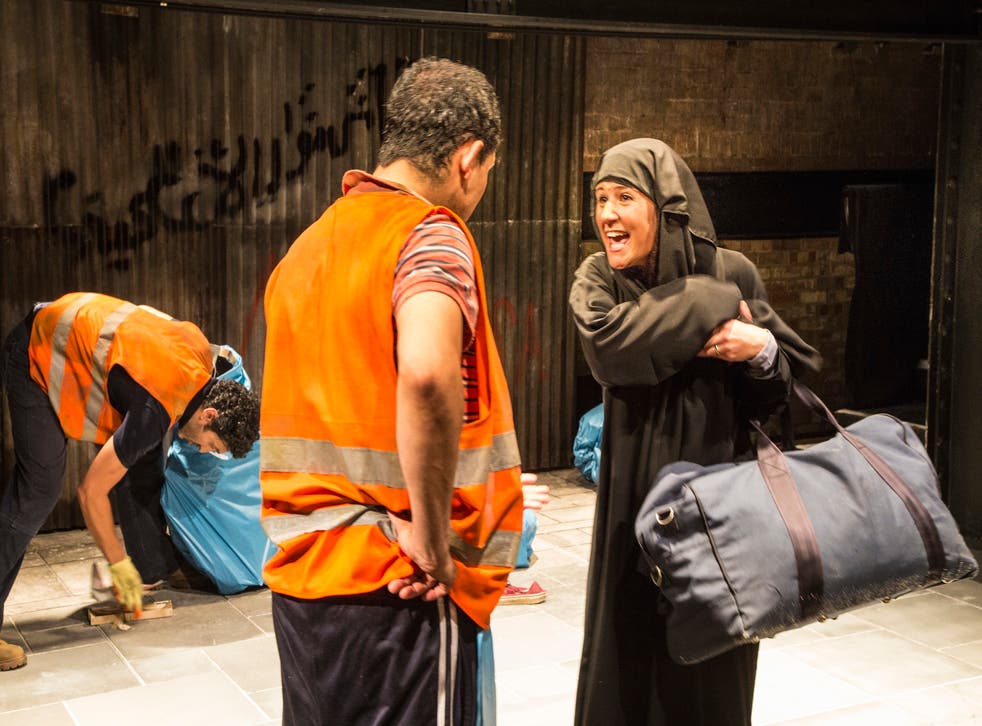 When he was the artistic director of the Tricycle, Nicolas Kent was renowned for the creative tenacity with which he kept the heat turned up on the issue of Iraq – not least in the tribunal show that put Tony Blair (in absentia) in the dock for war crimes. Now as a freelance again after many years, Kent is in no mind to let go of the subject.
The Nightmares of Carlos Fuentes is Rashid Razaq's blackly witty, tonally false-footing and cumulatively devastating play based on a short story by the exiled Iraqi film-maker and writer, Hassan Blasim. The latter's collection, The Iraqi Christ, won the 2014 Independent Foreign Fiction Prize.
To judge from the text of the play, it seems to have been Kent's idea to run footage, at the start and between the scenes, of Bush, Blair, Brown, Blair again, Obama and Cameron spouting their various self-interested justifications first for sending in the troops and then withdrawing them. The chronological nature of this sequence works eloquently as a mordant reminder of persistent political insensitivity as the play itself – jumping about in time – tells the story of the terrible fate of one man.
When we first meet Carlos (ne Salim) – who is beautifully played in all his zigzagging stages by Nabil Elouahabi – he is handcuffed to the bed post in a snazzy English hotel. He's having a dirty weekend with fifty-something top totty Lydia (pitch-perfect Caroline Langrishe) and we seem to be in hilarious Ray Cooney-land – No Sex Please, I'm an Asylum-Seeker – as he fends off her libidinal urges in favour of being tested for his forthcoming citizenship test. Ask Carlos about the eleventh-century king who stopped the waves, and he's in like a flash, even if he doesn't get the pronunciation quite right.
There are some very good jokes at the expense of religious sectarianian, false ideas of Britishness, and bureaucratic logic-chopping about the type of persecution it is permissible to flee from. When he tells her he has come here to escape religion, the sorely tried Scots case worker (deliciously funny Sara Bahadori) tells him helpfully that "the last time I checked, God wasn't on the Home Office's recognized list dictators" but mental illness, if it couldn't treated in his country of origin, might be the gambit to plump for.
In fact, those words accrue a bitter irony in later scenes in Baghdad where we discover just why Carlos/Salim has come to Britain – and the mental price he pays as the demons of the past come to haunt him. I never fully believed that a woman like Lydia (a power-broker in the re-branding business nudge, nudge) would pick up and wed a man who, when she initially encounters him, is a waiter in a Lebanese restaurant.
But there's a brilliant Kafka-esque quality to an episode where he awakens at Heathrow, drugged, bewildered and handcuffed to Kevin a private security guard (a gloatingly callous Selva Rasalingham) who asks him to recommend museums in Baghdad (he reads out Tripadvisor reviews on his I-phone) for the 6 hours' "downtime" Kevin will soon is going to be enjoying there.
I regret to say that I haven't yet read any of Hassan Blasim's fiction. This show (expertly directed and rawly topical) is a strong inducement to do so.
To Aug 16; 020 7503 1646
Register for free to continue reading
Registration is a free and easy way to support our truly independent journalism
By registering, you will also enjoy limited access to Premium articles, exclusive newsletters, commenting, and virtual events with our leading journalists
Already have an account? sign in
Register for free to continue reading
Registration is a free and easy way to support our truly independent journalism
By registering, you will also enjoy limited access to Premium articles, exclusive newsletters, commenting, and virtual events with our leading journalists
Already have an account? sign in
Join our new commenting forum
Join thought-provoking conversations, follow other Independent readers and see their replies