The Painkiller, Garrick Theatre, review: Rob Brydon is hilarious and endearingly irritating as Dudley
The proceedings are enjoyable but rarely generate the requisite helpless hilarity and have a rather dated feel, however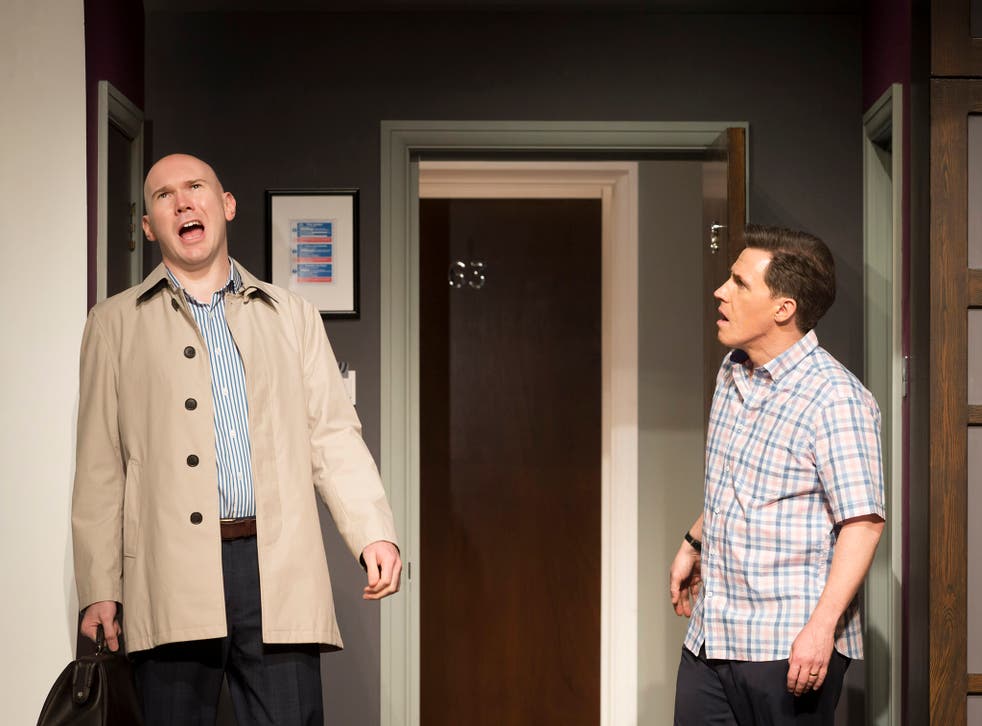 In his invigorating season of work at the Garrick Theatre, Kenneth Branagh has already reminded us of his serious Shakespearean chops with a masterly portrayal of Leontes in The Winter's Tale. And in August, he will take on one of the great iconic roles in the modern repertory when he opens as John Osborne's washed-up music hall comedian, Archie Rice, in The Entertainer. Meanwhile, he is treating us to the sheer fun of an all-out display of his prowess at mad physical clowning in this farce by the French dramatist, Francis Veber – freely adapted and directed by Sean Foley. The production began life in Belfast five years ago and now arrives in London, tweaked and partially recast.
Branagh plays Ralph, a sinister, sharp-suited professional hit-man who checks into a hotel room, with a window overlooking the courthouse, only to find that his murderous mission and his world of micro-managed control are thrown into barking disarray by the presence in the adjoining room of Rob Brydon's hilarious and endearingly irritating Dudley. A morose Welsh loser and gasbag, this small-time Swindon press photographer has been dumped by his wife for her psychiatrist and is now bent on committing suicide. When his bungling attempts to top himself (involving a wrecked shower, window ledges and a wonky blind) threaten to draw the attention of the police, Ralph, desperate to keep a low profile, is forced into the unaccustomed role of Good Samaritan. Despite all indications to the contrary, gormless Dudley is radiant at having found a new best friend.
The clinical killer stymied by the chump with the death-wish: the mirror-image business in mirror-image rooms in Alice Power's niftily naff boutique hotel underline the kinship in emotional isolation of this odd couple – though "the constant and dark undertow", referred to in the programme, was rather lost on me. Mostly, the situation is the springboard for bouts of broad choreographed slapstick. In a case of mistaken identity, Branagh's character finds himself injected first with a horse tranquiliser and then with amphetamines. His zonked-out, jelly-legged stagger followed later by its converse, an uncontrollably twitchy Jagger-gone-mad strut, make the Ministry of Silly Walks look a touch restrained. Mark Hadfield's delightfully camp, flustered fusspot of a Porter keeps being greeted by the spectacle of men in evermore apparently compromising positions. When the policeman imprisoned in the wardrobe punches his arm through the door and gives Ralph's testicles an agonising knead, Branagh hilariously tries to pass this off to the porter as his own raunchy crotch-groping. So what if the third hand is black?
The proceedings are enjoyable but rarely generate the requisite helpless hilarity and have a rather dated feel. I liked the way, though, that Claudie Blakey's spirited Michelle is given some blistering put-downs as she tries to cope with the borderline stalking of the hopeless but incurably hopeful Dudley and the bludgeoning boorishness of the shrink. Dudley, she reports, even left his premature ejaculation group early. "I had to cover 'Swindon in Bloom'", he protests
Join our new commenting forum
Join thought-provoking conversations, follow other Independent readers and see their replies