The Plague, Arcola, London, review: The play seems to be applicable to everything from Ebola to Syria and Brexit
Director Neil Bartlett's adaptation of Albert Camus' dark story which was written in the aftermath of the Nazi's march across Europe is given a contemporary update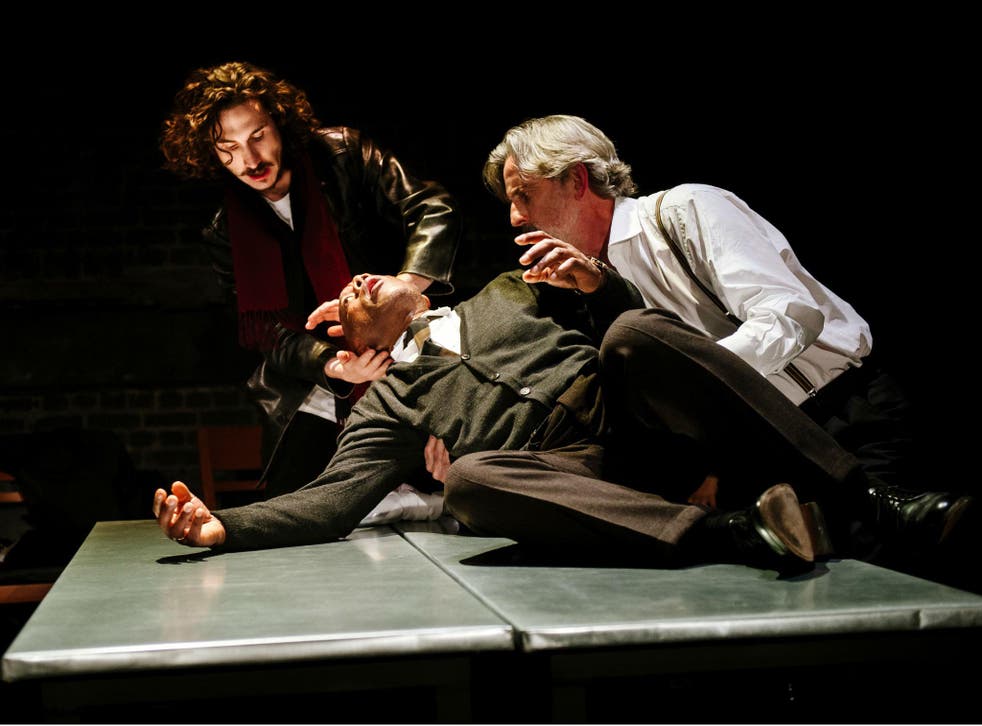 Neil Bartlett's stage version of Camus' 1947 novel is all the more devastating because it takes material – the outbreak and progress of a disease that threatens to engulf a country the author's Oran, Algeria – and subjects it to a studiedly unsensationalised treatment. The novel was immediately hailed, when published, as a bold allegory about Nazi occupation. But Bartlett's other master-stroke is to present the story in such a spare, minimalist fashion that it is seems to be applicable to everything from Ebola to Syria and Brexit.
The adaptor, who also directs, has whittled the novel's characters down to five. There are just two tables, five chairs, some microphones, papers and a couple of white coats. We are evidently at a public enquiry about a disease that began with the sighting of one dead rat and escalated into a plague. The incisively portrayed characters – who include a mentally unbalanced black-marketeer with a disquieting contempt for others, a doctor with a fatally sick wife, and a careerist out-of-town journalist who is in two minds about where his responsibilities lie – split up to re-enact scenes and are pulled back into a sort of Greek chorus to comment on the action.
Rather than via tactile means, the horror is communicated through an unnerving collage of sound effects – distant sirens, gunshots and the faintly heard screaming of screaming children. The whole show is punctuated by piano chords that are struck and then left to disintegrate in mid-air. They are all drawn from the aria "Che Faro Senza Euridice" from Gluck's Orfeo – a performance of which has to be abandoned in the book when the singer dies. The ensemble acting has a terrific edge and precision – with Billy Postlethwaite (son of the late Pete) commanding the stage with a fierce flamboyance as Raymond Rambert, a reporter who is in town to investigate the poor living conditions of the local Arab population.
The plague ends as inexplicably as it began. Dr Rieux's wife has died of TB in a distant sanatorium. Can any moral sense be made of this? Rieux, whose decency is beautifully caught by Sara Powell, feels that those who spoke up and bore witness, have attained to the wisdom that the plague bacillus never lies dormant but lies in waiting – and, more hopefully that, "you learn, when you live through a time of plague, that there is more to admire about than to despise or despair of".
Join our new commenting forum
Join thought-provoking conversations, follow other Independent readers and see their replies