The Swallowing Dark, Theatre 503, London
Mugabe and morality go under the microscope in a mesmerising tale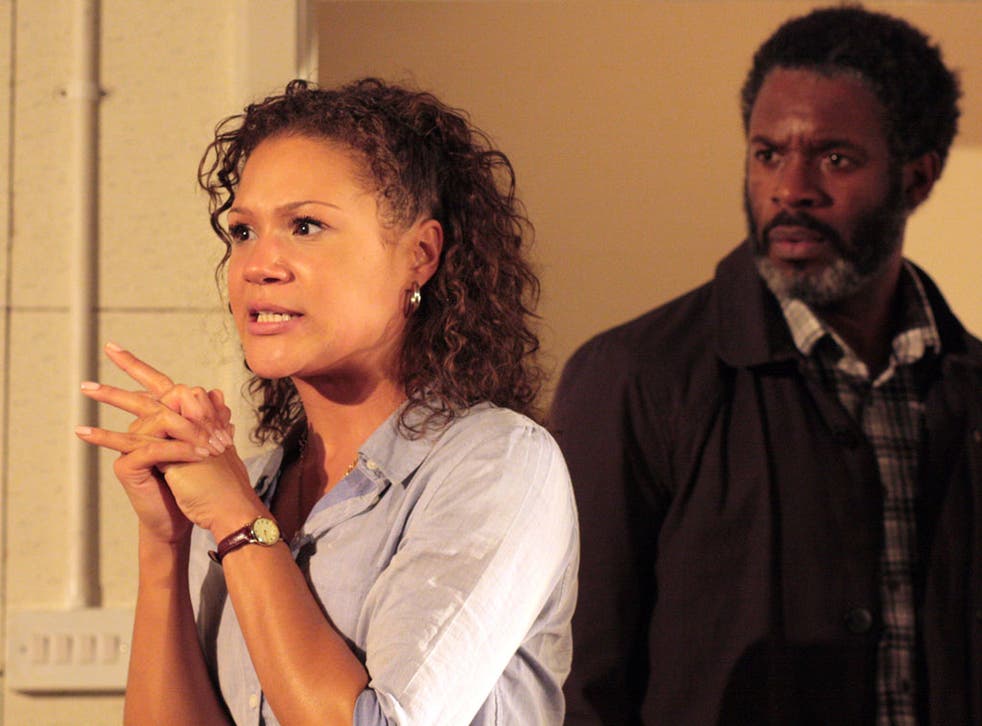 Can the truth ever be turned into a clear, consistent story? That's one of the troubling questions that underlie The Swallowing Dark, Lizzie Nunnery's powerfully suggestive new play. It focuses on Canaan, a political refugee who, five years ago, fled Zimbabwe for Toxteth with his young son. Now, thanks to a Kafkaesque cock-up, his "leave to remain" is again under in-depth review. He's been assigned a determined new "case owner", Martha, who is particularly keen on finding out why, between 2002 and 2006, Canaan appears to have been both an activist in the Movement for Democratic Change and a CIO agent responsible for the torture and murder of dissidents – at once the victim and perpetrator of Mugabe's violence.
"I want to understand what you did. I want it to make sense," declares Martha. "You think it makes sense to me?" is Canaan's response. And that's the nub of the matter in a play that is sharply critical of an interrogation process better at pouncing on anomalies in testimony than at comprehending the excruciating contradictions which are forced on people of good will by the almost unimaginably horrific political situation in certain countries.
Allyson Ava-Brown is deeply convincing and sympathetic in the role of Martha, a woman torn between doing her job and doing what's right and wrestling with her own need to cling to doctored versions of events – as becomes clear from a series of eerily shifting monologues about her brother's part in a brutal murder that mirror the concern with neglect in the Zimbabwean story. Wil Johnson's charismatic Canaan is incandescent with combative, angry scorn and injured pride at a system that dehumanises him in its morbidly suspicious attention to detail and yet expects him to put on a show of heart-tugging emotional revelation.
Paul Robinson's mesmerising production shifts between the claustrophobic intensity of the interviews and the flashbacks to Africa (in which Ms Ava-Brown portrays Canaan's vivacious wife, who winds up hacked to death for his activities). Martha remonstrates with blown-up, obsessively replayed CCTV footage of the interrogation in a stunning evocation of a mind diseased by dutiful, professional doubt. Through animation, the staging does haunting justice to the poetic imagery found in the folk-parables that, for Canaan, better embody the ambiguities of truth than prose discourse.
To 26 November (020 7978 7040)
Register for free to continue reading
Registration is a free and easy way to support our truly independent journalism
By registering, you will also enjoy limited access to Premium articles, exclusive newsletters, commenting, and virtual events with our leading journalists
Already have an account? sign in
Register for free to continue reading
Registration is a free and easy way to support our truly independent journalism
By registering, you will also enjoy limited access to Premium articles, exclusive newsletters, commenting, and virtual events with our leading journalists
Already have an account? sign in
Join our new commenting forum
Join thought-provoking conversations, follow other Independent readers and see their replies