The Unknown Soldier, Rialto Theatre, Brighton Fringe Festival, review: Personal and affecting WWI evocation
Poignant one-man play written and performed by former soldier Ross Ericson does not shy away from gore, but also offers wry humour and a welcome original perspective on the Great War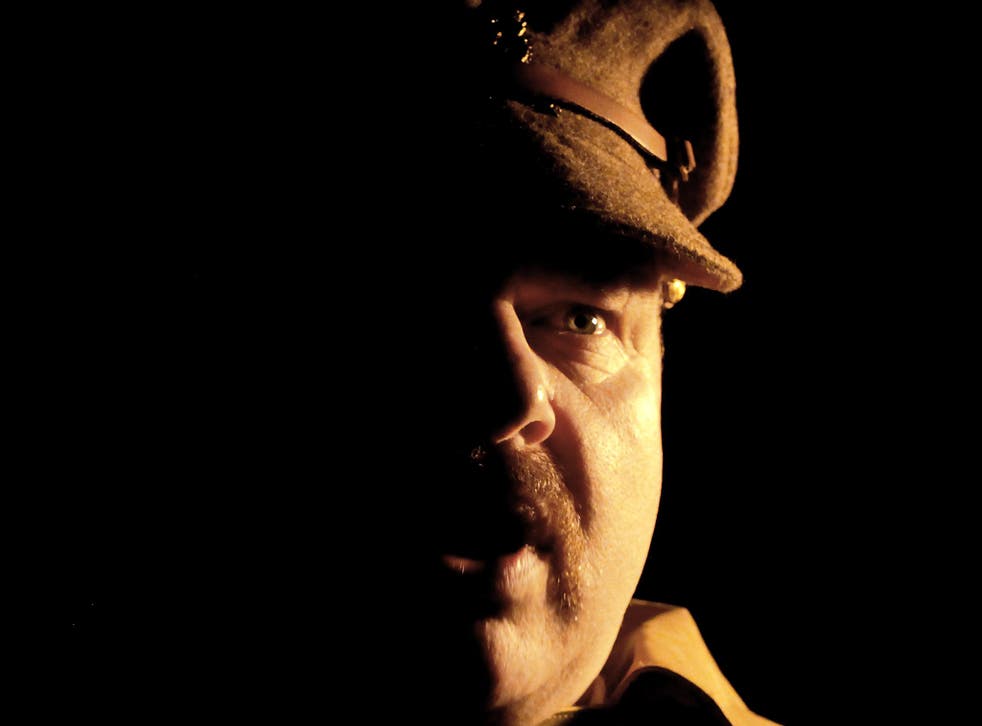 Ross Ericson was roused to pen and perform this powerful, personal and affecting one-man play by his anger at a 2014 Daily Mail article by Michael Gove decrying unpatriotic "left-wing academics" promoting "myths" about the First World War. The then-Education Secretary suggested the conflict should be taught to schoolchildren less as a story of millions of lives pointlessly wasted, more one of "patriotism and honour".
Ironically, Gove may not entirely disapprove of the outcome of Ericson's ire, should he deign to watch it, for while patriotism may not be much to the fore in this compelling one-hour production, honour – quiet, unassuming, everyman honour – shines through. Ericson, a strong stage presence and himself a former serviceman, conveys acutely the spectrum of camaraderie, terror, hope, resignation and bafflement that infused the trenches a hundred years ago.
The play is set several years after the war, Ericson's character a member of the military detachment – largely forgotten by history – that stayed on in France and Belgium to recover, identify and bury bodies (often, body parts) and to help build the cemeteries that stand today. It is a grim task and he does not shy from the gore, but there is warmth and wit here too. The clever time-setting means his soldier can reflect not only on life up to and during the horrors of the trenches, but on the mood when and after the guns fell silent, and on the less than hero's welcome that awaited many a shattered serviceman back in a Britain that was keen to forget and move on.
Surprisingly for a one-man drama, it is particularly effective at sketching in the preternatural friendships that took root amid the carnage. And at demonstrating that bonds of kinship forged in battle can be so strong they both defy mortality and spoil the peace. For Ericson's survivor is in France not just out of duty; his homeland seeming now pale and purposeless to him, he finds strange solace in the closeness of fallen comrades.
What is most impressive is how a single footsoldier's scattered, intimately engaging recollections – of mud and rolling tobacco and gallows-humour high jinks – pull into focus wider and more profound themes. In doing so, he manages to find an original perspective on a story we think we all know, and offer a reminiscence that, while slight, is poignant and thought-provoking. It is also necessarily dark – yet served with wryness, nuance and personality so as to leave the audience neither shell-shocked nor mournful, despite the brutality recounted, but oddly rather buoyed.
'The Unknown Soldier' is on at the Brighton Fringe, 25 May, and Buxton Fringe several dates in July. gristtheatre.co.uk
Register for free to continue reading
Registration is a free and easy way to support our truly independent journalism
By registering, you will also enjoy limited access to Premium articles, exclusive newsletters, commenting, and virtual events with our leading journalists
Already have an account? sign in
Register for free to continue reading
Registration is a free and easy way to support our truly independent journalism
By registering, you will also enjoy limited access to Premium articles, exclusive newsletters, commenting, and virtual events with our leading journalists
Already have an account? sign in
Join our new commenting forum
Join thought-provoking conversations, follow other Independent readers and see their replies