The Wars of the Roses, Rose Theatre, Kingston, review: Engrossing production is warmly recommended
The experience of this trilogy throngs with satisfyingly rounded performances
Paul Taylor
Tuesday 06 October 2015 23:15 Comments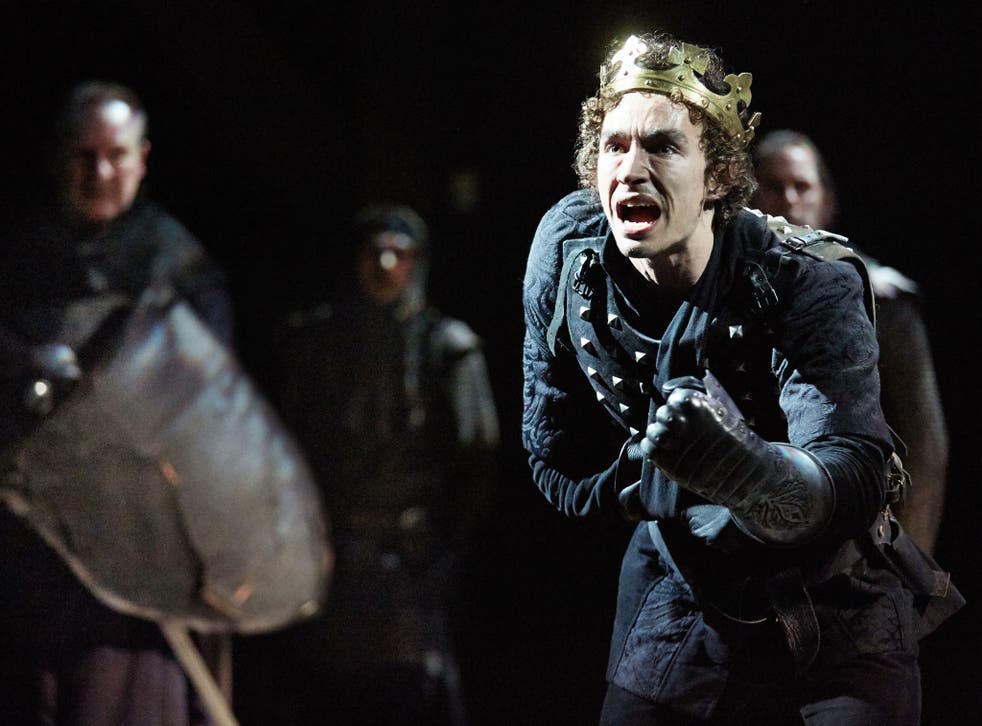 Simon Russell Beale once said that Richard III's relationship with the audience is one of "leader of the gang" – as if the character was saying "You wait till you see me do this. I'm going to do something so unexpected". A startlingly piquant variation on this is worked in Trevor Nunn's Wars of the Roses, his wonderfully engrossing production of the Peter Hall/John Barton adaptation of Shakespeare's first history tetralogy which concentrates it into three three-hour plays, with lines lost and invented, and which first wowed the RSC's in 1963.
It's as if Robert Sheehan has cast the audience as his coterie chums in the Piers Gaveston Society, or some such. The excellent actor switched his native Irish accent to an affected English drawl; the bodily deformities grate with a face unusually beautiful for this part. So when he flies into deranged paroxysms of rage – as when he butchers her son before Joely Richardson's magnificent Margaret of Anjou – it feels all the more terrifying. He comes round from these fits in a manner weirdly reminiscent of Anthony Blanche in Brideshead Revisited, after being dunked in the college fountain by the hearties: "You know, it really was most refreshing".
Sheehan's performance has been berated in some quarters, but I loved it. More persuasively, Nunn has been castigated for the all-whiteness of his very strong cast of 23. My view is that he could have achieved more or less exactly the same impact with a colour-blind cast and that his misjudged defence of his casting on the grounds of authenticity has led to this marathon project being underrated as an act of moth-balled exhumation or a Tardis-trip back to superannuated acting and staging styles.
But while there may be one or two strobe-lit, perfunctory-shorthand battles too many, these vividly accessible productions pick an assured path through the slaughter-house chaos of the wars with the French and between the Yorkists and Lancastrians. Alex Waldmann, an actor I whom admire more and more, brings the atmosphere and body-language of an innocently pious Fotherington-Thomas ("Hello clouds! Hello Archbishop!) to the extended, demanding role of Henry VI, utterly honourable and utterly cocking things up – not least in his rash decision to marry Margaret, whose schemer-flitting between the demure and the diabolic is timed excellently by Richardson who starts off looking like a Lady and the Tramp take on a she-wolf and winds up looking piercingly like her mother, Vanessa Redgrave.
Staged on John Napier's balconied, wooden"Concept Set Design", with walls that slide apart to reveal disconcertingly retributive heavies," the experience throngs with satisfyingly rounded performances. These come from, say, Michael Xavier, best known for his work in musical comedy, who is surprisingly good here as Margaret's cockily sexy, manipulative paramour, Suffolk and a sensitively abrasive Clarence in Richard III and from Alexandra Gilbreath who brings lovely sly nuance to the Duchess of Gloucester and steady moral contempt to Queen Elizabeth. It's a shame that the ghosts on the eve on the Battle of Bosworth are among the least imaginative I've seen because this trilogy is, in most respects, warmly to be recommended.
To 30 Oct; 020 8174 0090
Buy tickets for The Wars of the Roses with Independent Tickets
Register for free to continue reading
Registration is a free and easy way to support our truly independent journalism
By registering, you will also enjoy limited access to Premium articles, exclusive newsletters, commenting, and virtual events with our leading journalists
Already have an account? sign in
Join our new commenting forum
Join thought-provoking conversations, follow other Independent readers and see their replies