'Tis Pity She's a Whore, Silk Street Theatre, Barbican, London The Bomb – A Partial History, Tricycle Theatre,London In Basildon, Royal Court, London
This thoroughly modern 17th-century revenge tragedy is so chillingly psychotic it will make your hair stand on end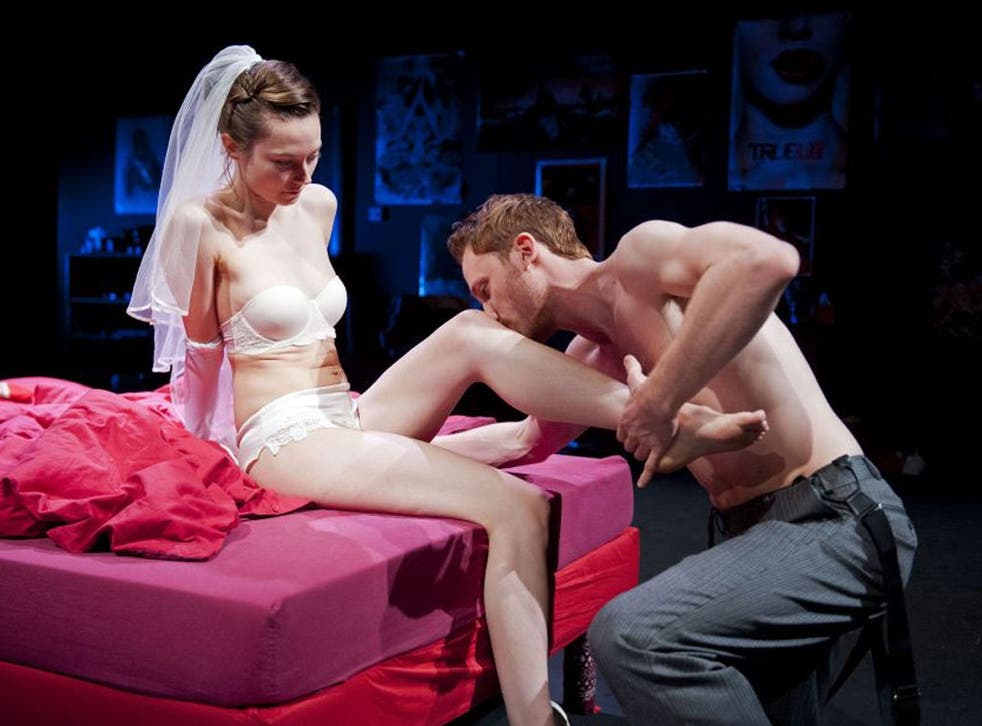 In the corner of Annabella's blood-red bedroom is a poster of the Virgin Mary. The Madonna's immaculate heart floats, spookily, outside her bosom. Pictures of teen-icon vamps cover the remaining wall space and Annabella (Lydia Wilson) is dancing wildly on her bed like a would-be rock chick. She's a wafer-thin adolescent: leggings, hot pants, punky, half-shaved haircut.
Fantasies and realities are disconcertingly meshed in Cheek by Jowl's darkly funny, superbly visceral and poignant staging of 'Tis Pity She's a Whore: John Ford's sibling-incest tragedy from 1630, set in Italy.
When we first see Giovanni (Jack Gordon) arguing with a friar, divulging his ardour for his sister, director Declan Donnellan keeps Annabella on stage, as if she's perpetually dancing in her brother's imagination.
In turn, Giovanni is embodied in his sister's thoughts, lying curled at her feet as she continues her trippy dance moves, and as a posse of adulatory suitors (led by her father) swarm out of the shadows to surround her bed, a disco-ing, butch chorus line, absurd yet also aggressive.
This is an electrifying production, with choreography by Jane Gibson and music by Nick Powell – by turns pumping and haunting. What's startling is that the siblings' passion is less horrifying than the chain reaction of punitive atrocities that follow. Rather than show this love as sick and twisted, the pair's craving is consummated with a feverish tenderness: a moment of madness only a leap away from youthful playing around.
Gordon's verse-speaking could be better, and the slashing of the play's subplots may enrage sticklers, but Donnellan offers more bold and brilliant directorial slants than a dozen average productions can muster. Notably, he explores religious imagery and ritual, giving unsettling twists to both. The voyeuristic chorus of father, friar and suitors repeat the siblings' secret vows of devotion, as if muttering a sanctifying prayer. Or are they threatening retribution?
There are cruel glimmers of hope, even after Annabella falls pregnant. Indeed, in this reading she seems to grow more innocent as time passes, coming to love her shotgun-wedding husband, unaware that the axe is still going to fall. It's the malignity of Ford's other characters that is really shocking when, deceptively comic, they suddenly turn vicious.
The ultimate mutilations – a heart literally rent from a body – are so chillingly psychotic that you feel your hair standing on end. In a stroke of genius by designer Nick Ormerod, a white-tiled bathroom adjoining Annabella's bedroom serves as an inner chamber of horrors, only glimpsed through a brightly lit door.
The clock is ticking in The Bomb – A Partial History at the Tricycle. Ten short plays from various hands – split into two lots of five and all directed by outgoing artistic director Nicholas Kent – trace the history of nuclear weapons. This first tranche starts with dramatist Zinnie Harris envisaging a critical moment in Whitehall, in 1940. The Jewish physicists Rudolf Peierls and Otto Frisch (having escaped Nazi Germany and Austria) are about to explain to the British government that previous computations were wrong. Rather than requiring tons of uranium, a nuclear bomb could be made with a kilogram or so.
From here we cut to 1945. In Ron Hutchinson's Calculated Risk, PM Clement Attlee faces a fearful new dawn, post-Hiroshima, and seeks advice on whether or not to pursue a British bomb. Will it be a bankrupting war-crime-in-waiting or, with Pandora's box wide open, is an independent nuclear arsenal vital for national security? Shifting into allegorical satire, Lee Blessing's Seven Joys shows the proliferation of nuclear states, from 1949 on, as a none-too-select members' club.
The scripts are patchy, some lumpen with background facts, others without enough. You might also expect more sense of urgency regarding North Korea and Iran's current nuclear status. Still, the plays cover a lot of ground, and with slick scene changes and much role-swapping by Paul Bhattacharjee, Belinda Lang and others, combine ethical arguments with surprising humour. Highpoints include John Donnelly's Little Russians, in which arms dealers and scrap merchants tussle over warheads in post-Soviet Ukraine; and David Greig's The Letter of Last Resort, contemplating the torturous choice every British prime minster must face, deciding what orders to leave for our ballistic missile submarines to enact in the event of Britain's being laid waste.
David Eldridge's new inheritance drama, In Basildon, is concerned with the fall-out of economic downturn on a riven working-class family, gathering in Essex around the deathbed of Len (Phil Cornwell). His sisters Doreen and Maureen (Linda Bassett and Ruth Sheen) soon fall to squabbling. His skint nephew Barry (Lee Ross) is driven up the wall by Len's gauche mate Ken (Peter Wight), still trying to play the lady's man. Barry's uni-educated cousin fetches up as well, with her writer boyfriend whose anti-materialist posturing cuts no mustard. The big question around this deathbed is: who'll get the house?
Dominic Cooke has assembled a crack cast. Ian MacNeil's in-the-round staging creates a pressure-cooker effect with its scrupulously detailed, stuffy decor. Real-life experiences palpably underpin this play, Eldridge being Romford-born and uni-educated. And there are dozens of explosively funny lines. Yet the hooting laughter at the Royal Court's press night felt, to me, condescending at points, and Eldridge's characters can lapse into cliché. A history of Essex is obtrusively dumped in the dialogue, and any suspense over the inheritance sags. Missable.
''Tis Pity She's a Whore' (020-7638 8891) to 10 Mar; 'The Bomb' (020-7328 1000) to 1 Apr; 'In Basildon' (020-7565 5000) to 24 Mar
Next Week
Kate Bassett catches Hay Fever from Noel Coward in the West End
Theatre Choice
Filter Theatre's experimental A Midsummer Night's Dream with rock band, is a delightfully silly, insightful and sexy take on Shakespeare's comedy, at the Lyric Hammersmith, west London (to 17 Mar). The RSC's rumbustious Taming of the Shrew, played out on a giant bed, is at Newcastle's Theatre Royal (to Sat).
Join our new commenting forum
Join thought-provoking conversations, follow other Independent readers and see their replies