True West, Vaudeville Theatre, review: Kit Harington does fine work in engaging dose of visceral elation
It's Johnny Flynn whose comic perfection elevates this production of Sam Shephard's wonderfully warped play
Paul Taylor
Wednesday 05 December 2018 12:22 Comments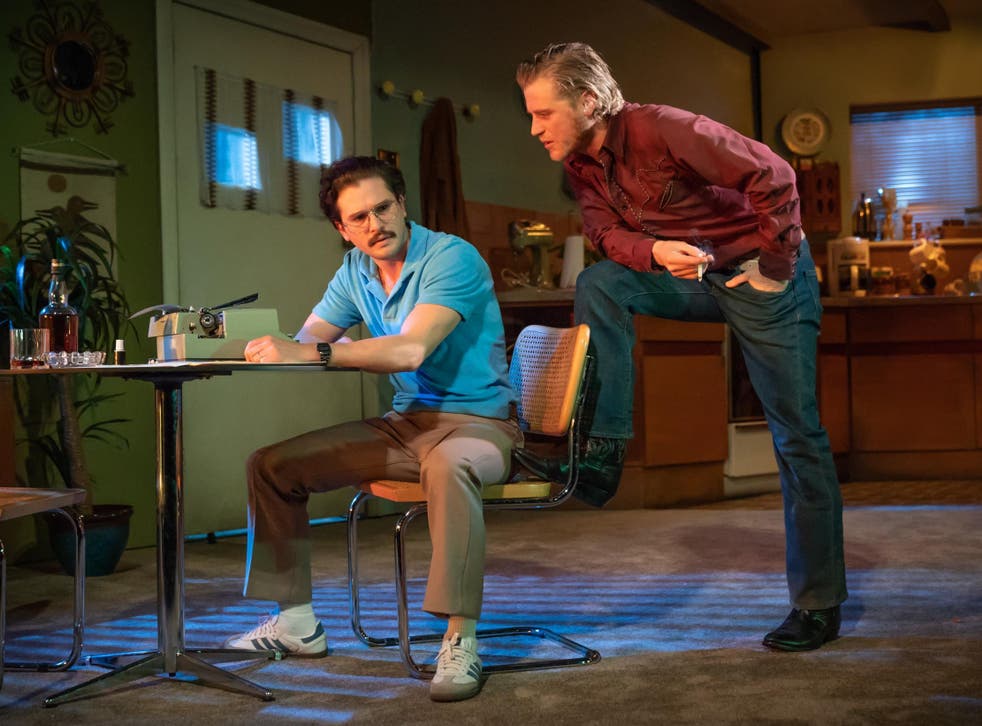 Matthew Dunster's production of True West is the first major revival of a Sam Shepard work since the playwright's death in July last year.
The 1980 play is a wonderfully warped and blackly farcical study of sibling rivalry, of the self-division within Shepard himself, and of two sides of the national psyche pitted against each other. There's been no shortage of major talent keen to play the warring brothers as these are meaty parts – John Malkovich and Gary Sinise portrayed them for Chicago's Steppenwolf Theatre Company in 1982, and Philip Seymour Hoffman and John C Reilly performed on Broadway in 2000. Mark Rylance and Michael Rudko alternated the roles in the Donmar production in 1994, suggesting the fatal interdependency of the mad disintegrations of the siblings.
Just before a new Broadway version with Ethan Hawke and Paul Dano, this classic piece makes its belated West End debut, in a staging that draws together the talents of Game of Thrones star Kit Harington and Johnny Flynn, an actor-singer-songwriter whose subversive, Ortonesque turn in Martin McDonagh's Hangmen was one of the highlights of that award-winning show.
Harington portrays Austin, a clean-cut, cerebral writer who is house-sitting for his mother at her Southern Californian abode while he slaves to finish a screenplay. His plans are scuppered by the arrival of his estranged brother Lee (Johnny Flynn), a drunken drifter and petty thief who has spent months in the Mojave desert and sees himself as the lawless frontiersman to Austin's Ivy League conformity. I thought Harington, who is very fine, could have brought out more the neurotic intensity of the constipated writer in the first half of the play. Flynn is comic perfection – his attempts at intimidation all the more unsettling for having a mocking edge and a faint undercurrent of insecurity. It's a brilliant stroke that Lee even manages to usurp his brother's professional territory. Against all the odds, he sells a treatment for a western – supposedly truer because it is based on experience – and Austin, tasked with typing up this dubious screed, hits the bottle.
A golf club is swung with violent frustration as if it is the typewriter's fault Lee can't compose. Austin's idea of theft is to steal all the neighbourhood toasters and link them up as a sort of absurd domestic toast factory. Harington degenerates hilariously and dangerously, hellbent on joining his brother in the desert – a life for which he is manifestly unsuited – and struggling to strangle him with a whipcord. The actors relish the mayhem but never lose control or precision as they unleash the play's lethal, loopy energy. The production is full of nicely considered touches. Shepard is preoccupied with what the "true west" actually means, and by the thought of fake Americana trading in myths that have been used up. Hence the arresting incidental music, composed by Flynn, which startles proceedings into action with its drumming rhythms from the Navajo and Mojave tribes.
I've seen more visceral and menacing accounts of this play, but here you get an engaging dose of its visceral elation.
Until 16 February 2019. 0330 333 4814; nimaxtheatres.com
Support free-thinking journalism and attend Independent events
Register for free to continue reading
Registration is a free and easy way to support our truly independent journalism
By registering, you will also enjoy limited access to Premium articles, exclusive newsletters, commenting, and virtual events with our leading journalists
Already have an account? sign in
Join our new commenting forum
Join thought-provoking conversations, follow other Independent readers and see their replies