The Twilight Zone, Almeida Theatre, London, review: A witty and piquant alternative to forced jollity
Anne Washburn's production based on the acclaimed CBS television series includes a mash-up of eight of the original transmissions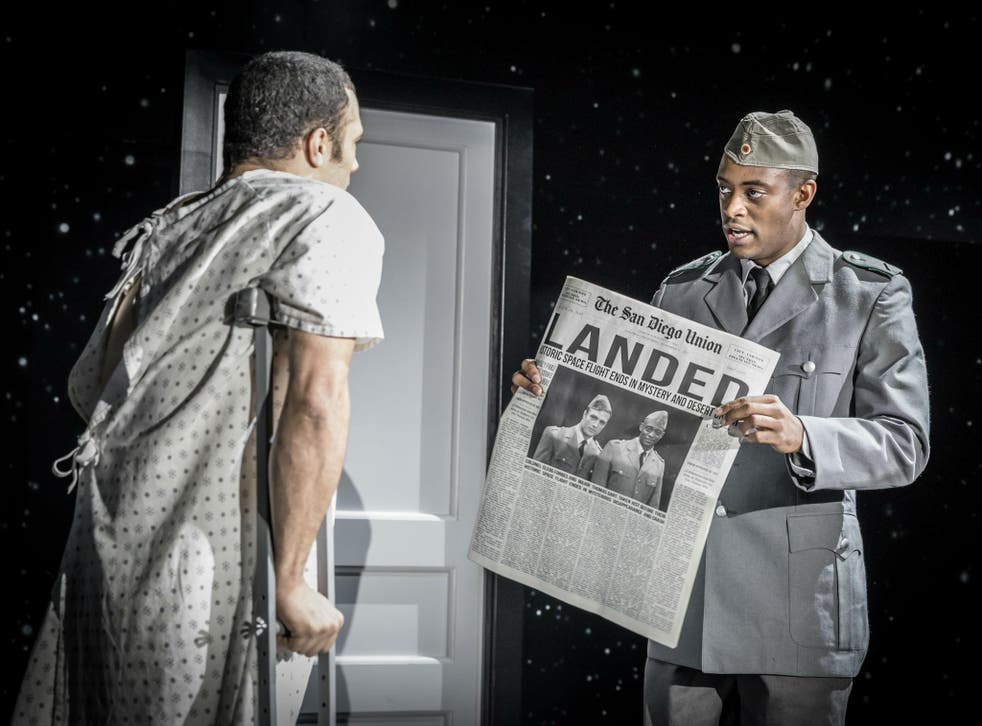 Anne Washburn made a big impact at this address a few years ago with her play Mr Burns, a piece in which the "Cape Feare" episode of The Simpsons becomes the foundation of post-apocalyptic culture as the survivors of a nuclear disaster tell and re-tell the minutiae of the story to each other. Now the American dramatist is back with her take on another iconic TV show. The Almeida has had the smart idea of commissioning her to adapt The Twilight Zone, the cult CBS television series which, between 1959 and 1964 (and in countless re-runs since) spooked audiences with its crackly black-and-white mix of sci-fi, supernatural fantasy and horror. Washburn has created a mash-up of eight of the original transmissions (based on stories by Rod Serling, Charles Beaumont and Richard Matheson), the strands disconcertingly interwoven in ways that increase the tension and sense of foreboding. We view Richard Jones's monochrome production through a TV-shaped aperture (there's a set dangling above the action) and the proceedings are played out in a box wallpapered with intergalactic vistas, the scene shifters drolly camouflaged in star-flecked boiler-suits and goggles.
The show kicks off with an episode in a diner where a bus full of strangers, stranded in the snow, has sought refuge. There's been a report of a UFO and there are tracks leading to the diner. Which of them is the alien? Cold War paranoia; space-travel anxiety; fear of sexuality; worries about surgery and psychiatry – the gang's all here. Jones's excellent cast – including John Marquez, Matthew Needham, Amy Griffiths, and Cosmo Jarvis – know just when to play things straight and when to camp up the portentousness. You might call these period-pieces, if it weren't for the way they tap into our own neuroses or flicker with current political concerns. In one episode, alarming bigotry erupts between neighbours over which of them has the right to use the one available nuclear bunker when the country is put on alert for Armageddon. "You're a foreign person and I don't mean anything racial by that. It's just a fact." Your family's length of residence on American soil means nothing, it seems, if you are a slave and did not choose to be there.
A little girl strays into the Fourth Dimension and has to be rescued by the family dog. Sarah Angliss (composition and sound), Christopher Shutt (sound) and Stephen Bentley-Klein (music direction) keep our ears constantly unnerved – with the macabre distance between the voices in that exchange or by the schizoid eruptions of the jukebox in the diner or by the nightmarishly seductive music of a fairground. This latter afflicts the jittery man who forces himself to stay awake for days at a time so as to fend off erotic dreams about Maja, the Cat Woman – and who consults a psychiatrist. An astronaut and a space scientist fall in love in the weeks before he goes off on a 52-year mission to find life in another solar system. There is no life. "His loneliness must have been something brand new in human experience," says his boss in a story of abortive reunion that is beyond redemption by cryogenics.
There are some droll illusions and running gags. There are weird, jokey changes to the number of astronauts in the photograph splashed under the headline "LANDED" on the front page of The San Diego Examiner. Characters are rattled to keep finding that they have a cigarette cocked in their mitt even when they have never smoked before or have long given up. Ghost stories are traditional at this time of year and as a Yuletide offering, this is a witty and piquant alternative to forced jollity.
Until 27 January (almeida.co.uk)
Join our new commenting forum
Join thought-provoking conversations, follow other Independent readers and see their replies