Unfaithful, Found 111, theatre review: 'Recommended'
Owen McCafferty takes what could have been a hackneyed scenario – middle-aged marriage rocked by the imputation of infidelity – and gives it a raw contemporary twist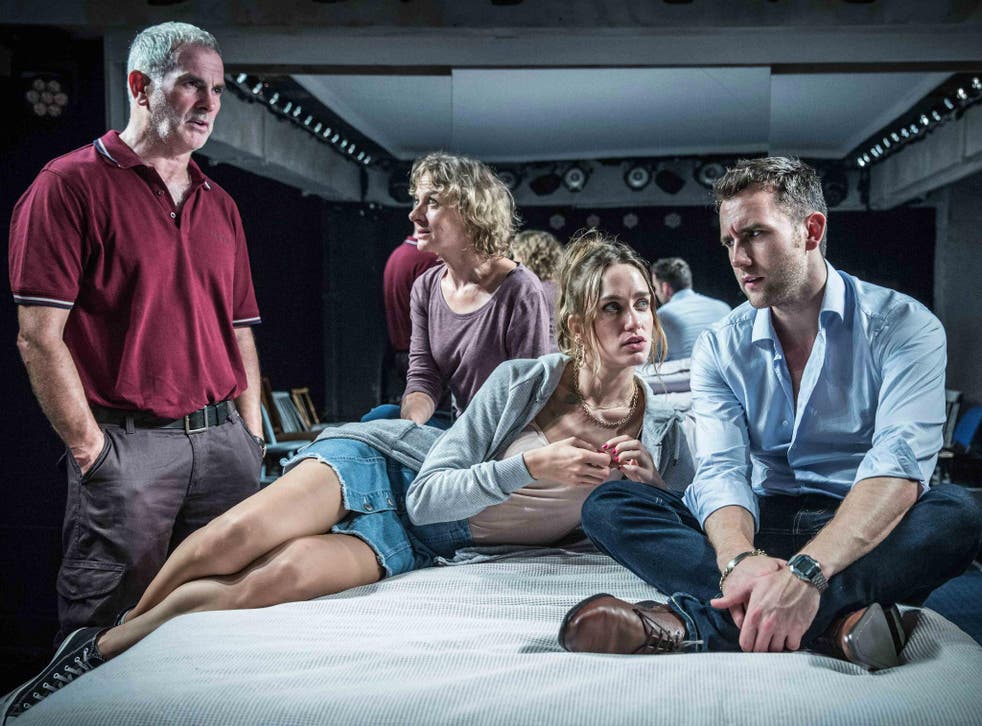 Owen McCafferty takes what could have been a hackneyed scenario – middle-aged marriage rocked by the imputation of infidelity – and gives it a raw contemporary twist in this insightful four-hander. Tom, a 58-year-old plumber, was having a quiet pint after work in a hotel bar when his peace was disturbed by Tara, a gorgeous 20-something who started shamelessly propositioning him. The piece starts in the middle of a row between Tom and Joan, his wife of 30 years, after he's confessed to having had sex with the younger woman. Joan is furious and seeks revenge by putting on her glad rags and hiring a male "escort" in the very hotel where Tara picked up her husband. There's now a criss-cross of infidelities because check-out girl Tara just happens to be the gigolo's live-in lover.
The set-up may be a bit contrived but it's hardly surprising that Emily Dobbs at Found 111 has been so quick to revive this 75-minute piece which was unveiled two years ago in Edinburgh and now gets a powerful new production from Adam Penford. The intimacy of the space here – with the audience seated like eavesdroppers on either side of a sparse set that increasingly gives the impression that the two couples are occupying the same bedroom – is ideally scaled for the drama's intensity and rueful wit.
It's a play about those postponed conversations in a long-term relationship that it sometimes takes a complete aberration to trigger. It's eloquent about the disappointments of ageing and about marriages that have gone stale. Niamh Cusack brilliantly conveys Joan's scorching anger and hurt. She exults in her power over the male escort – lashing out in role-play abuse of him and turning the air blue with her explicit fantasies. But Cusack also subtly lets you see that Joan's heart is not really in this. The hunky escort, Peter, is played by Harry Potter star Matthew Lewis, who nicely suggests the sense of comic deflation when his character is obliged to admit that, having been a failure at modelling and porn movies, he has only prostitution to thank for rescuing him from the drudgery of a call centre.
The play keenly acknowledges the need to inject excitement into the boredom of everyday life. "She was asking me to be alive," declares Sean Campion's excellent Tom, in a daze of regret at the depredations of time, when he describes being picked up by Tara. Despite Ruta Gedmintas's luminous performance, her reasons for wanting sex with him feel a bit cooked-up because the strains on the younger couple of Peter's career don't get the same degree of attention as is given to the travails of the older couple. The play is artful about how much of the truth the four of them tell one another. And it manages to be warm, without being sentimental, as it shows Tom and Joan reaching an accommodation – lying in bed and poking fun at the memory of the people they first dated long ago. Recommended.
To 8 October; 020 7478 0100
Join our new commenting forum
Join thought-provoking conversations, follow other Independent readers and see their replies