Voices of the Amazon, Sadler's Wells, London, review: It's painfully well meant
This new dance musical in a rainforest setting draws on environmental concerns and is supported by the WWF and the Eden Project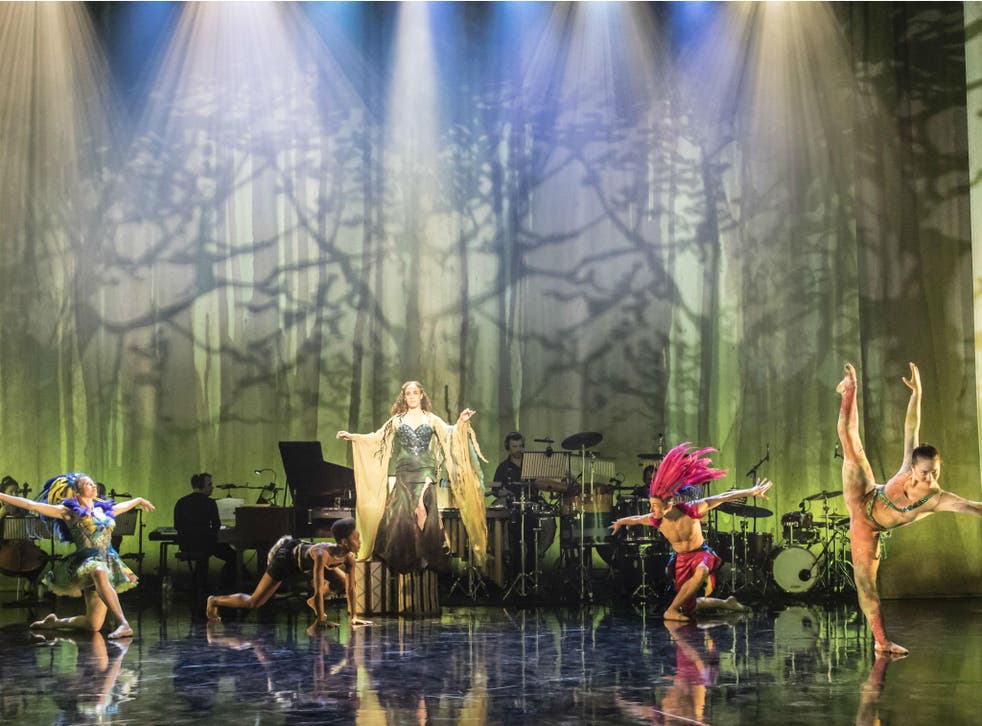 Who knew the rainforest contained this much cheese? Voices of the Amazon, a new dance musical by Sisters Grimm, is a mystical folk tale in a rainforest setting. It's full of clunky uplift, feathered costumes and vague emoting.
Sisters Grimm is a London-based production company led by former Royal Ballet dancer Pietra Mello-Pittman and composer Ella Spira. Their last production, Inala, was a dance collaboration with Ladysmith Black Mambazo, using a South African setting. This time, they've turned to Brazil, collaborating with Brazilian songwriters.
It's painfully well meant. The story of a river mermaid trying to cure her sister draws on traditional stories and on environmentalist concerns that deforestation will affect the rainforest's people, animals and plants that are an important source of medicine. The production is supported by the WWF and the Eden Project.
The mermaids dangle from silks, then descend to join a stage full of slinky animals and noble people of the rainforest. A voiceover, recorded by Jeremy Irons, helpfully explains the story and its mystical significance. It gives the production a stop-start quality, reducing Helen Pickett's choreography to the level of explanatory gestures. There are cutesy animal dances and waffly celebrations of the natural world.
Spira's score layers schmaltz over percussive beats, with songs that switch between Portuguese and English for lyrics about Mother Nature. One higher energy number ends up in accidental disco territory. Singer Kay Elizabeth is a strong presence, despite limited material.
Ben Cracknell's lighting casts pretty, leafy shadows over the stage, but Temple Clark's costumes are generic. Some of the backing dancers wear feathered headdresses reminiscent of carnival costumes – but then they scamper about en pointe, looking prim and proper.
Though the production means to celebrate diversity, referencing indigenous stories and Brazilian dance and music, those elements feel borrowed. The sense of different cultures is naïve.
So is the drama. As the heroine and her sister, Rachel Maybank and the Royal Ballet's Nathalie Harrison have to exchange far too many smiles of non-specific happiness. Emotions are one-note; there's a lot of lip-service to ancient traditions, but nothing to suggest their power. We keep being told that characters are "as one" with the forest, the river or their relatives. Playing the hero, Kaue Ribeiro is admirably spontaneous, bringing a sense of belief to the story's New Age magic, but it's an uphill struggle.
Join our new commenting forum
Join thought-provoking conversations, follow other Independent readers and see their replies