Who's Afraid of Virginia Woolf?, Harold Pinter Theatre, London, review: I think Edward Albee would have adored this show
James Macdonald's high-energy production of 'Who's Afraid of Virginia Woolf?' stars Imelda Staunton as a feisty Martha, who returns to the West End for the first time since her acclaimed performance in 'Gypsy'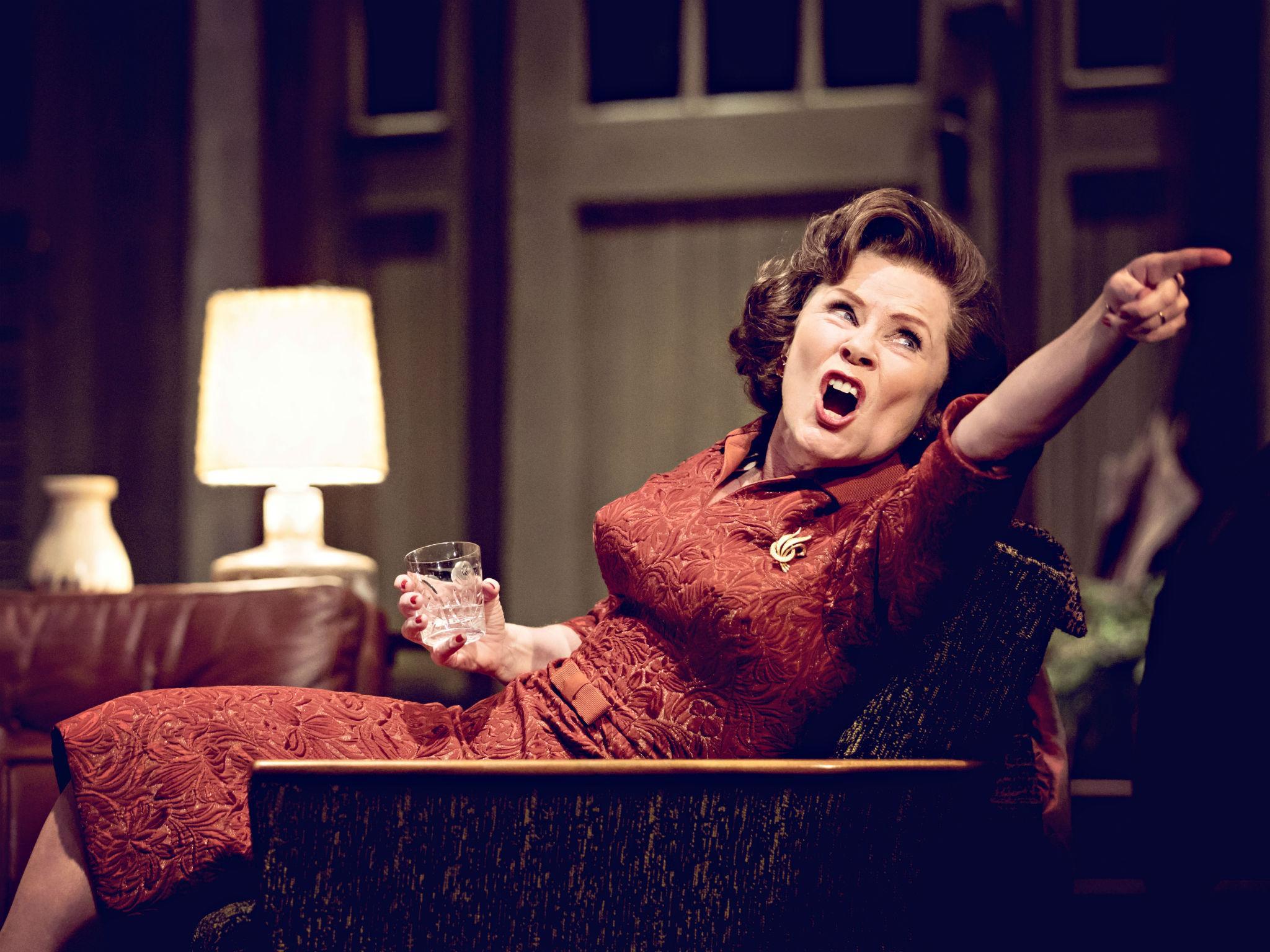 Jesus H Christ – but this is a brilliant night out. That's not my profane oath, by the way, but Martha's first squiffy shout when she crashes back home ("what a dump!") at 2am at the start of this American classic.
James Macdonald's production is the first major revival of what is surely the late Edward Albee's greatest play. I got to know the dramatist a little, having interviewed him four times – a fifth, and we might have caused comment on the platform. Enough, at any rate, to say with some confidence that I think he'd have adored this show.
Gore Vidal sleekly put the knife in Truman Capote by saying that the latter's death was a "good career move". Every bit as sharp a knife in that particular box of curlicued cutlery, Albee will be quipping, when the reviews hit the stands up there, that the best career move would have been to stick around for this latest Woolf outing.
It's the most high-energy and the funniest version of the piece that I have seen, and the first to have given the proceedings a really dark and jolting penumbra of almost military as well as marital belligerence. There are always dangling chimes on the wall of George and Martha's living room, pregnant with the possibility of a slapstick gag that does indeed – ah, but that would be telling. Macdonald ups the ante. It's as if an axe has been hurled at the said item from the metallic din that gets the adrenalin racing from the very outset here. In the interval, the bottom of the theatre curtain seems to drift and brood restively as if for a worse fight to come. I thought: where have I seen that effect before. Answer: in Deborah Warner's Barbican production of Julius Caesar. We're in the world of the American university campus, where the name often point back to the ancient Rome. As here: New Carthage.
Martha's father, the head of house, has asked his daughter and son-in-law, in full raddling rancour, to take under their wing Nick and Honey, twenty-something newcomers, gnarled in their own awful soap-smelling naivete. Given what happens at the after-party drinks session all-nighter, one must be grateful for the entire east coast that this partriarch did not venture into human resources as a career.
​Imelda Staunton is all of five feet but her performance as Martha – one of the greatest feats of acting I have witnessed – is "immense", to use one of those buzz terms that aren't always proportionate to the actual achievement. Why? Well, Martha is often played as sophistication in the toxic sere-and-yellow, acidulated by a husband who can't get it up every which way any more, having once been a precocious star. You feel that Staunton hasn't begrudged an iota of her curves to the black capri pants into which she presses her form here. For all her Bette Davis sophistication, "she's stuck like a dope/With a thing called hope".
She shimmies and bounces tummies and seems to have more balls than a pawnbroker's sign. She breaks your heart because she's juicy, akin to Momma Rose, her last part: she''ll go to the end of the road. Except that here her objective is not to get a contract on the music hall circuit. It's to get her husband to look at her. Staunton makes you ache to think how furiously she must, as a girl, to have had to cartwheel in order to attract the attention of Daddy. Everything is comin' up ruses. She's a loud vortex of voraciousness. Cattle have been rustled more softly than she tries to get her husband's attention.
This is a great play, partly because it is so funny about humourlessness. Luke Treadaway is excellent as Nick. He's forever adjusting his belt and blazer as is for about to pose for a photoshoot in which he accepts promotion – manfully, as of right. Conleth Hill, perfection as George, has to stifle giggles at one point in his man-to-man sessions with this rubberised object of his wife's lust. This George never really loses his good manners. He's wafered; like a monody in various shades of mulligatawney.
Imogen Potts as Nick's hysterically pregnant wife rises from the pool of her unwonted squiffiness with an unfortunate timing beautifully timed. Even being necked by Martha, Nick seem to be encased in his own all-over-body prophylactic. It's hilarious; it's utterly excruciating; it's three hours. The ending is, for my taste, a hair too slow. But hasten, hasten. Staunton lives!
Join our commenting forum
Join thought-provoking conversations, follow other Independent readers and see their replies