Windows, Finborough Theatre, London, review: Splendid performance by Charlotte Brimble
This intimately staged production by Geoffrey Beevers marks the 150th anniversary of the author's birth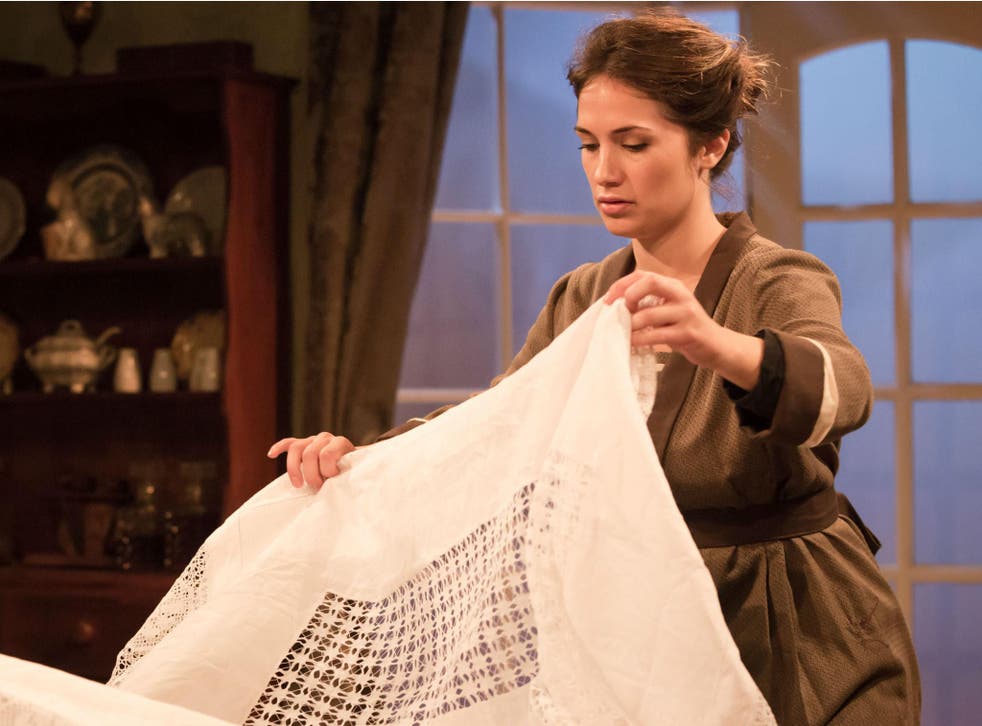 Best known for the television adaptations of his novel sequence, The Forsyte Saga, John Galsworthy was also a prolific dramatist who was spoken of, in his day, in the same breath as Shaw and Granville Barker. Sporadic revivals of his plays demonstrate the reformist fervour and skilful scrupulosity with which he tackled social issues – industrial unrest in Strife (1909), war hysteria and pacifism in The Mob (1914) and caste-bound racial prejudice in Loyalties (1922). Windows, another play from 1922, is now given its first professional revival for 85 years in this attractively acted and intimately staged production by Geoffrey Beevers which marks the 150th anniversary of the author's birth.
Described by Galsworthy as "a comedy for idealists and others", the piece is set in the aftermath of the First World War as the English struggle to come to terms with an altered world and the betrayal of the values for which they fought. Geoffrey March (David Shelley) is a well-to-do, liberal-minded novel-writer and journalist who enjoys expostulating at the government and exchanging thoughts about the new moral uncertainties with his son Johnny (Duncan Moore), who has emerged from three years in the trenches fiercely clinging to the idea of chivalry, and with his window-cleaner, Bly, (Vincent Brimble), an amateur philosopher who knows his Nietzsche from his Hegel and considers that that the right course in life is to follow your instincts.
March's high-mindedness is put to the test when Bly suggests that the family employ his daughter as their parlour maid. Faith is a young woman who does not come with glowing references. She's just out of prison, where she's served a three-year sentence, having narrowly avoided the death penalty for smothering her new-born illegitimate baby. All his liberal inclinations prompt March to give Faith a fresh start; his chillier, pragmatic wife ("For a man who can't see an inch into human nature, give me a – psychological novelist!") is vehemently opposed to the plan.
The play is marred by some heavy-duty imagery about windows courtesy of the Cockney cleaner (who sounds like a bookworm cousin of Alfred Doolittle). This over-insists on the theme of needing to see people accurately, undistorted by crusading do-goodism or purblind social prejudice.
Faith is neither a "minx", as she's characterised by the reproving Mrs March (spot-on Carolyn Backhouse) nor a "cause" that Johnny can save himself by championing. Charlotte Brimble's splendid performance shows you how the beautiful Faith eludes simple categorisation. Anxious to make up for lost time, she has an air of mutiny about her, is in no mood for gratitude, and soon starts making eyes at the susceptible Johnny. But she also gives you moving glimpses of the girl's aching, heartfelt regret, driven to a moment's aberration by desperate fears about her baby's future. Faith's calculation, that at first looks compulsive, is largely, you feel, the product of an insecurity that the experience of prison has only deepened. Her father may be pessimistic about people's capacity for change: "It's 'ardly worthwhile to do these winders. You clean 'em and they're dirty again in no time... And people talk o' progress." Windows, by contrast, suggests that vicious circles can be broken, if only reformers will pay the right kind of attention.
The dialogue has a fair share of sprightly wit and there are eloquent passages, such as the one in which Faith and Johnny compare the respective hells (prison and the trenches) that they have just survived. The satire on blinkered philanthropy isn't always well-integrated, though, with the play's concern about this young woman's dangerous predicament, and there is not an ironic enough edge in this production to the climax which gives the spotlight to the middle-classes congratulating themselves on their last-minute enlightenment as they walk through the windows into the air.
Join our new commenting forum
Join thought-provoking conversations, follow other Independent readers and see their replies