Wish List, Jerwood Upstairs, Royal Court, London, review: A heartening debut
Katherine Soper's debut play – about two siblings coping with benefit cuts, zero-hour contracts and OCD – was winner of the 2015 Bruntwood Prize for Playwriting 
Paul Taylor
Friday 13 January 2017 14:53 Comments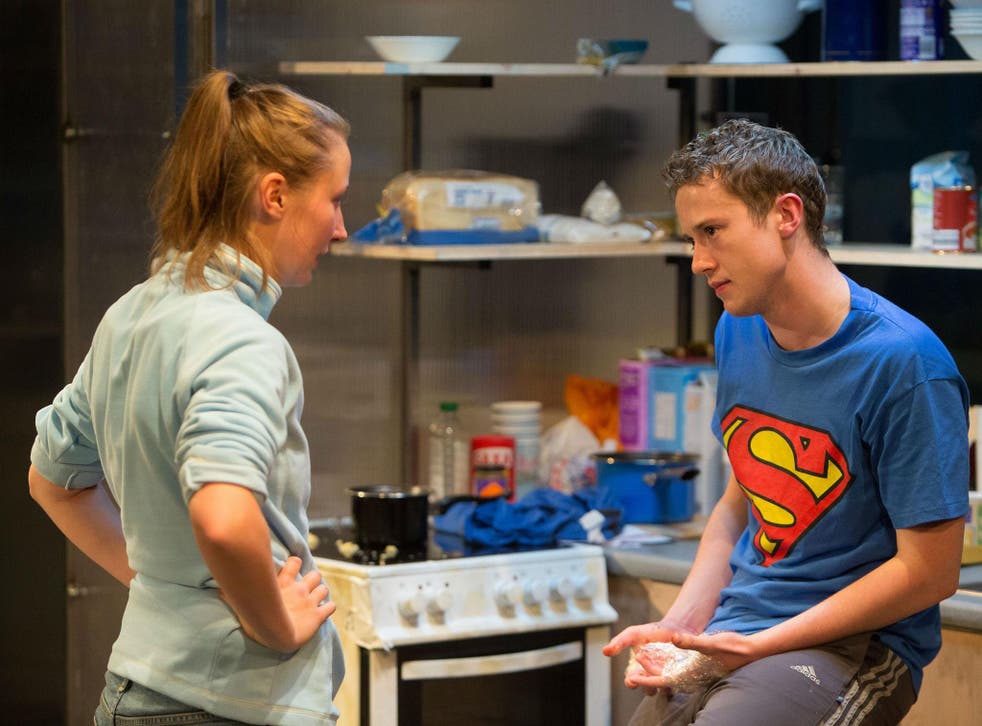 Dean can already be seen engaged in one of his compulsive rituals – slapping gel onto his hair and worrying the result into spikes, over and over again – through the translucent walls of the bathroom as the audience take their seats for Katherine Soper's debut play, a well-deserved winner of the Bruntwood Prize.
Since the death of their mother, 19-year-old Tamsin has had sole responsibility for looking after this slightly younger sibling who suffers from a punishing form of obsessive compulsive disorder. By day, she puts in 10-hour shifts at low-paid, zero-hours contract work boxing up goods in an Amazon-style warehouse, called with no trace of irony a "fulfilment centre". At night, in their Milton Keynes flat, she tries to help Dean navigate his way through a Byzantine benefit system that has just decreed him fit for the workforce, even though because of his illness he can rarely venture beyond the bathroom.
Soper's play is a beautifully compassionate, tender and at times gently humorous piece of work. Matthew Xia's eloquent production underlines the continuities, suggested by the drama, between Tamsin's two worlds. The environment of the warehouse, where even the toilet breaks are timed and there are scoreboards that measure your present packing performance against your per-hour average, seems intent on creating a capitalist caricature of mad OCD rituals. Everywhere there are worrying forms and questionnaires that might almost have been designed to demoralise the honest, such as: "Do you believe that your only limitations are the limitations you set yourself?"
The powerful traverse-stage design by Ana Ines Jabares-Pita gradually blurs the stark-seeming divide between the flat at one end and, at the other, the warehouse with its Orwellian slogan "Work. Enjoy, Improve" and its chute, down which, in one ominous sequence, a slew of bottles of hair gel tumble for packing. This sudden avalanche is like an eerie signal to Tamsin of the panic that must be mounting back at home where Dean, on a desperate self-improvement kick, is trying to go cold turkey on the lotion-ritual front.
Erin Doherty is tremendously moving as Tamsin – pale, bone-weary, sometimes exasperated to tears by her brother, but always able to muster a fragile, reassuring optimism for his sake. She and Joseph Quinn create a completely convincing sense of sibling intimacy, with its own quiet survival strategies (the gentle high fives, say, with which they give each other strength). Dean never feels remotely like a case study in Quinn's meticulous, dignified portrayal of the character's routines for calming his intolerable degree of anxiety. Shaquille Ali-Yebuah is very charming as Luke, her 16-year-old fellow-packer at the warehouse. He's obliging and can see the funny side of things in a sometimes amusingly gauche way but their friendship (which involves, at one, point, Tamsin giving us her Meat Loaf impression) is touchingly lop-sided. For Luke, the job is a stop-gap before college. Because of the benefit cuts and the urgent need for money, it's beginning to look as if its all that Tamsin (who is interested in science) can hope for.
Is it all relative? "Do you think about where your clothes come from? How much that child earned?" asks her work-supervisor (well-played by Aleksandar Mikic) who is himself oppressed by the echelon above and who does his best to be kind. The play feels for him in his saddened resignation. But though it is totally unpreachy, Wish List is not itself resigned. In its clear-eyed look at the interplay between two dehumanising systems, it arouses due political indignation. A heartening debut.
Register for free to continue reading
Registration is a free and easy way to support our truly independent journalism
By registering, you will also enjoy limited access to Premium articles, exclusive newsletters, commenting, and virtual events with our leading journalists
Already have an account? sign in
Join our new commenting forum
Join thought-provoking conversations, follow other Independent readers and see their replies