Why directors love Shakespeare's Measure for Measure so much
Another major production of the 'problem play' is opening up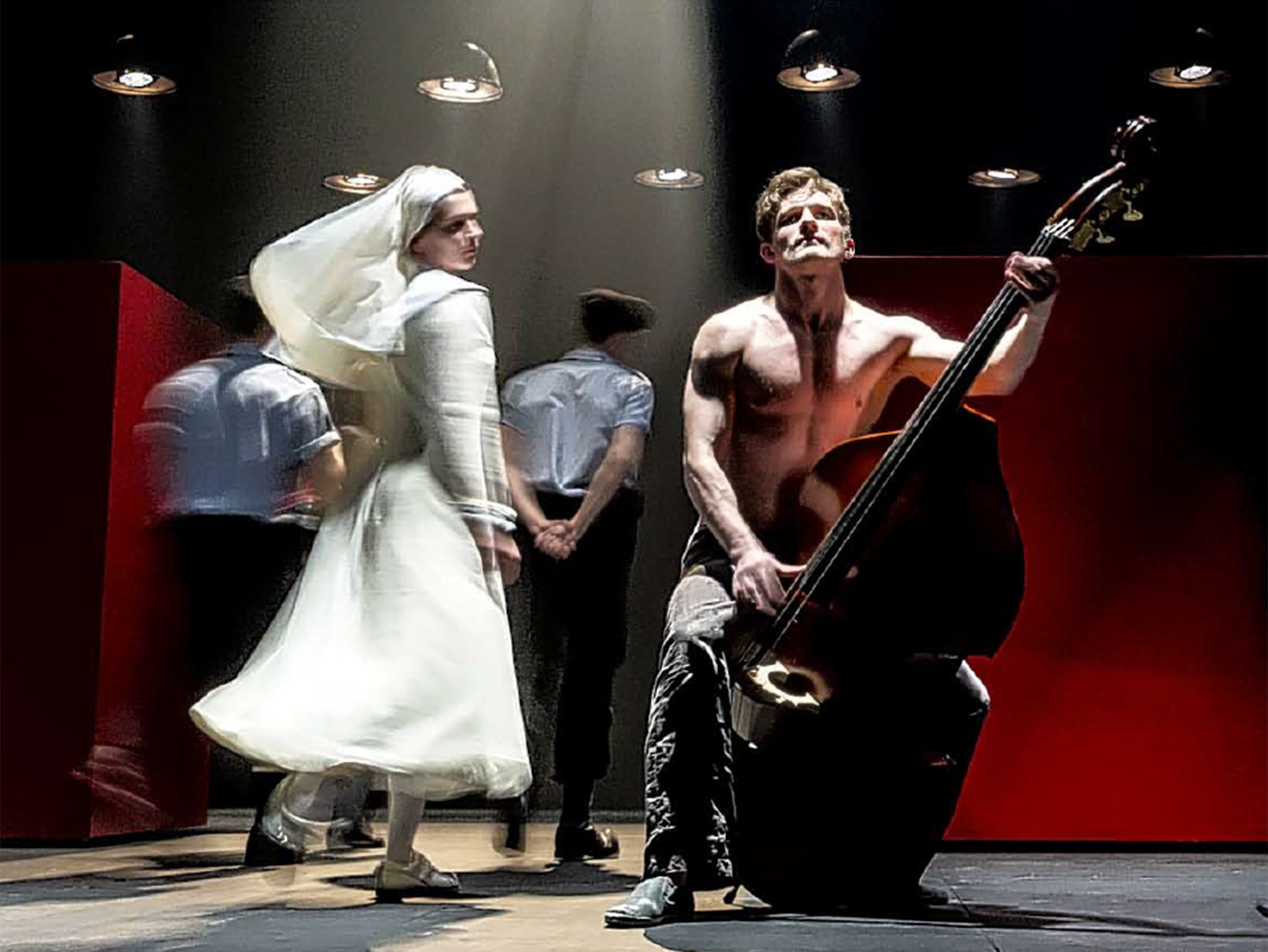 Shakespeare plays apparently being like proverbial buses, the third major production of Measure for Measure in 2015 is about to open at the Young Vic in London; it follows Cheek by Jowl's version at the Barbican and another at Shakespeare's Globe. This glut is all the more unexpected given that it's hardly a bankable big-hitter; Measure for Measure is a comparatively little-seen "problem play", which has a troubling blend of tragic and comic elements.
A quick plot summary: the Duke of Vienna needs to clean up his licentious city – but hands the job to his deputy, Angelo ("a man of stricture and firm abstinence") while he disguises himself to watch what unfolds. Angelo's first act is to sentence Claudio to death for impregnating his lover, Juliet. Claudio's sister, Isabella, is about to enter a convent, but instead goes to plead for her brother's life. In doing so, she ignites a passion in Angelo, who offers to release Claudio – if she'll sleep with him. Isabella refuses even to consider this shameful sin. The Duke, disguised as a friar, intervenes to save Claudio's life, but allows Isabella to think him dead; only when she ends up pleading for mercy for the now outed and condemned Angelo are the Duke's secret machinations revealed. Having taken a fancy to Isabella himself, the Duke then asks for her hand in marriage ….
This, obviously, can be read as an incredibly dark story, one of hypocrisy, deceit and coercion, threatened rape, death and eternal damnation. But it can also be staged with moments of true redemption and romance, and has a whole sub plot of bawdy, comic characters making a mockery of the state's attempts to enforce moral standards.
"Shakespeare's obsessive about double-meaning," says Joe Hill-Gibbins, who directs the Young Vic production, starring Romola Garai as Isabella. "Lines are written to give the choice for meaning completely different things. Often one choice is funny, and one isn't. That's what makes it challenging to direct."
And this year is giving us three radically different interpretations. In the gloomy corner is Declan Donnellan's Check by Jowl Russian-language production: a meditation on justice, power and corruption within an oppressive regime, it played to rave reviews in April. Politicians in suits were flanked by guards with guns; the Duke's disguised spying inevitably chimed with current concerns around state surveillance. Parallels with Putin didn't need spelling out.
The production underlined not only the play's central tension between moral puritanism and sexual appetite, but also the tensions between transparency and secrecy, public and private personas. The rulers that condemn others are themselves rotten at the core. Donnellan's version also shunned any kind of happy ending – problematic to the last. Of course, this Isabella wouldn't want to marry this manipulative Duke; that she was whirled, unsmilingly, into a waltz looked more like a final abuse of power than a love-match.
Watching this, I thought: problem solved – it's a tragedy. How could it be anything but? The appeal of Measure for Measure to modern directors seemed set to be how the play reveals seedy corruption beneath political spin, and the dangers of zealous extremism (Anna Khalilulina's Isabella initially coming across as an unwavering fundamentalist too, as intractable as Angelo).
But then, in July, came Dominic Dromgoole's production – in his Shakespeare Globe house style, it was bawdy and merry. Viennese prostitutes and pimps romped rudely round the stage, squeezing maximum laughs from not always hilarious Shakespearean double entendre. While Mariah Gale's Isabella was an intense and still centrepoint, Dominic Rowan's Duke, disguised in a daftly dodgy wig, was a comic bungler, making it all up as he went along.
For me, this fails to make sense of the Duke's cruel behaviour: why delay telling Isabella that her brother is alive if you're just a good guy trying to do the right thing? But the play was riotously enjoyable – and it proved that, yes, Measure for Measure could most certainly be a comedy.
So, how will Hill-Gibbins, ahem, measure up? He's also heading in a new direction for his production. "I started off thinking it was going to be a play about sex, and found out, 'Oh no, it's a play about God'," he says. "Measure for Measure is full of religious allegories."
The disguised Duke is "the disembodied, absent God figure", a controlling yet unseen power. But he also becomes a Christ-like figure: think of his return to Vienna as a resurrection. His actions also apparently recall "the Harrowing of Hell", where Jesus tricks the devil into freeing all sinners from the prison of hell – the Duke goes into a prison and performs a trick to release Claudio. Angelo, meanwhile, is like Adam in the Garden of Eden, tempted by an Eve figure, Isabella.
That might sound like you need a theology degree to get a handle on the show, but that's not the case, insists Hill-Gibbins. "It's not that I'm trying to stage an argument about the play. It's more that the Bible has patterned into it these incredibly powerful and weird myths. And most of the most powerful plays also have, underneath their surface, a deep, mythic structure. Understanding those parallels helps you present the play in a much more vivid and interesting way."
The show will incorporate contemporary elements – video footage, modern music, film and television references – that he hopes will offer audiences a new "frame" and way to "see" the play. But he's avoiding nailing it down to any specific time and place – even the religious allegories won't be overlaid too visibly or explicitly. There is no "solution" to this problem play: instead, Hill-Gibbins suggests we let its inherently strange nature swirl around us.
"When I read Shakespeare's plays, they seem very disturbing and hallucinogenic. People sometimes go to the theatre like they're taking medicine: it doesn't taste very nice but it's good for me. But going to the theatre should be much more like taking drugs: you're going to have a trip which will expand your mind – maybe a disturbing trip or maybe a happy trip, but it will make you see the world in a different way," Hill-Gibbins says. Whether disturbing or darkly comic, it seems there's no limit on the different directions a trip with Measure for Measure might take.
'Measure for Measure' is at the Young Vic, London SE1 from 1 Oct to 14 Nov; youngvic.org
Join our commenting forum
Join thought-provoking conversations, follow other Independent readers and see their replies