Aaron Sorkin interview: The Newsroom writer on dividing opinions, battling drug addiction and his new Steve Jobs movie
As his latest television series comes to an end, Aaron Sorkin tells Jane Mulkerrins about doubts, critics and his upcoming drama about the Apple founder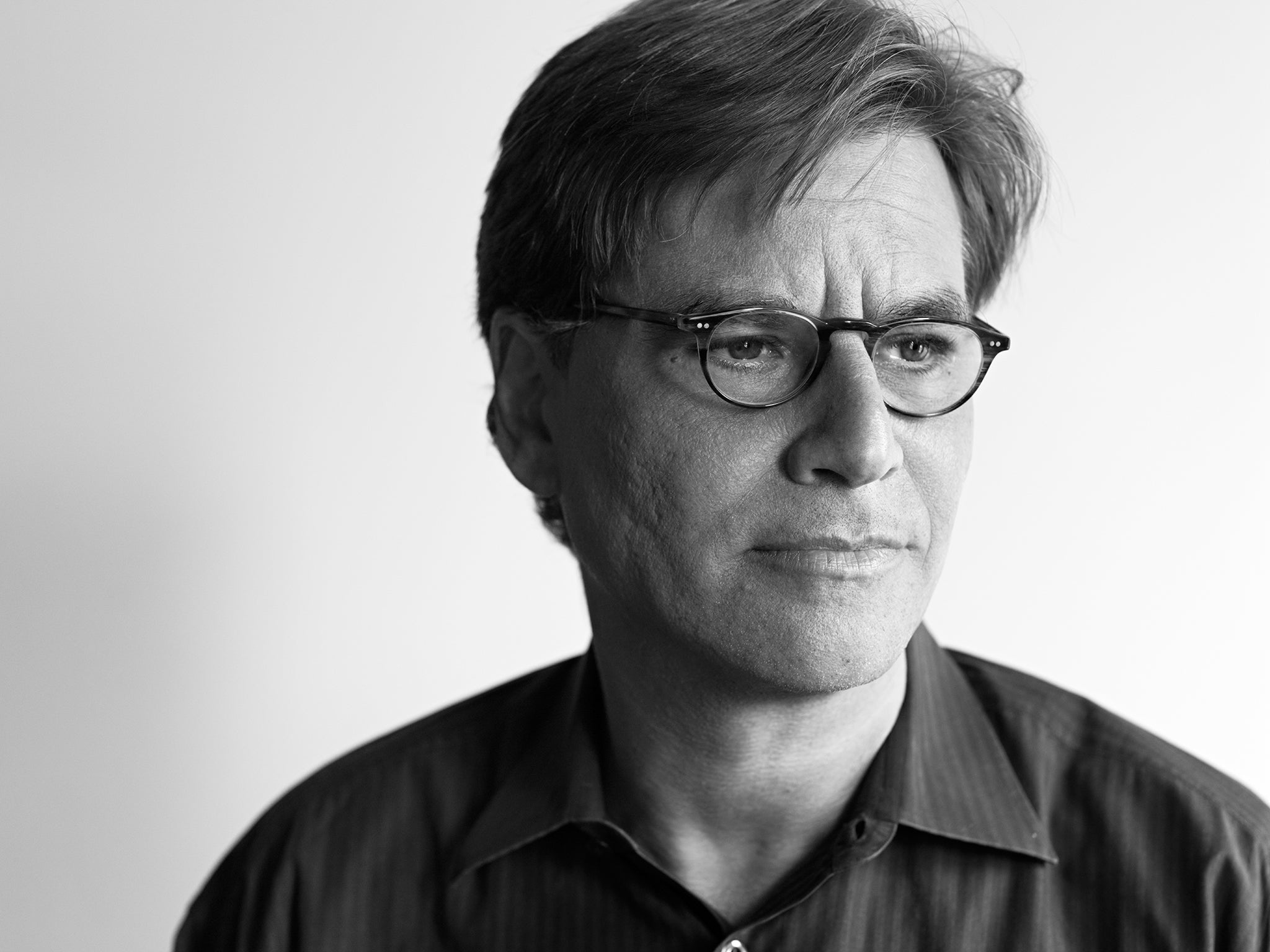 Everything I've ever written, I want to go back and write again, better," confesses Aaron Sorkin.
And I'd wager that most of us who write for a living feel the same. Most of us, however, don't have an Academy Award (forThe Social Network) and four Emmys (for The West Wing).
But even a shelf groaning with gongs, it seems, is no defence against self-doubt. "There have been times – and not just on The Newsroom, but on The West Wing, Sports Night, Studio 60 ... – where it was hard to look the cast and crew in the eye," he says, ruefully, "when I put a script on the table that I knew just wasn't good enough."
We're in a Manhattan hotel, where Sorkin, 53, has arrived fresh from a casting meeting for his forthcoming film about Apple founder Steve Jobs. Two days earlier, the first episode of the final season of The Newsroom aired in the US. "I feel that everyone – and mostly me – finally found their swing," he says of the series, raising a tiny, imaginary baseball bat.
Certainly, the HBO show set in a cable news station, whose characters contend with real-life news events, has not had an easy ride: from the off, it has dramatically divided opinion and inspired "hate-watching" among media types who have accused Sorkin of lofty moralising about the state of journalism.
He hasn't read all the scathing reviews. "There are so many of them; you just can't," he notes, drily. Nor does he seem overly perturbed. "There is going to be a group of people who believe this show is about me telling journalists how they should have done their job, and that I am leveraging hindsight into heroism, but that is simply not the case," he asserts. And he is unapologetic about its romantic idealism. "We are living in cynical times; everything is ironic, everything is an eye-roll. I get that a show like this may seem square and hopelessly uncool, but I am fine with that," he says.
What does get his goat, however, is the repeated accusation that he has "a woman problem", and that his female characters in The Newsroom are incompetent ditzes, played for laughs. "I respect that, but I disagree with it," he says, before quickly changing his mind. "Actually, no, I don't respect it, and I don't think it helps a real struggle for equality of opportunity when there is a shrill sound of nonsense coming from stage right. The people who see that the women on the show are somehow less capable than the men are looking for that," he continues, with increasing indignation, "and it's not there".
In its six-episode swansong, The Newsroom will deal with everything from Edward Snowden-esque whistleblowers to "citizen journalism" and the dangers of social media as news dissemination. Twitter, in particular, takes a pasting. "To me, it's not communication," Sorkin sighs. "It's just people shouting quips into the air. I can't think of anything worth saying that you can say in 140 characters."
Arguably America's foremost screenwriter, Sorkin has successfully navigated the big and small screen over the past 20 years, first breaking big with the 1992 film adaptation of his own play, A Few Good Men, before The West Wing made him a household name. Overall, though, he has prospered more in film (The American President, Charlie Wilson's War and Moneyball) than in TV: while The West Wing won a record 27 Emmy awards over seven seasons, Sports Night lasted only two before it was cancelled, and Studio 60 on the Sunset Strip lasted only one.
And now, he is retiring from television writing, at least for the foreseeable future. "If I am writing a movie and I am stuck, I can call the studio and tell them it's delayed. You can't do that with television – you have air dates to meet." And Sorkin frequently finds himself stuck. "I spend most of my days pacing around, muttering that I have no ideas, feeling like I'm walking a plank," he laments. He has several unsticking tactics: taking numerous showers, and driving endlessly around Los Angeles. But still, the time pressures of television only allow for a few days in the bathroom or car per episode. "So you have to write even when you are not writing well. And then you have to point a camera at it, and broadcast it to people. And that is just brutal to me."
Access unlimited streaming of movies and TV shows with Amazon Prime Video
Sign up now for a 30-day free trial
Sign up
Access unlimited streaming of movies and TV shows with Amazon Prime Video
Sign up now for a 30-day free trial
Sign up
His Steve Jobs film, Jobs, has faced hitches beyond his control, however, chiefly a lack of leading man. Leonardo DiCaprio and, more recently, Christian Bale, pulled out, the latter because of the sheer demands of the role: "It's a 181-page script, about 100 of it is that one character," says Sorkin. The frontrunner is now believed to be Michael Fassbender. Sorkin, today, can confirm only that an announcement is imminent. Adapted from Walter Isaacson's biography of Jobs, the film, directed by Danny Boyle, "is not a biopic, not a cradle-to-grave story", but is in three acts, each set backstage before three of Jobs's major product launches spanning 16 years.
I venture that it is, perhaps, a little ironic, given his wariness of new media, that he's written two screenplays about technology mavericks. "Both films are much more about the people than the technology they invented," he counters. "With The Social Network, I was interested in the psychology of the world's most successful social networking system being invented by the world's most anti-social guy. And in the case of Steve Jobs, it's the relationships he had – particularly with his daughter, Lisa – that drew me to it," he says. Jobs initially denied paternity of his daughter, now 36, though they later reconnected and she lived with him in her teens. "She didn't participate in Walter Isaacson's book, because her father was alive at the time, and she didn't want to alienate either of her parents, so I was very grateful that she was willing to spend time with me," says Sorkin. "She is the heroine of the movie."
The Social Network was near-universally acclaimed, though it has one notable critic: 10 days ago, in a public Q&A, "the world's most anti-social guy" himself, Mark Zuckerberg, claimed that Sorkin "made up a bunch of stuff that I found kind of hurtful". The writer, however, is ebullient. "People don't live their lives in the same narrative structure as a movie; our lives don't play out in a series of scenes; people don't speak in dialogue – so that was made up. But everything else was true," he says. "I completely understand Mark's reaction to it. I wouldn't want a film made about the things I did when I was 19 years old either."
Or even, perhaps, about the things he did when he was 40. Through the Nineties, Sorkin battled drug addiction. Things reached a head in 2001, when, with The West Wing in its second season, he was arrested in possession of marijuana, magic mushrooms and crack cocaine. "With cocaine, you always feel like you're a rock star, and everything you're writing is fantastic," he says. "When I got clean, I was terrified of writing. I didn't think I could do it at all."
It turned out he could. His career recovered quickly, but his marriage did not, and he and his wife divorced in 2005. Their daughter, Roxy, is now 13. "I do think the silver lining of the decade that I lost to being an addict is that when I speak to Roxy about drugs, it will be with a credibility that most parents don't have," he says.
Next, he will embark on three new film adaptations: of Michael Lewis's book Flash Boys, about traders on Wall Street; The Politician, from Andrew Young's account of the downfall of Democratic presidential candidate John Edwards; and Molly's Game, the story of Molly Bloom, a former champion skier who ended up running a high-stakes poker game in Hollywood. "Money, sport, politics, and a story about a woman," he observes.
The final series of 'The Newsroom' is on Sky Atlantic on Wednesdays at 10pm
Join our commenting forum
Join thought-provoking conversations, follow other Independent readers and see their replies