How podcast Banged Up is lifting the lid on the realities of life behind bars
Last year, former inmates Rob Morrison and Mike Boateng started a podcast with lawyer Claire Salama about their own experiences of UK prisons. Now, as the show returns for its second series, they're giving a voice to others involved in the system, they tell Isobel Lewis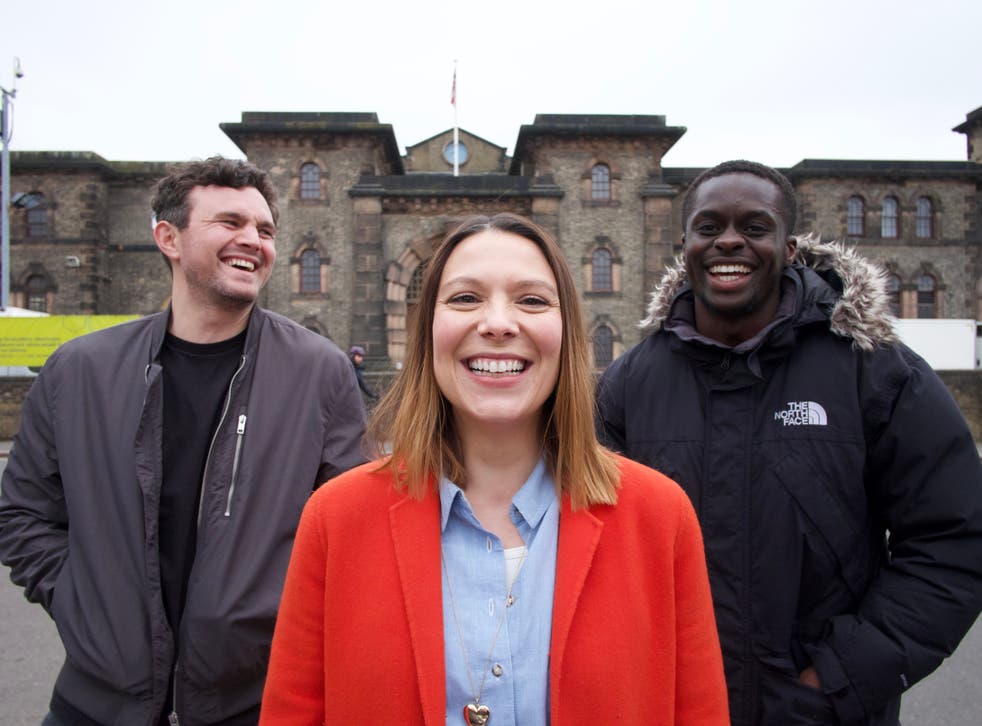 If the past few years of true crime dramas and documentaries are anything to go by, we're a society fascinated with life behind bars. But between the stereotypes and the manufactured dramas dreamed up in a writers' room, the image presented is hardly, well, realistic. Banged Up, an entertaining yet unflinching podcast presented by two former inmates and a prison lawyer, aims to strip back the sensationalism surrounding incarceration, telling the stories instead of the real people it affects.
First airing in 2020, the show has proven to be a surprise hit: it has amassed more than a quarter of a million streams in just 12 months, and averages a perfect 5.0 star rating on Apple Podcasts. Banged Up was created by Rob Morrison and Mike "Boats" Boateng, who met in 2017 while serving respective sentences in the UK prison system for fraud and drug-dealing. This was Boateng's second time behind bars, having previously been involved in a high-profile conviction for match-fixing as a professional footballer.
Their sentences complete, the pair returned to normality and found that their friends and family were desperate to know what their experience had actually been like – not just the "gory details", Morrison tells me, but the day-to-day boring stuff too. "It kind of dawned on me that it's a real black spot that I think people really don't know about," he says.
Morrison had met prison lawyer Claire Salama before he was sentenced; at the time she was presenting a legal advice show on National Prison Radio. On his release, they teamed up with Boateng to start Banged Up, with the first series focused exclusively on their own experiences behind bars from arrest to release. Salama is a fierce co-host, pushing them for further information the audience wants to know while also contextualising their stories within the wider prison system. Yes, there is talk of stabbings, strained relationships and drug epidemics. But there is also levity: at one point, Morrison describes shaving the head of his murderer cellmate, "shaking like a ****ting dog" in fear of accidentally cutting him.
It's proven to be a winning formula. While the team were shocked so many people wanted to hear their stories specifically, they knew that they were tapping into a morbid public curiosity around the prison system. "No one wants to go to jail but everyone wants to just know what it's like, just in case for whatever reason something happened [to them]," says Boateng.
Listen to the podcast and it's hard not to hear Morrison and Boateng as two normal people who made bad decisions, rather than a pair of hard-nosed criminals. That neither man is "so far away" from their listeners in terms of life experiences is a key reason for the show's success, Salama suggests. "Their stories show us that lots of people we know are maybe one step away from going to prison – even Rob thought he wasn't the type of person who would ever go to prison," she says. Being convicted is not, as many of us imagine, something that simply "happens to other people".
With series two, which aired on Monday, the team have branched out into new territory. Boateng and Morrison are no longer the focus – instead, the podcast consists of interviews with other former prisoners and people who work throughout the industry. It's a smart idea; Morrison and Boateng's stories, while fascinating, are just those of two people and hearing from other people with totally different life stories highlights the fact that there really is no homogenous prison experience or typical criminal.
One new angle focused on is that of women in prison. The series opener is an interview with Morrison's co-defendant Laura who discusses rioting and the straight women who go "gay for the stay", while a later episode sees a discussion with Nives Gadoni, who ran a worldwide sex ring and ended up on Rikers Island in the US.
Bringing in these stories lends a new dynamic to the podcast. Laura, whom Morrison affectionately calls "Babs", had a totally different experience to her co-defendant, having been given a longer sentence but more freedom along the way, even spending a large portion of her sentence at an unmanned house with 25 other low-risk female inmates.
Access unlimited streaming of movies and TV shows with Amazon Prime Video Sign up now for a 30-day free trial
Sign up
Like Morrison and Boateng, the audience is unlikely to know much about this topic because, as Claire points out, ever-decreasing numbers of women being sentenced mean it's less on our radar. And while low numbers of women in prison may seem like a good thing, the sparsely distributed facilities result in inmates often being kept far away from their loved ones.
With their firsthand experience of the prison system, you'd be forgiven for thinking that nothing could shock the trio anymore. But all three presenters respond with empathy to the stories they hear, no matter who's telling them. One particularly surprising conversation comes from an anonymous prison guard, with Morrison gaining "a degree of empathy" by hearing what the experience is like for those on the other side of the bars.
"My attitude towards the guards was that there are a lot of good ones," Boateng says in agreement. "A lot of them are tarnished with the brush of [being] wrong'uns and so it was nice to have a good one and hear his side." The goal of this interview was the same: to show that everyone in the system, from the officers to the inmates, are "all human".
'Banged Up' series two is available now, with new episodes released every Monday
Join our new commenting forum
Join thought-provoking conversations, follow other Independent readers and see their replies