BBC proposes 8ft tall bronze statue in honour of George Orwell
Orwell was not best-liked when he worked at the BBC. But finally, says John Walsh, it's giving him his due
John Walsh
Wednesday 06 April 2016 21:34 Comments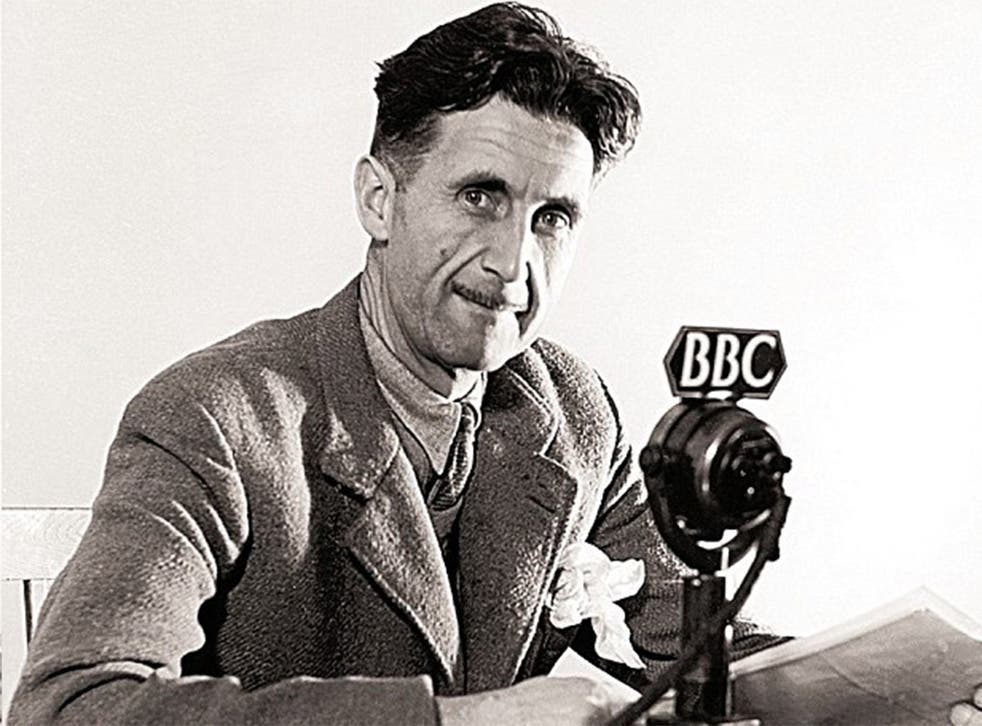 Just as university students are questioning the rationale of raising statues to historical figures, a new one has been proposed at the BBC. It's of George Orwell, the novelist, journalist, political allegorist and scourge of totalitarianism, the author of Animal Farm and Nineteen Eighty-Four. If Westminster Council accepts the Corporation's proposal, the bronze statue will stand 8ft tall (Orwell was 6ft 2in) showing the Old Etonian socialist adopting an uncharacteristically effete teapot stance and holding a cigarette.
On the wall behind him will be a quotation from his original preface to Animal Farm: "If liberty means anything at all, it means the right to tell people what they do not wish to hear."
There's a splendid irony here. Just as the sentiment may upset students' unions which "no-platform" public speakers whose views they find offensive, the Orwell statue was the subject of a similar controversy four years ago. When plans were first mooted in 2012 by Ben Whitaker, the former Hampstead MP, they were turned down by Mark Thompson, then BBC Director-General, on the grounds that Orwell "would be perceived as too left-wing a figure for the BBC to honour". It was, perhaps, the first recorded instance of "no-plinthing".
Culture news in pictures

Show all 33
The sculptor will be Martin Jennings, who created the figure of John Betjeman clutching his hat at St Pancras Station. "Orwell not only worked for the BBC," says Jennings, "but is widely regarded as the 'patron saint' of political journalism… As the home of BBC News, Broadcasting House is the ideal site for commemoration of this great man."
Is it though? Orwell worked at the BBC for just 27 months, from August 1941 to November 1943, and described the atmosphere there as "something half-way between a girls' school and a lunatic asylum". Using his real name, "EA Blair" was taken on as Talks Producer at the Indian Section, earning £640 per annum and working in the Corporation's Oxford Street HQ. The job suited him: he'd been born in India, had served in the Indian Imperial Police in Burma for six years, and was happy to help the war effort. But the scope of his employment was limited: he was to prepare commentaries on the daily news, in English, to be broadcast to India, Malaya and Indonesia, and produce programmes on political and literary issues.
"The general air was one of mild cultural uplift," wrote DJ Taylor, Orwell's biographer, "and the guest speakers drawn from an eclectic pool of talent that ranged from well-known literary figures to minor celebrities of no particular distinction." Orwell could find himself asking TS Eliot to recite new poems, or Dr PH Chatterjee if he'd like to speak to the Indian nation about "Rural District Councils".
The BBC's reaction to having Orwell (inset) aboard was mixed. Most people liked him, admired his friendliness and mocked his technical ineptness and fondness for canteen food. Others thought him one of those on a "jobs-for-the-boys kind of billet", wangled "on to the BBC payroll until they could be found more suitable appointments". Also of concern was his voice. Though no record of his delivery survives, his normal strangulated tones were made worse by a bullet wound to the neck sustained in Spain. In a memo, the Controller of Overseas Services complained that "his voice struck me as both unattractive and really unsuited to the microphone... I am quite seriously worried about the wisdom of keeping Orwell personally on the air."
His left-leaning politics sometimes became an issue, too: he tried twice, unsuccessfully, to broadcast a talk by his friend Reg Reynolds on the Russian anarchist Kropotkin; and complaints flew from the India Office about a script he'd written on trades unions. But it isn't true that, to Orwell, the BBC was the original of the mendacious and propagandising Ministry of Truth in Nineteen Eighty-Four.
Perhaps surprisingly, Orwell was in favour of propaganda, if it was the right kind. The man who interviewed him for the BBC job wrote: "He accepts absolutely the need for propaganda to be directed by the government and stressed his view that, in wartime, discipline in the execution of government policy was essential."
But he became decreasingly keen to broadcast things he did not believe – and he worried about the possibility that nobody was listening out there. Hence his departure in November 1943.
DJ Taylor writes that a key scene in Nineteen Eighty-Four, when Winston Smith listens to the prole women singing, is taken straight from life – when Orwell used to see eight charwomen at the BBC singing in harmony as they went off to start their cleaning shift. That vision of working-class communality, just as much as the memory of the endless corridors and faceless bureaucratic offices, was his most vivid souvenir of his time at the BBC.
Register for free to continue reading
Registration is a free and easy way to support our truly independent journalism
By registering, you will also enjoy limited access to Premium articles, exclusive newsletters, commenting, and virtual events with our leading journalists
Already have an account? sign in
Join our new commenting forum
Join thought-provoking conversations, follow other Independent readers and see their replies