Behind-the-scenes with the costume makers for Wolf Hall, Broadchurch and Doctor Who
The BBC's lavish adaptation of 'Wolf Hall' will showcase the best UK drama talent. And some of the finest clobber since the court of Henry VIII himself. In the latest of our series on behind-the-scenes heroes, we meet the costume designers on TV's biggest hits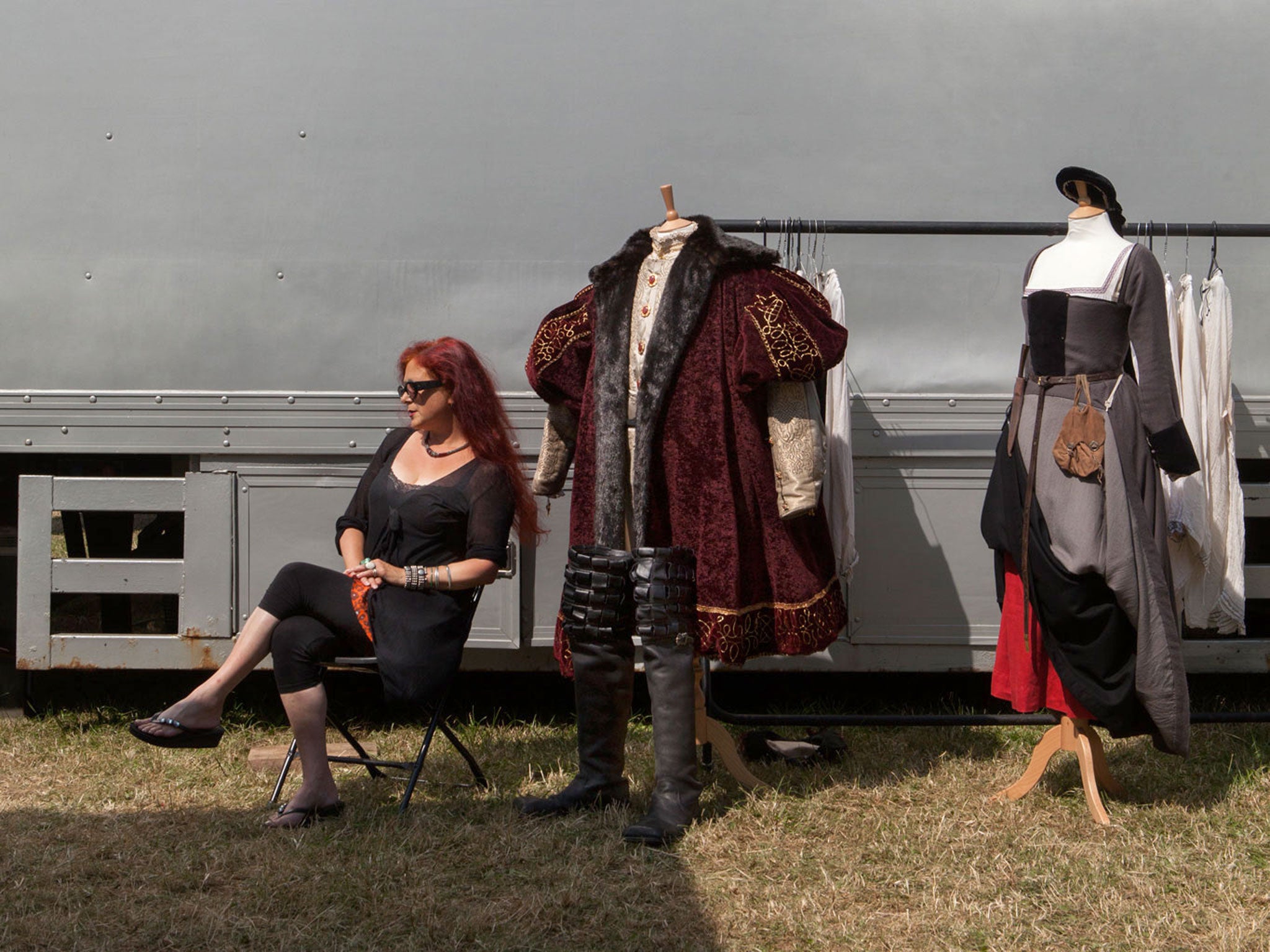 'All dramas are costume dramas," says Joanna Eatwell, in charge of dressing Mark Rylance, Damian Lewis and the huge cast of BBC2's new six-hour adaptation of Hilary Mantel's Booker-winning Tudor history novels, Wolf Hall and Bring Up the Bodies.
Eatwell has worked as costume designer on a variety of period dramas (The Promise, set in 1940s Palestine, and the Ian Dury biopic Sex & Drugs & Rock & Roll to name but two), but she has also been responsible for the then-contemporary wardrobes of many of Lynda La Plante's thrillers, including the final series of Prime Suspect.
For now, we're standing amid racks of 16th-century clothes – or faithful copies thereof – in her wardrobe truck in a field in Oxfordshire, near to where an elaborate banqueting scene in Wolf Hall is being filmed, and I have just asked her about the difference between working on contemporary and costume dramas. Her reply is echoed 100 miles away on the Dorset coast, where Ray Holman is ensuring that David Tennant's suit has the right crumpled look for his part in the latest series of Broadchurch. "It is all costume drama," says Holman – and whether it's Olivia Colman's unflattering grey work suit in Broadchurch ("I did apologise to her about that, but it looked fantastic and characterised her") or the rich finery of the Tudor court in Wolf Hall, the work of the costume designer is often less about verisimilitude and more about semiotics.
"What we do is we inform," says Eatwell. "Everything they've got on tells you a little bit about the character, and that translates into period clothes."
That's not to say that semiotics can necessarily negate the need for historical accuracy – in fact, the depth of her fidelity to 16th-century dress is hard-won. "For me, the starting point is researching every character, and I look at all available portraiture," she says. "You have your Holbeins and so on and then you start working out how the garments are constructed, because unless you work out how they are put together, it will never look like that," she says, stabbing a finger at a cut-out of Holbein's famous portrait of Thomas Cromwell. "So you have to go back: how did they construct this? What is the original practice?"
"This thing is called a partlet," she says, showing me a cross between a ruff and a bib that was worn about the top of a Tudor dress. "For years and years they thought that this thing was part of the dress, and only recently they've worked out that this is a separate garment. I learn every day; if you'd asked me last year I wouldn't have known what a pair of Tudor braces were."
Wolf Hall cast in pictures
Show all 15
Most of the costumes in British film and television drama are hired from specialist companies such as Angels, Cosprop and Academy Costumes, although the clothes worn by the principal characters in Wolf Hall – King Henry VIII (played by Damian Lewis, who has 14 separate outfits), Anne Boleyn (Claire Foy, who has only slightly less) and Thomas Cromwell (Mark Rylance) are made from scratch, embroidered by hand by Sands Films of Rotherhithe. "It's incredibly labour-intensive, but I think the results show," says Eatwell. "Even if it's hired, it has to be altered. You don't want to put something on screen and everyone's saying, 'Oh, I saw that last week on so and so...'."
Her team includes a cutter, Gail, an assistant, Claire, and a supervisor to organise the paperwork and everyday running of 'the truck'. "We also have another two on what we call 'crowd trucks'... a men's and a ladies' crowd trucks. The difficulty on a job like this, because we're moving around – we're here, we're in Wales, we're in Kent – those costumes have to fit several different people in several different locations." It's little wonder that her working day begins at 6am – sometimes earlier. "You have to feel something for the job because it's 24/7," says Eatwell.
"I didn't start out wanting to do this... I didn't know what I wanted to do," she says. "I did a foundation art degree and then did a degree in theatre design, so I was interested in that side of things. I did a bit of costume and then started working in the early Eighties in music videos."
Access unlimited streaming of movies and TV shows with Amazon Prime Video
Sign up now for a 30-day free trial
Sign up
Access unlimited streaming of movies and TV shows with Amazon Prime Video
Sign up now for a 30-day free trial
Sign up
This was the heyday of MTV, and before computer graphics, "so if the band wanted 500 dancing girls, you did 500 dancing girls," she says. "I made absolutely everything, and got a reputation, so if you wanted a 30-foot crocodile made, that's what we would do."
When record companies stopped lavishing money on pop videos, Eatwell moved into commercials and also worked for a while with the photographer David Bailey, before dressing her first drama, the 1991 Jimmy Nail series Spender. "I've loved it ever since... just telling stories through people."
What advice would she give someone hoping to make a career of costume design? "Have a really good knowledge of sewing; it's not essential but it puts you ahead," she says. "You come in now as a trainee; we have two trainees on this job, and one of them has been learning how to dye... she loves colours now, and she was fibre-glassing the other day, repairing armour. But there really is a hierarchy now and you do have to become a trainee, upgrade to assistant, perhaps working with the crowd."
Broadchurch costume designer Ray Holman had the good fortune to be offered a BBC traineeship straight out of the Royal Welsh College of Music and Drama in Cardiff, where he studied theatre design, eventually winning a staff job at Pebble Mill in Birmingham, with its large and productive wardrobe and costume department. "As a working-class boy from Pontypridd it was brilliant and I thought I had a job for life, which of course I didn't because they got rid of us all.
"The BBC training was brilliant though, which is why there is a great drive in the industry to train young people as we go along. It'll either make them or break them because it's such a hard job and the hours are so long. And you need to be arty but practical; you have to come up with the look for the piece but also balance the books... be there at six in the morning so that when the artists are getting ready you're there to deal with any problems."
Since becoming freelance (like pretty much everybody in this industry), Holman has helped create two of the most iconic garments in modern British TV drama – Matt Smith's tweedy look in Doctor Who and Benedict Cumberbatch's Sherlock greatcoat. "That was then a one-off pilot so we didn't have much money," he says of Holmes's outerwear. "I visited loads of vintage shops to see if I could copy one, and eventually I came to Belstaff who had made a modern copy of a 1920s driving coat; and I phoned Benedict and said come in and try this on. As soon as he put it on we knew it was right... it seemed to just move right and work right for him.
"Matt Smith was the youngest actor who'd ever been cast as Doctor Who, and it took weeks and weeks and weeks, trying different things, but while we were going through that process Matt himself was reading about Einstein and looking at pictures of Einstein and tended to the tweeds. I said, let's make it punky in places and at the very last minute, Matt said he thought he should have a bow tie. I wrinkled my nose but we put one on him and I stepped back and went 'Oh yes... a bow-tie'... it was a light-bulb moment."
The realism of Broadchurch requires subtler motifs. "David Tennant's character Hardy was kind of a battered-down, world-weary detective who went to Broadchurch to have a quiet life and I tried to reflect that in his clothes... I made them look old and saggy, like he didn't really care what he wore. And with Olivia Colman's Ellie, she looked like she worked in a little town and she'd been in uniform and she'd worked her way up.
"I don't just chose costumes and tell actors that's what they're wearing – if I need to, I take them shopping and we discuss things as we go along. Or I go to a costume rental place where I can actually fit them and talk about their characters.
"The one thing that I did put my foot down with was that I wanted Beth [played by Jodie Whittaker], the mother of the murdered boy... I wanted the red dress because I knew it would move quite beautifully and she has to run on the beach and I wanted the red against the cliffs."
Holman is currently working on a new ITV thriller called Code of a Killer, starring David Threlfall and John Simm and based on the true story of Alec Jeffreys' discovery of DNA finger-printing and its first use in catching a double-murderer at large in 1980s Leicester. The recent past, says Holman, can be more problematic than distant history. "I had extras in for this and they're in their fifties, and they were in their twenties in the Eighties and they'd say, 'Oh, I didn't dress like this in the Eighties'. But it's more like what their parents were wearing back then."
"With contemporary drama everybody's got an opinion," agrees costume designer Claire Anderson, whose CV includes State of Play, Human Traffic and the 1963-set The Great Train Robbery. "Take it back 30 or 50 years and they go: 'Really? Is this what they wore?'."
Anderson has recently completed a period movie set on VE Night in London, when Princess Margaret and Princess Elizabeth slipped out of Buckingham Palace and went incognito among the jubilant crowds. But we meet on set at Charleston Farmhouse in Sussex, former home of Virginia Woolf's sister, the painter Vanessa Bell, her husband, Clive Bell, and her lover Duncan Grant, and the location for Life in Squares, an upcoming BBC drama about the Bloomsbury set that moves in time between 1906 and 1941, with all the changes in fashion – especially female fashions – that that entails. "When we see them in 1906, they've got corsets on," says Anderson. "The script deals with them throwing them out of the window."
Anderson, who has a degree in printed textiles and was already a fan of the Bloomsbury's group's Omega design studios, did her painstaking research, including examining the endless paintings that the group made of each other. In the end, however – as so often with costume design – it was a case of "broad strokes".
"When you're portraying lots of people in three hours of television, you've almost got to make a quick, visual snapshot of somebody, so that their visual identity is immediately recognisable," says Anderson, who started out selling fabrics to the likes of Dior and Yves Saint Laurent before a chance encounter with the head of ITV2 at the Royal Festival Hall café led to her working in television drama. She began on Brookside – "a great learning curve, because you're shooting very fast".
Anderson advises would-be costume designers to draw loads, study costume history and (more unexpectedly) English literature. "You can't really break down the script without having a good understanding of literature, I don't think," she says. "And you've got to be slightly passionately mad to want to absorb yourself so much it takes over your whole life... so that your house is full of little bits you've collected and put to one side."
She believes that you can tell a lot about a person by their clothes. "Even me?" I ask, suddenly as self-conscious as if I'd strayed into the royal enclosure at Ascot. "Oh yes," she replies, thankfully without elaborating.
"And you can tell that I'm a costume designer because I'm perfectly turned out in black, because I get up at 5.30 and everything in my wardrobe is black so at least I look presentable".
'Broadchurch' series two is on ITV now; 'Wolf Hall' begins on BBC2 on Wednesday at 9pm
Join our commenting forum
Join thought-provoking conversations, follow other Independent readers and see their replies