Britannia: Jez Butterworth talks his first major foray into TV, druids and Brexit
Is the 'Jerusalem' and 'The Ferryman' playwright's epic new drama merely 'Game of Thrones' with demons instead of dragons? No, says Gerard Gilbert, something deeper and weirder is going on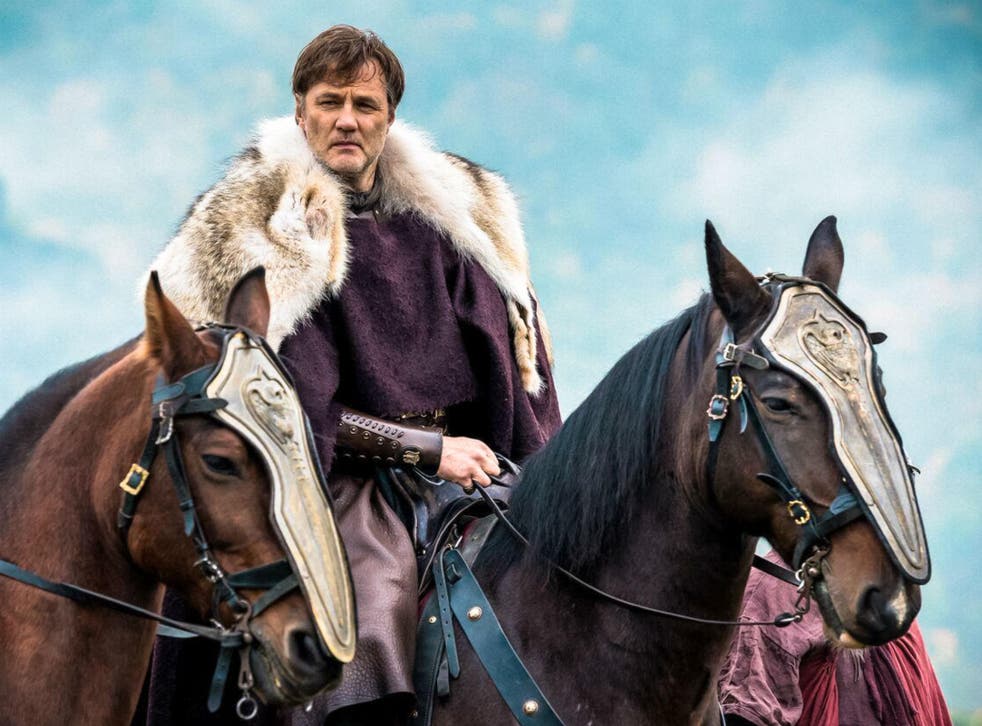 You have to love a historical drama that begins with a caption informing viewers that in 55BC Julius Caesar landed in Britain, "turned his armies around and went straight back home", before breaking into "Hurdy Gurdy Man", singer Donovan's 1968 psychedelic hit – and the title music to Sky Atlantic's Britannia.
This isn't going to be any other stodgy re-telling of the Roman invasion of Britain, in other words, although some viewers would already have been alerted to this fact by Jez Butterworth's name on the writing credits.
This is the first major television project for Butterworth, the playwright most associated with the stage hit Jerusalem, and whose new play The Ferryman is currently in the West End after becoming the fastest-selling production ever staged by the Royal Court.
Britannia stars David Morrissey as the invading Roman general who returns to subdue the island nine decades after Caesar's volte-face, Ian McDiarmid and Zoe Wanamaker as rival British monarchs and Mackenzie Crook (The Office, Detectorists) as a chief druid who at one point seems to be channelling Brando's Colonel Kurtz from Apocalypse Now. The horror... the horror!
The whole thing is slightly bonkers, but never boring – a trippy take on Game of Thrones, if you like, with demons instead of dragons. Not that Butterworth or his brother and co-writer Tom have ever seen HBO's hit fantasy – although similarities (internecine warfare, powerful female figures, blood and guts and the occasional glimpse of a female breast) are there for those who seek them.
"I've only done a 30-minute programme and it was decades ago, so this was going to be my first foray into TV," says Butterworth, who was approached with the idea of setting a drama in ancient Britain by executive producer James Richardson. "As far as the writing goes, I started with one idea, which was what it must feel like when you have your own pantheon of gods and someone shows up with a whole new set. That really just struck me as dramatic, funny, tragic...."
The Romans had gods for everything, adds Butterworth, whose approach to research was to immerse himself in it and then try to forget everything. "As a Roman soldier, from the moment you got up in the morning, there was a god for every single process," he says. "There was a god for the soap, there was a god for the towel... it was the most incredibly OCD way to get through the day."
Butterworth's version of ancient Britain sometimes feels like a psychedelic hippie happening – chief druid Veran, played by Crook, blowing smoke from some sort of drug into the mouths of his sacrificial victims like a stoner giving "blow-back" – a trippy ambience underlined by "Hurdy Gurdy Man" on the soundtrack.
"My love of music and that kind of scene drew me back to what the druids were about in the first place," he says. "I think most drug experiences take you back to the land – certainly hallucinogenic drug experiences. I remember the first few times I took mushrooms, I saw a lot of images that I recognised from cultures from a long time ago."
Access unlimited streaming of movies and TV shows with Amazon Prime Video Sign up now for a 30-day free trial
Sign up
Crook, rendered almost unrecognisable under layers of make-up that took up to five hours to apply on location in the Czech Republic (where Britannia was mostly filmed, alongside Wales), worked with Butterworth on the original 2009 stage version of Jerusalem.
"Jerusalem is possibly the work I'm most proud of, and the most profound time I've had in this business since I first started," he says. "Obviously I read the script but as soon as I saw his name I knew it was going to be awesome. It was a bit of a no-brainer really."
As for researching druids, the powerful priestly caste of ancient Britain, Crook says there is very little to go on. "This is going to sound weird but I sort of drew on Springwatch! It has this air of being for old people but it's actually the most brutal and violent show on television – the violence of nature.
"That sentimental sympathy and empathy that humans have, it doesn't exist out there. And Veran is all about the natural world. He's like the seasons. There's no room for sentiment, sympathy or empathy."
Veran is probably the most powerful individual in a Britain made up of warring tribes, and which to some viewers might seem reminiscent of Game of Thrones's faction-ridden Westeros and Essos. There is something of Cersei Lannister about Wanamaker's scheming Queen Antedia, for example, while queen-in-waiting Kerra (played by Kelly Reilly) is a sort of Daenerys Targaryen, and so on.
But it would be wrong to labour the Game of Thrones comparisons because Britannia is undoubtedly its own strange and highly original beast – perhaps having more in common with the folk-horror tradition of films like The Wicker Man and Ben Wheatley's 2013 psychedelic civil war drama A Field in England, while in his play Jerusalem, Butterworth celebrated a vanishing strain of British primitivism and paganism. Like Thrones, however, Britannia does provide a long cast of strong female characters.
"The fact that this was a world that respected women and respected women's intuition... it wasn't a misogynistic world," says Reilly. "There was a sacredness to the Earth, which was feminine. So I have a passion for this time in history."
For Butterworth, having fully-rounded female leads was an important part of his vision. "Just from a selfish point of view I was really excited about the idea of writing these central female characters who dominate the action," he says. "And to put them right through the heart of the story, have everything pass through them, to have their stories and their myths."
Alongside the aforementioned Wanamaker and Reilly is 16-year-old Eleanor Worthington Cox as Cait, a girl about to undergo a solstice ceremony initiating her into womanhood – a transition rudely interrupted by the Roman invaders, leaving her a "betwixt", neither a girl nor a woman. "So Cait's stomach gets scarred, as per the ritual, but it's not quite complete because the Romans invade," explains Worthington Cox, who already has an Olivier Award under her belt from Matilda the Musical.
"It does seem that it was a much more egalitarian society," says Butterworth's brother and co-writer, Tom. "It wasn't courtly, it was much more like a tribe. I mean women were allowed to have many husbands and if you could fight you could be a warrior. A female in their world could be just about anything.
"Other than there being a consensus that the Romans definitely invaded that year [43AD], it was a relief to discover what actually happened during the invasion was really sparsely documented. There's a lot of archaeology from that time but there's not much historical detail about it, so it gave us licence to make things up and follow our instincts about what we found compelling about it.
"For us, it's not about a pastoral idyll being invaded by the nasty Romans, it's more like them arriving in a very sectarian and violent place already in a state of civil war."
This state of affairs – with an isolated and divided Britain threatened by a European superpower – perhaps inevitably leaves Britannia open to contemporary allusions.
"It's funny because when we started writing this, Brexit was about to happen, or we didn't know it was about to happen," says Tom Butterworth. "But things were bubbling away in the background. When we started we had a chat about whether it was going to be a good or bad thing for the show if Brexit happened.
"But we weren't looking for parallels that we could then play out in the story – like having a Boris Johnson Celt or that sort of thing. But I think it's inevitably there in the bones of the piece because the story of what happens when one people occupy another has always existed."
'Britannia' begins at 9pm on 18 January on Sky Atlantic, also available to stream on Now TV.
FOUR OTHER NEW HISTORICAL DRAMAS FOR 2018
Vanity Fair (ITV)
Olivia Cooke – star of Steven Spielberg's upcoming Ready Player One – portrays Becky Sharpe in a Thackery adaptation that also features Doctor Foster's Suranne Jones, Martin Clunes, Johnny Flynn and Michael Palin.
Gentleman Jack (BBC)
Suranne Jones again, this time playing 1830s landowner Anne Lister in Sally Wainwright's drama about the pioneering Regency diarist and cross-dressing owner of Shibden Hall in West Yorkshire.
World on Fire (BBC)
Peter The A Word Bowker's scripted drama telling seven different "hidden human stories" from both sides of the conflict. Timed for the 80th anniversary of the outbreak of the Second World War, filming starts across Europe next year and no cast has yet been announced.
Troy: Fall of a City (BBC/Netflix)
An eight-part retelling of the fall of Troy created by The Night Manager writer David Farr. Bella Dayne (Humans) plays Helen, the face that launched a thousand ships (no pressure there then), while Joseph Mawle is Odysseus.
Join our new commenting forum
Join thought-provoking conversations, follow other Independent readers and see their replies