Can kings of comedy Sam Bain and Jesse Armstrong strike gold with a full series of Metropolitan Police serial Babylon?
Bain and Armstrong have presented their unique view of 21st-century foibles in shows such as Peep Show and Fresh Meat
Gerard Gilbert
Friday 31 October 2014 20:00 Comments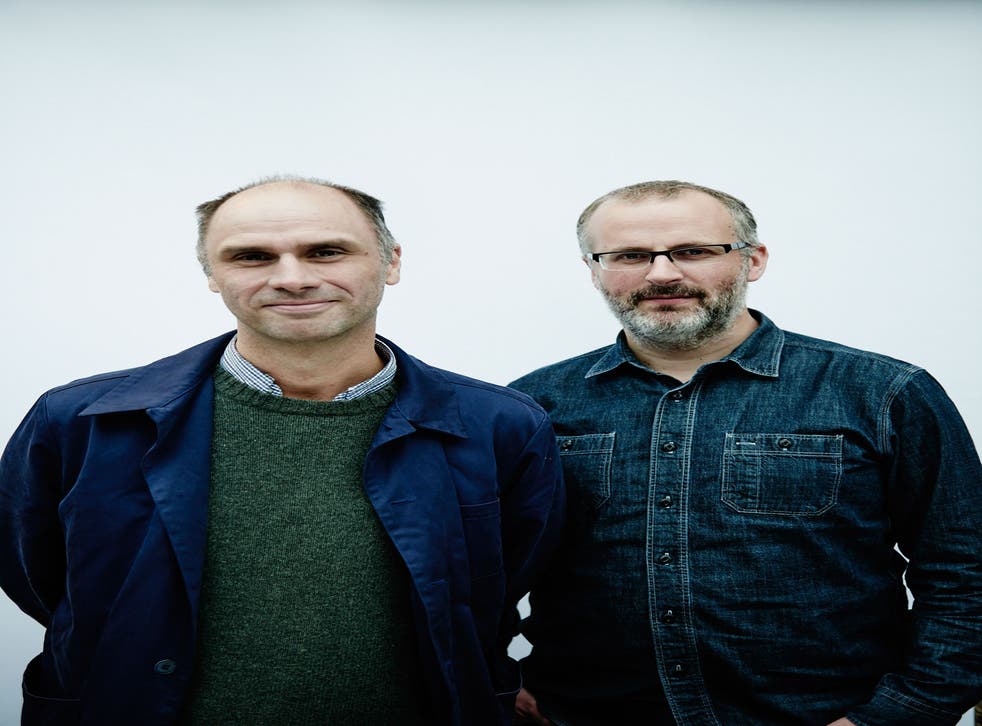 In an inter-war semi on a north London street that five years ago might have been described as unremarkable, but which is now probably only affordable to Singaporean property investors, the ninth and final series of Peep Show is being plotted. The latest misadventures of Mark and Jeremy (played since 2003 by David Mitchell and Robert Webb – and never better, together or apart) are being thrashed out around Sam Bain's living room table by the 44-year-old and his writing partner, Jesse Armstrong. "We're just slowly talking about everything that could happen," says Bain, as I take a seat. The mantelpiece holds two comedy awards, both for Fresh Meat, of which more later.
Their valedictory foray into Mark and Jeremy's Croydon high-rise will eventually arrive on our screens towards the end of 2015 – three years after fans of the Channel 4 sitcom saw the co-dependent flatmates fighting over Dobby (Isy Suttie), who promptly and very wisely ran off to New York, Jeremy becoming a 'life coach' and ruining various lives in the process, and Mark yet again failing to find a publisher for his tome Business Secrets of the Pharaohs.
The show's brilliantly high standards have remained remarkably consistent, one of the reasons that Bain and Armstrong want to end it here, "because we are desperate not to do a bad series", says Bain. Plus, it's getting harder to juggle commitments – others' and their own. "We'd like to have all our regulars back but we can't speculate. People get married and have babies and so we'll have to ask them nicely."
I'm sure they won't take much persuading. And it's not as if Bain and Armstrong (or Armstrong and Bain, although that sounds like a well-known sketch duo has had a 50 per-cent personnel change) are short of other things to do. Apart from Peep Show, they have created the aforementioned comedy drama about a student household, Fresh Meat, and embarked on another about the Metropolitan Police, Babylon. And their joint back catalogue contains a sadly short-lived sitcom starring Clive Swift and the late Roger Lloyd-Pack, The Old Guys, (a sort of OAP Peep Show that deserved to have been nurtured more by the BBC), their script for Chris Morris's 2010 satire about British jihadis, Four Lions, and countless sketches for David Mitchell and Robert Webb. And that's before I get to their many solo projects.
They are, in short, kings of comedy – albeit a low-key Scandinavian-type royalty that still likes to walk the streets without being mobbed. Hence this pilgrimage to Kensal Rise; Armstrong lives in deepest south London, whither he will return to bash out episodes once they have agreed on storylines. "We do all our plotting together and then we go away and write separately," he says.
What makes a compatible writing partner? "A shared sense of humour, obviously, a work ethic... a way of dealing with people... neither of us are great screamers and shouters," says Bain. "And obviously we're different people. We are different people, aren't we?" Armstrong laughs in reply. Listening back to the tape afterwards, I learn to differentiate the two by the fact that Armstrong laughs more than Bain.
Bain was born in west London and comes with an impressive sitcom pedigree: his mother, the actress Rosemary Frankau, was a regular on Terry and June, his grandmother, Renee Roberts, played Miss Gatsby, one of the two elderly ladies in Fawlty Towers, and a cousin appeared as an airman in the attic in 'Allo, 'Allo. "I think sub-consciously being in a family where money came from making telly, makes it a very viable option," he says.
"It probably wouldn't have come to my mind that you could have a career writing comedy," says Armstrong, who grew up in Oswestry in Shropshire, near the Welsh border – although his father went on to become a published novelist in later life. "That's right," Bain chips in. "Without me none of this would have ever happened; we begin every working day with me saying: 'You were working as a waitress in a cocktail bar when I met you'..."
Actually, the pair met on a creative writing course while students at Manchester University in the early 1990s, but it wasn't until a few years later, while stuck in unsympathetic jobs, that they decided to try creating together. Armstrong was a researcher for the Labour MP Doug Henderson, until Henderson became a junior minister and Armstrong's workload was taken over by the civil service, while Bain was working in a video shop "pretending to be Tarantino in west London".
Access unlimited streaming of movies and TV shows with Amazon Prime Video Sign up now for a 30-day free trial
Sign up
"We started writing each other funny letters in an extremely old-fashioned way," continues Bain. "I think it's quite sweet, just writing with no purpose other than to make each other laugh." This led them to create a sitcom pilot called Bread Heads, about a pair of entrepreneurs who cook up ideas they think will change the world, and which Bain says contained "the ancient DNA of Peep Show". It also brought them together with a pair of young writers that the BBC suggested to help develop the project – David Mitchell and Robert Webb.
Bread Heads was never commissioned, but Bain and Armstrong started writing a new sitcom with Mitchell and Webb in mind. "We had a slightly awkward date when we went out for a sandwich and said, 'We find you creatively attractive... will you go out with us?'," says Bain. "And luckily they said 'Yes'."
"Their characters had characteristics we knew they could play," says Armstrong. "We'd co-written a show together and knew them pretty well. It's a good tip for writers, that – write with an actor in mind. Even if you have no hope of getting John Cleese, it's much better to write it with him in mind because you might find someone else to do that stuff; it really helps."
The most distinctive aspect of Peep Show is of course what's known in the industry as 'PoV', or point of view. The camera gives the PoV of the two main characters, with their thoughts in voice-over – a trick they say they stole from a Channel 4 reality show in which model Caprice Bourret had a miniature camera strapped to her sunglasses, and which in turn was appropriated from the movie Being John Malkovich. "You'd see Caprice looking in the fridge and it just seemed a very striking way of looking at somebody's life... you just felt very immersed in it," says Bain. "The voice-over wasn't original either – Woody Allen did it in Annie Hall – but it fitted in brilliantly."
The point of the view – or rather the lack of it – in the American remake of Peep Show was one of the reasons for its failure, they reckon, adding that vague plans for a Peep Show movie remain just that; vague. "Our big fear," says Armstrong, "was that first-person camera style would feel very over the top on the big screen, although there is a Raymond Chandler movie, Lady in the Lake, shot like that. And there are brilliant sequences, things like Michael Powell's Peeping Tom, but a whole film, that's altogether different."
Fresh Meat, the Channel 4 comedy-drama about a student household, was their next joint project, in 2011. "We had the idea for a student show for years and years – since shortly after we were students in fact," says Armstrong.
For the first time, Bain and Armstrong acted as showrunners, drafting in at least 10 others to share the writing duties, including veterans like Tony Roche (The Thick of It/Veep) and young newcomers such as Keith Akushie, who has since gone on to write BBC3's Siblings which, with a neat sense of progression, stars Fresh Meat's Charlotte Ritchie. The show, which is a delight (and not a little nostalgic for anyone who has gone through university) has been the making of most of its main cast – Ritchie, Greg McHugh, Zawe Ashton and Kimberley Nixon, although Joe Thomas (The Inbetweeners) and Jack Whitehall (a revelation as public-school idiot 'JP') were already well-known.
"I think we've got six characters who are archetypal people," says Bain. "As soon as you see JP... 'Oh, yeah, f*****g hell everybody knows six of those'. But actually I can't remember the last JP who was on TV or in the culture."
"Richard E Grant in Withnail and I, I guess," suggests Armstrong. "But there still aren't as many as you'd think in British comedy. Richard Curtis gives them all a bit of soft treatment doesn't he? Hugh Grant in Bridget Jones's Diary is a posh twat, but anyway, JP felt like a character who was waiting to be written."
I ask them whether they watched the recent Channel 4 documentary series The Secret Life of Students, which kick-starts a discussion between them about whether they ought to incorporate more social media, as Facebook and Twitter now seem so central to the undergraduate life. Generally, though, the younger writers and actors on Fresh Meat help keep them up to date. "We felt covered by the writers' room," says Armstrong. "You [students] are more likely to take a bottle of vodka with you to the toilets, and you may feel different about your course if you're now paying for it, but at the end of the day the emotional stuff doesn't change. Mind you, we were a bit nervous that someone would say, 'Don't have sex any more we just do it on instant messaging'..."
The good news for dedicated Fresh Meat fans like me is that there will be a new series in due course. In the meantime, we have a full series of the duo's Channel 4 satire on modern policing, Babylon, whose Danny Boyle-directed pilot was broadcast earlier this year. Following characters in two distinct groups at the Metropolitan Police – James Nesbitt's Police Commissioner and Brit Marling's PR manager, intercut with the happenings of a Territorial Support Group and the Armed Response Unit – what we don't see any of is that TV staple, the detective.
"Most cop shows have detectives at the heart of them which is why we don't have any... it's just people above or below that band," says Bain, who was approached with the idea of making a comedy drama ("definitely not a sitcom") about the police by Peep Show admirer Danny Boyle.
"Danny was inspired by police blogs like Nightjack [the anonymous blog later revealed to be the work of Lancashire detective Richard Horton] and was very into getting a modern take on the genre, with all the cameras, digital surveillance, the drones and iPhones. The genre is way past the point of saturation and we wanted to do things we hadn't seen before."
The opening episode involves a riot at a young offender's institute and looks at the tensions between the police and the private companies muscling in on the force's traditional duties – and between the Met hierarchy and politicians at City Hall. Much of Bain and Armstrong's research came from anonymous serving officers, as well as the memoirs of former Commissioners John Stevens and Ian Blair, and former 'drug czar' Keith Hellawell. But none of this would matter much if Babylon wasn't funny and involving, and it is both; highly recommended in fact.
Bain and Armstrong, meanwhile, sustain busy solo careers. Bain wrote for, and script-edited, the most recent series of Rev, while Armstrong has several completed scripts that he hopes to see produced, including a biopic of Republican Party strategist Lee Atwater, a film adaptation of Richard DiLello's book, The Longest Cocktail Party, about the founding of Apple Records, and a screenplay about Rupert Murdoch's media dynasty. "But time has moved on really since I wrote that... it's the old version of the set-up of the family," says Armstrong. "Oh, and I've got a novel out in the spring. It's about some kids who go to Bosnia during the war to try and stop it. It's a comedy." You'd be very surprised if it wasn't.
'Babylon' airs on Channel 4 on Thursday 13 November at 10pm
Register for free to continue reading
Registration is a free and easy way to support our truly independent journalism
By registering, you will also enjoy limited access to Premium articles, exclusive newsletters, commenting, and virtual events with our leading journalists
Already have an account? sign in
Join our new commenting forum
Join thought-provoking conversations, follow other Independent readers and see their replies