Catastrophe: Sharon Horgan and Rob Delaney discuss their returning marital comedy
The co-writers, who also star in Channel 4's sitcom 'Catastrophe', which returns for its third series, wanted to portray a recognisable marriage, not a sitcom marriage, that 'in real life' would end in a 'murder-suicide'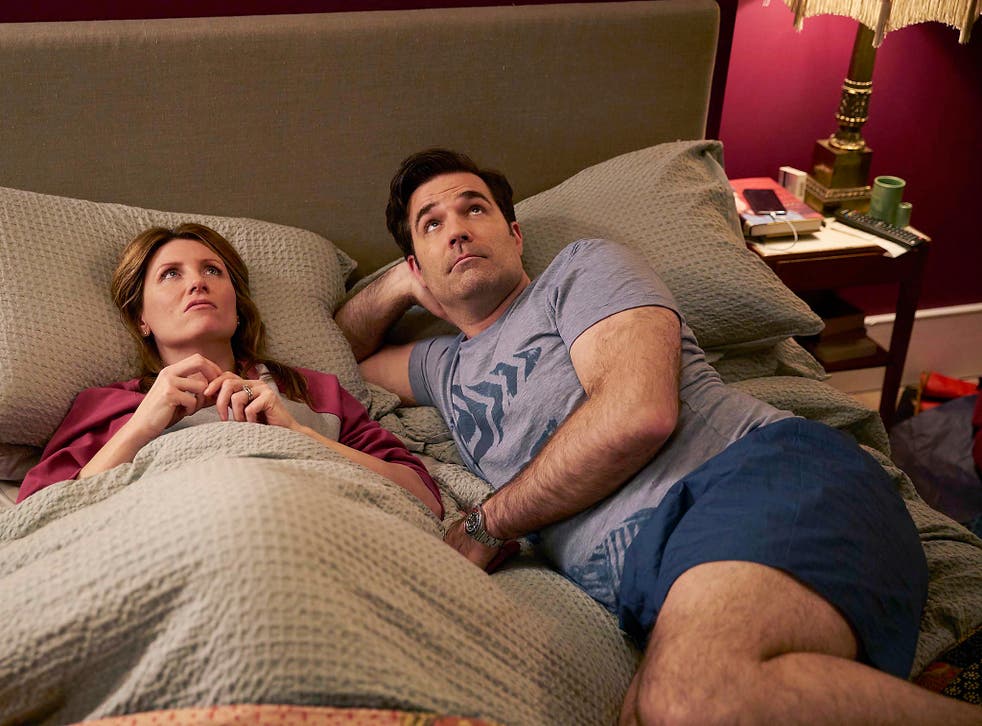 When I last interviewed Sharon Horgan, back around the time of London Olympics in the summer of 2012, she was feeling lucky to have been commissioned by BBC3, and even then her comedy about a woman wrongfully imprisoned or murdering her employer, Dead Boss, was to last only one series.
It's was a scenario to which the then-42-year-old writer-performer was becoming accustomed. Her trademark filthy-funny sitcom about the dark side of female friendship, Pulling, was caught by a privileged few who were willing to sit up very late and watch it on the then terrestrial BBC3, but despite a Bafta nomination and a British Comedy Award, the BBC axed that one as well.
During a break in editing Dead Boss, Horgan told me how she was fed up with being dubbed "the funniest woman you've never heard of". "It would be great to write something a lot of people watch," she said. "I'd be absolutely lying through my teeth if I said that wasn't my aim."
Jump forward to 2017 and Horgan has achieved her ambition, and then some. The Irish writer-performer is toast of the town, and a recent preview screening in London of the third series of her Channel 4 sitcom Catastrophe was packed to the gunwales with whooping and cheering well-wishers. Co-written with American stand-up Rob Delaney (aka "the funniest man on Twitter"), Catastrophe – in which Horgan's character becomes accidentally pregnant by way of Delaney's visiting Boston businessman and they both decide make a go at a relationship, is acclaimed both here and in the States (where it's shown on Amazon).
"We were always arseholey enough to hope it would go on there [to America]," says Horgan after the screening when asked whether she and Delaney began with ambitions to also make a splash across the Atlantic. "Arseholey", by the way, appears to be a favourite expression of Horgan's – an epithet that both denotes her love of the scatological (she admits to have to limit the number of toilet jokes per episode) and the hard-won experience of a woman who has had to navigate herself through an industry famously littered with arseholes.
But if Horgan has paid her dues and honed her craft – the Channel 4 sitcom Free Agents (co-starring Stephen Mangan) now seems like a prototype for Catastrophe – she has also had the luck to surf the explosion in adult-themed comedy and drama facilitated by the boom, first in subscription channels like HBO, then in online TV.
Alternatively it could be argued that Horgan's Pulling was simply a decade ahead of its time, and it's interesting that, after two abortive attempts to make a US version of the 2006 comedy, NBC is finally going to series with their version of the show. Meanwhile, a black comedy that Horgan wrote about the collapse of a marriage, Divorce, starred no less than Sex and the City's Sarah Jessica Parker, and HBO have just greenlit a second season.
But back to Catastrophe, which begins where we left off in series two, with Rob (Delaney) rightly suspecting Sharon (Horgan) of adultery, having discovered a receipt for the morning-after pill. This doubt, in tandem with Rob's unemployment following an accusation of sexual harassment, leads the advertising executive to start secretly drinking again. It's a storyline close to Delaney's own experience as a recovering alcoholic who stopped drinking in 2002 after driving his car into a building in Los Angeles.
"I am an alcoholic but I've been sober for a long time," he says. "But we never planned to use that. In fact Sharon, years ago now, said, 'why don't we make him sober?' and I thought, that will be boring. I really am in real life and we want to write a fantasy sitcom. But then we had something in our pocket for later, to make our lives worse.
Access unlimited streaming of movies and TV shows with Amazon Prime Video Sign up now for a 30-day free trial
Sign up
"It wasn't something we'd necessarily use," agrees Horgan. "We just liked to have it bubbling under, and then we found a great opportunity for it. The great thing about alcoholism is that it only ever gets worse."
Meanwhile there are passing quips about nipple electrolysis, masturbation and Sharon's browser history ("Black guys and fat Johnny Depps," declares Rob, accusingly), and there's a brilliant use of Brexit as a lame excuse for adultery. The naturalism of the thrust and counter-thrust between the couple (the word "banter" doesn't really cover it) is part of the show's appeal, as is the way that their creators allow the characters to laugh at each other's jokes. "But we don't want it to become a trope," adds Horgan, "to become smug. There's much less laughter in this series."
But the appeal of Catastrophe is much broader than just a few filthy jokes. It is, says Delaney, about a recognisable marriage. "We didn't feel we had seen a marriage represented in a sitcom in a way we found wholly satisfactory so we wanted to make one," he says. "Those marriages you see in sitcoms – in real life they would end in a murder-suicide.
"We don't want to moralise. These guys learn and grow – they even hug, I noticed – so we're not opposed to that, we'd just never want to telegraph it, or wrap it up cleanly. We definitely want to end each series with a question mark rather than a full stop. We like loose ends."
Sadly a rather more finite end concerns one of their co-stars, the late Carrie Fisher, who plays Rob's mother and whose final screen appearance will be in episode six of the new series. Fisher completed filming her scenes days before suffering a heart attack on a flight from London to Los Angeles.
"For series one and two we didn't have her for long," says Horgan. "She flew in and did her bit for a day or two. And then in series three we wrote this big part or her in episode six and got to spend some with her, and she was part of the gang.
"She loved saying arseholey things but was also just a lovely, kind supportive person. We had a screening at Tribeca [film centre in New York] of series two and Rob couldn't come because of a family matter. We called her up and said, 'would you mind coming to New York and filling in and doing a Q&A?'. And she did. She drove herself in from Harvard."
Delaney recalls the genesis of Fisher's involvement. "Years ago we were at an Attitude magazine awards ceremony and Graham Norton got a lifetime achievement award, and Carrie Fisher gave it to him, and her speech was just amazing," he says. "And we were watching it and Sharon said 'what if she played your mum?', and I was like, 'Sharon, you're crazy'. I tried tweeting her first... no response, and then we looked up her agent and sent her the scripts for series one and she said, 'OK, sure'. Thank God."
Catastrophe has already been commissioned for a fourth series, but Horgan says that they haven't even begun to consider how they will address Fisher's absence. "It's a bit hard to think about that just yet," she says. "I'm hoping time will pass and we'll think of a fitting finish to that story."
In the meantime its back to "various dark and not very nice offices" around London, Delaney having moved his family to the UK after the show's success. "We sit side by side at a desk with a laptop", says Horgan, describing their working methods. "We eat our lunch at desks and make use of time together because we're both parents. If the room gets smelly we take a walk round the block."
Horgan's two daughters with husband Jeremy Rainbird, an advertising executive, are Amer and Sadhbh (pronounced Syve, as in "Clive"), and Horgan memorably used the average non-Irish person's difficulty in pronouncing Irish names in an episode of Catastrophe, when she had Sharon wanting to call their baby girl Muireann.
Horgan was raised in the Republic after her Irish mother and New Zealander father went to live in County Meath after having run a pub in the Kray-era East End of London. "There was a situation when my father was asked to give an alibi for someone, and he realised he didn't want his girls brought up in that environment", she says. "So they made the predictable progression from pub-owning to turkey-farming".
One of five siblings (her brother, Shane, went on to become an Irish rugby international), Horgan returned to the London of her birth when she studied English at Brunel University, which was followed by "fannying about" trying to be an actress, but mostly waitressing. "And then suddenly you realise it's 20 years later".
Furiously making up for lost time now, Horgan seems to have discovered her ideal writing partner in Delaney, of whom she has said: "He rubs my corners off and I try to knock some of the sweetness out of him." Delaney himself observes of Catastrophe's success: "Every episode is written by the same two people and one of them is a man and the other is a woman: that's my theory as to why people who like it do. Also, people see terrible things happening to people but they figure it out and it's not the end of the world."
'Catastrophe' returns to Channel 4 at 10pm on 28 February
Join our new commenting forum
Join thought-provoking conversations, follow other Independent readers and see their replies