Christmas 2014: Can a new TV take on E F Benson's cult Mapp and Lucia novels compare with the sublime 1985 series?
The BBC's new version is written by The League of Gentlemen's Steve Pemberton, who says we should expect "a genteel version of Royston Vasey"
Gerard Gilbert
Saturday 06 December 2014 13:00 Comments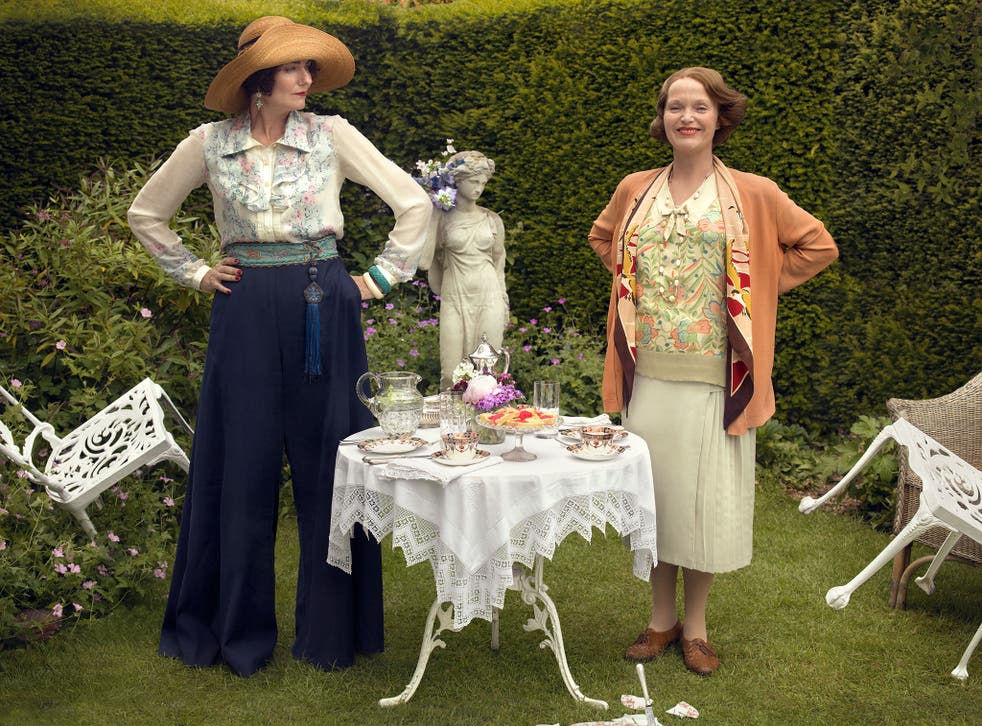 Students in the mid-1980s may have bonded over many things – their opposition to the Thatcher government, perhaps, or their collection of albums by The Cure – but comic Edwardian novelist EF Benson?
Such was the unlikely beginning to a beautiful friendship between Mark Gatiss and Steve Pemberton, when they first met at a drama college near Wakefield.
The gay son of a Victorian Archbishop of Canterbury, Benson remains best known for his Mapp and Lucia novels, a series of social comedies about warring upper-middle-class ladies in interwar Sussex. Hardly the sort of stories one might expect to grip the imaginations of northern working-class youth, then – and yet capture Gatiss and Pemberton they did. "When Mark came to my room and he spotted them [the novels] on my shelf we started coming out with all the catch phrases… 'au reservoir'… 'Quai-hai'… and the like", says Pemberton. "That's right", agrees Gatiss. "To be sitting here doing it 30 years later is absolutely bizarre really, but brilliant."
"Here" is up a cul-de-sac in the picturesque Old Town of Hastings in East Sussex, on the set of Pemberton's new three-part adaptation of the novels, co-starring his old League of Gentlemen mucker, which is a centrepiece of the BBC's Christmas schedule. The series has been filmed around the county, though the chief location is nearby Rye, Benson's home town and the model for Tilling, the fictional seaside community that is the setting for a game of social one-upmanship (or womanship) between newcomer Emmeline "Lucia" Lucas and resident queen bee Elizabeth Mapp.
As Pemberton knows, his version has a lot to live up to – namely the sublime 1985 Channel 4 series starring Prunella Scales as Mapp, Geraldine McEwan as Lucia, and Nigel Hawthorne as McEwan's consort Georgie Pillson, a role now taken by Pemberton. "Anyone who has fallen in love with the books by way of that adaptation will possibly find it hard to accept different people playing those roles", says Pemberton, and – as one of those people – I can only concur.
Scales's Mapp was terrific, bustling Sybil Fawlty-like around Tilling with her shopping basket, in a constant fury at once again being out-manoeuvred by Lucia. And McEwan, with her cod-Italian phrases and eyes swivelling mischievously, has never been funnier. But it was Hawthorne's Georgie who was the comic tour de force – fussing over his embroidery and delighting in the latest catty gossip. "It's a huge pair of shoes to fill", admits Pemberton, seated beside me in a Hastings side street, sporting a blazer, auburn toupée and moustache. "But I put that from my mind; he was superb in the role and I'm just trying to enjoy myself and be true to what Benson wrote as well."
Pemberton has also been wise in his choice of leading ladies, Anna Chancellor, as Lucia, and an eerily Scales-like Miranda Richardson as Mapp. "There are not that many actresses who can do the drama and the comedy… it really isn't easy to get that lightness of touch", he says. "And physically they complete each other so well. It should feel like a boxing match where you don't know which one is going to win." "Anna looks like she comes from this period and she just slid so perfectly into this role", says Gatiss. "I met her just before we started and she said 'The terrible thing is that I think I am Lucia."
Gatiss himself plays Major Benji, "ex-Indian Army major who drinks too much and talks about bagging tigers" and is given to yelling the aforementioned catch phrase of "Kway-hi!" (to be said when downing a dram), while of the supporting cast, Game of Thrones actress Gemma Whelan stands out as "Quaint Irene", a pipe-smoking painter whose art outrages Tilling society more than her sexuality (Benson apparently based her on the Well of Loneliness author Radclyffe Hall, who also lived in Rye).
In fact the Mapp and Lucia novels were remarkable for their time in having two rather obviously gay characters – Georgie and Irene. "Benson's entire family were gay [at least two of his five siblings were believed to have been]… that's a sitcom waiting to happen", says Gatiss. "It's always had a massive gay following… quite rightly because it is very ahead of time… and Quaint Irene is absolutely in love with Lucia, and it's just out there, while Lucia and Georgie that's definitely a fag-hag relationship. But the weird thing about Tilling as a society is that they're actually very accepting of their strange little foibles. And for the time that's quite a foible."
Access unlimited streaming of movies and TV shows with Amazon Prime Video Sign up now for a 30-day free trial
Sign up
Other "foibles" include a flirtation with fascism. "They're all in love with Germany and Italy and it's that Miss Jean Brodie thing of half-admiring Mussolini", says Gatiss. "There's a whole unused plotline where they all become blackshirts, just because it's fashionable."
As filming wraps in Hastings, we're driven the 12 or so miles back to Rye. Many of the locations being used will be familiar to fans of the 1985 series; the bonus this time, however, is, that the National Trust granted permission for filming to take place in Lamb House – the home of EF Benson (and before him of Henry James) and the model for Mallards, the house so fatefully rented from Mapp by Lucia,
Benson served as mayor of Rye, as does Lucia in Tilling, a perfect vantage point for observing the petty snobberies of this particular section of small-town life. "It's absolutely timeless", says Gatiss. "In fact a resident apparently approached the production team and murmured darkly that 'If you want to know who the queen bee of Rye is now, I can tell you'.
"We've been filming in the church square and it's so confined and tiny, everyone's in and out of each other's lives", continues Gatiss. "Philip Roth was talking about why the life of academics is so riven with pettiness and nastiness and he says it's precisely because the stakes are so low; that's kind of what this is about." "My kids are at primary school and it made me think of how that politics of the playground worked," adds Pemberton, "which parents wanted to be the class reps and so on. I think it's a universal situation. You had it in shows like Desperate Housewives."
The triumph of EF Benson's novels, as well as the 1980s adaptation, is that while we're invited to laugh at these characters, we also feel for them, and it's an attribute Pemberton hopes his version achieves as well. "Something we used to pride ourselves on in The League of Gentlemen was to bring pathos into it", says Pemberton. Is Tilling another variation on Royston Vasey? "I suppose Tilling is the genteel version of Royston Vasey", he says. "Vasey-by-the-Sea."
'Mapp and Lucia' will be screening over Christmas on BBC1
Register for free to continue reading
Registration is a free and easy way to support our truly independent journalism
By registering, you will also enjoy limited access to Premium articles, exclusive newsletters, commenting, and virtual events with our leading journalists
Already have an account? sign in
Join our new commenting forum
Join thought-provoking conversations, follow other Independent readers and see their replies