Countryfile: How did a sleepy Sunday staple become a TV winner?
Nearly three decades after its first broadcast, Countryfile is now viewed by 8.6 million of us every Sunday – and it has even spawned its own spin-off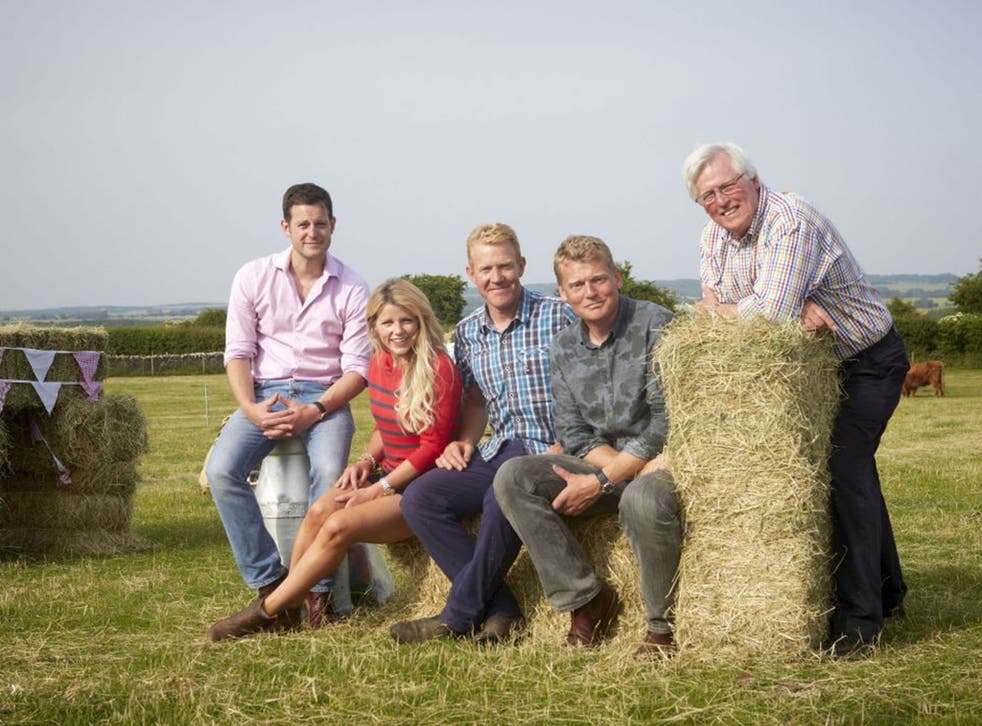 If you've never sheared a sheep, or you panic when your 4G reception fades in the presence of England's bucolic fields, then it's quite possible you are one of the 8.6 million viewers addicted to Countryfile, the rural-affairs show which is now taking over the BBC.
Forget War & Peace; it is Matt Baker's weekly windswept battle with the elements, John Craven's reassuring presence and the frighteningly definitive Countryfile Weather for the Week forecast that are drawing huge Sunday night ratings to BBC1.
Even rural Tories, hell-bent on dismantling the BBC, genuflect towards the series, which was launched in 1988 to celebrate the "beauty and diversity of the British countryside", and which has now spawned a spin-off, after breathing the same elevated ratings air as Strictly Come Dancing.
Culture news in pictures

Show all 33
Craven, a sprightly 75, will appear alongside Flog It!'s Paul Martin and Keeley Donovan – a BBC regional weather presenter whose Instagram selfies have become a hot social-media property – in Countryfile Diaries, a BBC1 daytime offering for the spring, promising "a deeper look into country life through the changing seasons".
Whether it's Baker helping to deliver cute lambs, Ellie Harrison's wildlife investigations or Craven rambling before a dramatic craggy backdrop, Countryfile delivers a comforting take on agricultural life for a largely urban Sunday evening audience whose closest encounter with the mud and manure of unfettered rural Britain is a weekend at Glastonbury.
Yet the triumph of Countryfile is one of television's unlikeliest success stories. Originally broadcast on Sunday mornings as something of a farming-news snoozefest, the format was given a new lease of life courtesy of Jeremy Clarkson.
Following Top Gear's reinvention as a high-octane entertainment format, the BBC believed Countryfile also possessed untapped potential and, in 2009, the show was promoted to a high-profile, hour-length Sunday night BBC1 slot.
The promotion caused considerable trouble down on the farm. Baker, Julia Bradbury and Tom Heap joined Craven in a bid to give the presenting line-up more "mainstream" appeal, while farmers complained that hard news was being replaced by "fluffier" items.
Three female presenters were dropped, including Miriam O'Reilly, then 52, who successfully sued the BBC for age discrimination in 2011 at a tribunal, reportedly winning £250,000 in compensation. The former BBC1 controller Jay Hunt was forced to deny claims that she "hated women" during the hearing.
The freshly hatched prime-time Countryfile thrived in its new environment, however, adding Helen Skelton and Anita Rani to its team.
The presenters are subject to the same Twitter scrutiny as their Sunday night X Factor rivals. Eagle-eyed viewers complained when Baker and Bradbury wore clearly branded outfits from a leading outdoor-clothing company, earning the show an "undue prominence" rap.
The arrival of an executive producer from the BBC2 series Coast added the production gloss and sweeping camera shots from that geographical hit, helping viewers to zone out and forget the noise and pollution of city life outdoors.
All of which only infuriates those viewers who tweet that Countryfile is little more than visually appealing television wallpaper.
Top Gear-style "stunt" sequences have included John Craven in a bath wearing a snorkel and mask, presenter Adam Henson in a toe-wrestling competition and Ben Fogle competing in a tin-bath race on the Isle of Man.
An independent report criticised the BBC for being too "squeamish" about the realities of rural life and "simplistic" in its coverage of countryside issues. Dragged into a row over the Corporation's "metropolitan bias", the Countryfile team said that it made a particular feature of covering "hard-core" agricultural and environmental subjects.
Amid the cutesy encounters with animals, the programme's journalism remains strong, with features on halal slaughter, farmer suicides and the poultry disease campylobacter, the most common form of food poisoning in the UK, giving city-dwelling viewers some meat to chew on.
Heap even persuaded the Princess Royal to grant an interview at her Gatcombe Park escape in Gloucestershire. He was rewarded with an exclusive when she waded into the row over badger culling and said the animals should be gassed rather than shot. The Prince of Wales has also given his organic imprimatur to the series, guest-editing the 25th-anniversary programme in 2013.
So will the brand change now that the phenomenon has spawned a spin-off featuring a weather girl said to deliver the "ooh-aah" factor to Countryfile?
The programme's warmth allows rural voices the chance to educate a wider audience, which has never pulled on a wellington boot in anger, about countryside matters. It's a formula reaping a rich harvest which the BBC would be foolish to drive a John Deere tractor through.
Field trip: What one urbanite loves about 'Countryfile'
I grew up in a village in Kent, aka the Garden of England. My mother used to work for an agricultural vehicle company, my old school had its own farm and I lived surrounded by orchards and fruit farms. But having spent the past 15 years living in a city, most of the countryside I've seen in that time has been on television on Sundays.
Countryfile, which launched when I was eight, has evolved from something that evoked a feeling of dread in me ("Oh God, it's Sunday. Antiques Roadshow will be on in a bit and then it's school tomorrow") to a soothing window into a world of lambs, jam, farmers and coppicing. I can only imagine how hard it is to work in modern agriculture and, unlike a colleague of mine, have no illusions about the attractions of giving it all up to go and be a shepherd. But Countryfile is still something I cherish.
And then there's the weather report. My family swear by the show's five-day forecast, explaining sagely that it has to be accurate for the farmers. I can't vouch for that, but I can only salute the BBC for giving Countryphiles the chance to enjoy a blast of rural affairs on a more regular basis.
Rebecca Armstrong
Join our new commenting forum
Join thought-provoking conversations, follow other Independent readers and see their replies