interview
Cynthia Nixon: 'I know JK Rowling feels she's standing up for feminism, but I don't get it'
The 'Sex and the City' star speaks to Olivia Petter about the new Ryan Murphy drama 'Ratched', her trans son and being a 'Harry Potter family', her failed bid for political office and the lack of racial diversity in the show that made her famous
Monday 14 September 2020 09:57 Comments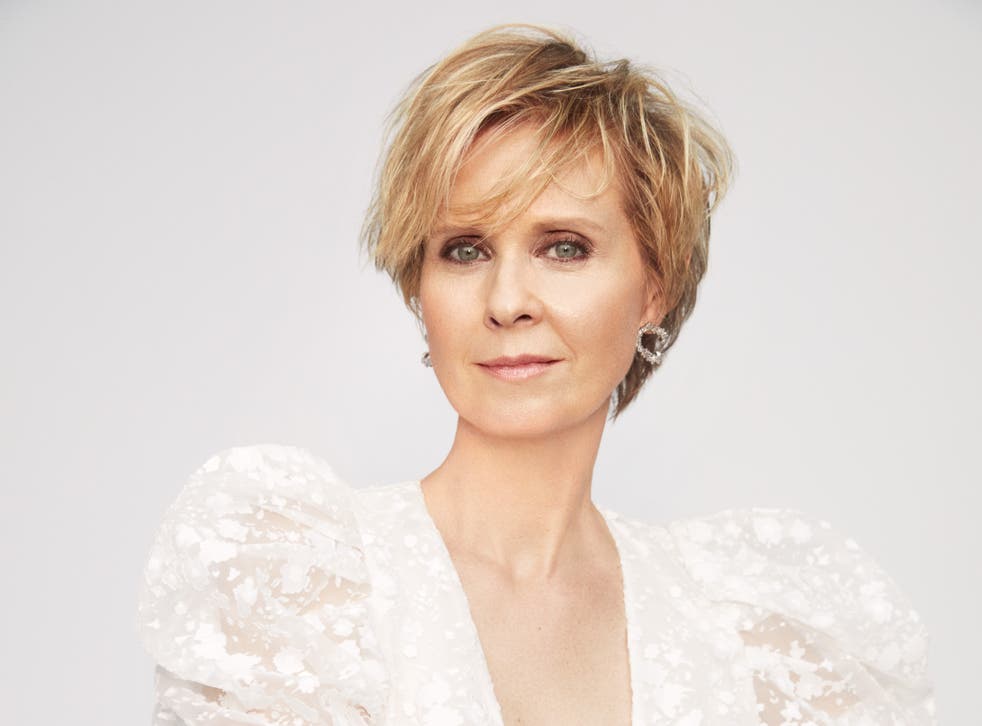 Leer en Español
Cynthia Nixon is confused. We're dissecting JK Rowling's tweets about transgender women. For Nixon, the author's much-publicised comments hit close to home – her 23-year-old son Samuel is trans. "It was really painful for him because so much of his childhood was tied up with Harry Potter. We're a Harry Potter family. The books seem to be about championing people who are different, so for her to select this one group of people who are obviously different and sort of deny their existence, it's just… it's really baffling. I know she feels like she's standing up for feminism, but I don't get it."  
Nixon is not like other actors. While the 54-year-old New Yorker is best-known for her performance as the acerbic Miranda Hobbes on HBO's cult show Sex and the City, she is just as renowned for her real-life role as a political activist, having long-used her platform to advocate for the LGBT+ community, women's rights, and social justice. In 2018, she ran for governor of New York – ultimately losing out to Andrew Cuomo – with a manifesto that called for urgent criminal justice reform and the legalisation of cannabis. And in February, Nixon fronted a viral video for a US feminist magazine – Girls. Girls. Girls. – that addressed the absurd double standards women face with regards to their appearance ("Look sexy. Look hot. Don't be so provocative. You're asking for it").  
Amid all of this, Nixon's acting career has never faltered. In fact, it has flourished, which is perhaps why Ryan Murphy was keen to snap her up for his latest project for Netflix, Ratched. The eight-part series takes place in the 1940s and tells the origin story of asylum nurse Mildred Ratched (Sarah Paulson), the famously monstrous character from Ken Kesey's 1962 novel One Flew Over the Cuckoo's Nest. In true Murphy style, Ratched fuses the macabre with the glamorous. Everything is lavishly over the top, from the impeccable costumes and the staggering amount of blood that drips off them, to the starry cast. Alongside Paulson we get Sharon Stone, Sophie Okonedo and Judy Davis. Nixon plays Gwendolyn Briggs, press secretary to the governor of California, whose funding the hospital relies on.
Even in 2020, it's rare to see unsavoury female characters on screen, let alone to see them explored with the depth that we see in Ratched. "As women, it's demanded of us that we be appealing, whatever that means. And this is even more so with actresses, that our characters be appealing," Nixon tells me over Zoom. She's speaking from her holiday home in Montauk, New York, which she shares with her wife of eight years, the education activist Christine Marinoni, and their nine-year-old son, Max. She has two other children, Samuel and Charles, with her ex-partner, Danny Mozes. "The underlying story in One Flew is that here's a woman in power over all of these men who are in trouble, and rather than treating them with empathy, she destroys them. It's hard to remove people's genders in that plot," Nixon says. The book is set in the 1950s, but it's no easier for women to be in charge of men today. "You get vilified, as we saw with Hillary Clinton's presidential campaign a few years ago. It's very hard to be a woman in power."
Nixon is brilliant in the role of Briggs – a closeted lesbian who falls for Mildred and encourages her to fight societal norms by embracing who she really is. It surprises me that she didn't really identify with her. "The central fact of Gwendolyn is how alone she is, and I'm lucky enough to have never felt that way," Nixon explains. "She's moved across the country, she's trying to make a career and a life for herself in a very male world. I'm still living in the place where I was born. I have a family, a spouse, children. I have great friends who I've been friends with since I was five. I feel like my life is very integrated and Gwendolyn's is very compartmentalised."
Despite this, there are many places in Ratched where Nixon's fans will inevitably see her in her character. Take the scene in which a woman "with lesbianism" is given a lobotomy as a form of conversion therapy. When the psychiatric doctor begins his procedure, the camera lingers on Nixon – whose character has not yet been revealed as gay – as she uncomfortably spectates. It's a moment that epitomises what Ratched is about. "It's this issue of, what do we do about the parts of ourselves that don't function?" says Nixon. "Do we try to eradicate them, or do we bring them out into the light of day and look at them and try in a compassionate way? So, from a queer perspective, we've been told for ever that we are sick and perverted and that we must just suppress these feelings. But actually something else is true. These are important and beautiful parts of us."
Nixon is disarming, even over Zoom. She compliments the furniture in the room I'm in, answers every question with a smile, and seems thoroughly at ease, sitting on the deck of her home in a green roll-neck. She's a far cry from the cynic in razor-sharp tailoring whom she played on Sex and the City, and later reprised for two films. Twenty-two years after the show aired, Miranda remains one of the best-loved characters – see the "We Should All Be Mirandas" meme – with umpteen fan accounts and books dedicated to her "no-bulls***" approach to sex, friendship and work.
Sex and the City paved the way for shows that championed female friendship and sexuality, such as Girls and Fleabag, though there are notable distinctions. Nixon has previously praised the former for allowing its cast more freedom with regards to how they looked. "In Sex and the City, we had to be thin and look great all the time; in Girls, they have permission to be more real and less airbrushed," she said. I sense that Nixon regrets this comment, because when I bring it up, she sidesteps into talking about all of the ways in which Sex and the City was legitimately progressive for its time.
"It showed people that women are actually deeply interested in sex and they don't see it as just a way to entrap men and get a ring on their finger. That was a big revelation," Nixon recalls. Watch the show back today and there are clearly dated elements. Nixon hasn't seen it in a while. "Obviously things are of their time," she says. "Some of the gay characterisation was broad and all that, but I think that in terms of having gay representation on the show, I think we did pretty well with that. The thing that we really fell down on, and I was very aware of it at the time…" she sighs. "It was always a problem how little racial diversity there was."
Indeed, the primary cast was entirely white, and the few people of colour in the programme were often reduced to either stereotypes or jokes – "I don't see colour, I see conquests," said the sex-obsessed Samantha Jones, played by Kim Cattrall. The lack of economic diversity was stark, too. "I kept feeling like all of these people have so much money," says Nixon. "Even having my character's husband, Steve, being a working-class guy was such a relief. But he was kind of it. It was a very white, affluent world, and that's even more apparent now than it was 20 years ago."
The outdatedness of Sex and the City is one of two things its former stars still get asked about today. The second is whether they all secretly hated each other. "There were moments of conflict, but they were not a daily thing," says Nixon. "By and large, if you had been on that set, it was very fun and friendly. I always got along with everybody." She was disappointed that Cattrall didn't want to do a third film. "But I think none of us are under obligation. Miranda is a character you can age into, but for Samantha, I think it's harder and Kim had enough of being that, you know? I mean she was so wonderful in the role, but I think the older you get, you don't want to be doing those scenes any more."
Does she keep in touch with anyone? "I was in touch a little with Kim around the death of her brother," she replies. (Cattrall's 55-year-old brother Christopher killed himself in February 2018.) "Kristin [Davis] and I speak quite a lot. She and I are actually doing a thing next week together for the United Nations. Sarah [Jessica Parker] and I…," she pauses, making a face that can only be described as the grimacing emoji. "We haven't spoken in a while now. I can't remember the last time we spoke."
We leave it there. I ask Nixon about her run for governor.  She tells me she has no regrets – "we are still seeing enormous changes in the state" – and that she will continue to advocate for causes close to her, such as reducing mass incarceration and funding schools. But right now, she is, to my surprise, in the midst of a Harry Potter marathon. "Max has a friend of his here right now who has never seen any of the films, so we are actually watching all of them. We're halfway through number six." When I ask if she or Samuel feel any discomfort watching the films in light of Rowling's tweets, she goes on to paraphrase the actor Daniel Radcliffe's statement in response. "The thing that he tried to impart to people was that if you as a queer person or as a non-queer person have found a home in these stories, please don't let this take that away from you. These are still your stories." And with that, we go our separate ways – me to my living room and Nixon to the wizarding world, one that remains magical no matter what.  
'Ratched' is out on Netflix on 18 September
Register for free to continue reading
Registration is a free and easy way to support our truly independent journalism
By registering, you will also enjoy limited access to Premium articles, exclusive newsletters, commenting, and virtual events with our leading journalists
Already have an account? sign in
Register for free to continue reading
Registration is a free and easy way to support our truly independent journalism
By registering, you will also enjoy limited access to Premium articles, exclusive newsletters, commenting, and virtual events with our leading journalists
Already have an account? sign in
Join our new commenting forum
Join thought-provoking conversations, follow other Independent readers and see their replies