David Harbour interview on how Stranger Things changed everything
The Independent spoke to the actor about season two, 'Hellboy' and Hamlet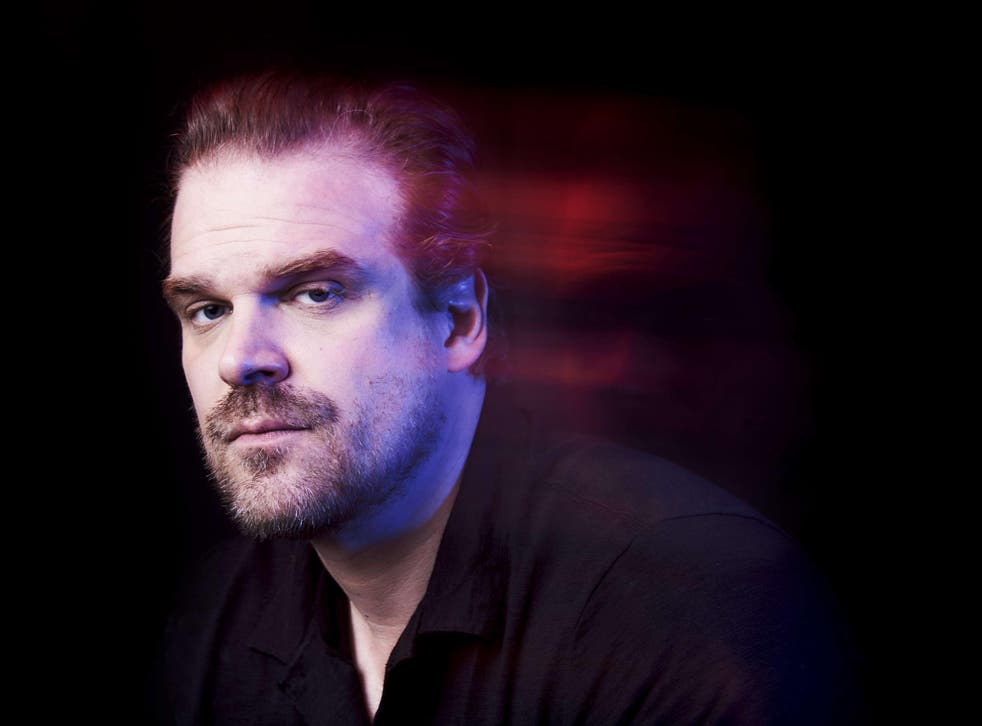 Before Stranger Things, David Harbour was a relatively unknown actor. Despite having minor roles in Brokeback Mountain, War of the Worlds, The Green Hornet, End of Watch and Quantum of Solace, the actor – whose first professional role was on Broadway – never quite registered in the mainstream consciousness.
Thanks to the breakout Netflix series, though, everything has changed: people recognise Harbour on the streets, the actor's SAG Awards speech went viral, and he's landed the leading role in the rebooted Hellboy. Things are, they seem, going quite well.
Speaking over the phone with The Independent from a hotel in Bulgaria, Harbour talked about the upcoming second season of Stranger Things – comparing his character Jim Hopper to Hamlet – along with discussing Hellboy, the state of blockbusters at the moment, and life in the limelight. Read the full Q&A below.
Note: journalists were not shown any episodes from season two of Stranger Things. The below discussion does not contain any proper plot spoilers.
JS: First off, I thoroughly enjoyed the first season of Stranger Things and am very excited for the second.
DH: So am I! It's really terrific to have everyone getting behind the series.
What are you most excited for fans to see?
Oh man! I don't want to spoil anything… The thing I'm most excited about is a secret. But, I will say there's so much fun and vigour in the new series. It's scarier than the first and has lots of humour. The basis of the story – and the thing I love most about the series – is the heart and emotional development of these characters. Hopper gets a lot more of that this season. I'm really excited for everyone to see what happens to him, especially in episodes eight and nine. What Hopper's dealing with is even more satisfying this season. He goes to a different place this time around. We've peeled the onion back on Hopper in many different ways. It makes this very complicated, beautiful man even clearer. I'm very proud of the way the season plays out.
I don't want to spoil the series either, but would you say Hopper goes down a darker road this season?
In a sense, it's darker. He comes up against his limitations, against things he can't control. During the first series, Hopper goes from not caring to caring. He gradually becomes this heroic figure and the saviour of Will. One of the issues this season was working out how to give Hopper another arch. One of the most beautiful things about Shakespeare's Hamlet is when he stops in the middle of the play to ask 'to be or not to be?' Then, right at the end, he decides to 'let be'. The first season of Stranger Things was Hopper asking whether 'to be or not to be' and the second is to 'let be'. I love to watch human beings figuring out their limitations.
During the first season, Hopper really comes into his own, particularly when we discover information about his past. I remember hating Hopper but he grew into one of my favourite characters.
Access unlimited streaming of movies and TV shows with Amazon Prime Video Sign up now for a 30-day free trial
Sign up
That's what I love about him. I would watch people on Twitter, two episodes in, saying 'what's up with this Chief Hopper guy, he's an asshole. I hate him.' By episode four, they were like 'If Chief Hopper dies I'm suing Netflix.' I love that so much! Around episode two and three you see him activate, which is such a satisfying thing. Then you see the man on the inside that he's been hiding. That's so awesome! When I read that in the script, I was like 'holy shit, this is a dream come true for an actor.' You get to play this guy, this villain who you don't want to root for. Then there's the big change. It's such brave writing which you don't normally get.
That's in part why Stranger Things has become so huge, because it's a well-written production that's been masterminded by these two relatively unknown directors, the Duffer Brothers. When did you realise just how big Stranger Things had become?
It was hilarious because weeks before Stranger Things came out there were no adverts, no promotion anywhere. I couldn't get anyone to write articles about us. Nobody cared. It was this incredible thing where we shot this show – I think it's really good – but nobody is going to watch it. That first weekend, my phone just lit up with all these people I hadn't spoken to in years saying things like 'Oh my God, Stranger Things!' People really responded to the show. Then the articles started coming out on Buzzfeed like 'Which Stranger Things character are you?' That's when I knew we had really hit a cultural nerve. We really tapped into people, particularly on social media. Before it came out, I didn't think anyone was going to watch it.
Stranger Things - Season 2 Final Trailer
Does it feel like Stranger Things has changed everything? Because your career has really taken off. Obviously, you have Hellboy coming out…
It's definitely changed my whole life, mostly in good ways. I've been an actor for a long time, appeared in movies and had a career where people would recognise me in Manhattan maybe once every two weeks. Now, walking down the street, people come up to me all the time. It's just because they love the show and the character so much. That's a wonderful thing and all you ever want as an actor. Career-wise, it's opened up choices of stories I want to tell in a way I've never experienced before. I've always had to work, like everyone, because I need money, I need a job. Now, I have opportunities to craft stories I want to tell, which is a whole new world for me.
It sounds like a real step up.
I've always been passionate about the stories I want to tell. The idea that I can actually have a voice in what a story should be – whereas that's often chosen already by directors – that's the most rewarding thing. I get to be responsible rather than just being dropped in as an actor.
I was reading beforehand that you're a huge fan of Indiana Jones and those Eighties action films. I feel that, today certainly, we're really missing that style of movie in cinemas.
I agree. Maybe it's because I'm older now, but there was something about the Seventies and Eighties. It was 'the magic of the movies'. You would go to the cinema and have this magical, transportive experience, all because of the amount of love in the movies themselves. Particularly with those Indiana Jones movies, and almost everything Spielberg did, you could feel the passion behind the stories. Blockbusters nowadays have gotten a little corporate. A little jaded and cynical with their audiences. That amateur feel – for creating a magical experience – that's something I want to see in my art. There are, of course, examples today. But those big blockbusters were of real creative vision, of love, and wanting to translate that to the audience as opposed to just wanting to make a lot of money. I would like more of that sincere, earnest passion in my blockbusters as well.
Netflix Originals 2017: All the films and TV shows to look out for

Show all 14
Stranger Things borrows so much from those Spielberg films – the tone, style and characters. I imagine playing Hopper must have seemed almost like a dream come true considering those influences on you?
Absolutely. The Duffer Brothers are so attentive to story and detail while being wildly respectful of me and what I bring to the process. They wanted my views and thoughts on Hopper. That focus and dedication only comes from big nerds like me and the Duffers! The fact that we had the opportunity to do that, and that it was actually realised, was so rare. I'm completely devoted to those guys. I just love their work.
This time around, with the second season, did you have more influence on the character?
Definitely. I've never been part of an artistic collaboration that I've been closer to. I felt we were all on the same page. As we've grown closer, we think about things we want to see together. I love that they see into my soul and understand the issues I want to talk about. It's so beautiful that they trust me to be part of that process, because I consider them real auteurs and geniuses.
Now you're working on another huge project, Hellboy. How does that compare to Stranger Things?
The interesting thing about Hellboy is the character shares that same complicated centre as Hopper. Hellboy's not a clear hero. The Guillermo Del Toro movies were so fantastic in their own way, but we wanted to do a different version where he goes through a lot more struggle, a lot more angst. That's the complexity I bring to it. In a sense, there are many similarities. It has the same complicated sensibility which is certainly what drew me to the project.
Earlier you mentioned Hamlet when talking about Hopper. Will Hellboy also borrow from classic stories?
Comic books of our age are modern-day myths, similar to Agamemnon and those Greek legends. My biggest influence has always been Shakespeare. I have always loved taking stories – as Shakespeare did with something like Romeo and Juliet – these simple stories and making them very complex, with language and ideas. That's what I would love to do with the comic book world too, and I think Hellboy's a great opportunity for that. On a surface level, he's an adopted kid from hell. He was meant to bring about the apocalypse. Yet, he just wants to be a good guy and fight evil. But he has this destiny. That struggle is very Hamlet-esque, even having tones of Coriolanus, where you have this guy who cannot understand his own true nature. Those levels of complexity, if we can bring that to this movie, which we're trying to do, I think will be really rich.
I really admire the way you talk about these characters, because lot's of people dismiss comic book heroes as childish silliness without much depth.
Exactly. We still have all that fun and silliness you expect with a comic book story. But, as an actor, I want to explore human beings, their psychology. I love outcasts, people from the bottom, because I can relate to them. I myself have felt that way. For me, acting is meant to make people feel less alone, feel more understood, to open people's hearts. I'm going to bring that to whatever I do, that's part of my DNA.
How long do you think you'll keep going with these two characters, Hopper and Hellboy?
We're talking about ending Stranger Things at either season four or season five. I know there is an end to the story. It's a very beautiful end, which we want to tell and then get out. We'll see how long it goes. But there is a definite end to the story, which I'm excited for. We've already been laying out the pipework. There are Easter eggs in season one that you won't get until season four. You'll look back and say, 'we've been seeing this story the whole time, we just haven't realised it'. To me, that's wonderful. For Hellboy, that film has to make money! Then we can see if we can keep going. I'm not crazy about being in the make-up chair every day, but he's a guy I love. There's a lot of rich material from those comics we can mine from. Our story is only a couple of those books and we could do a much bigger story. If it's successful and people like it and want more of it, I'm happy to put on the red paint on again.
Stranger Things 2 will be available on Netflix from 27 October
Register for free to continue reading
Registration is a free and easy way to support our truly independent journalism
By registering, you will also enjoy limited access to Premium articles, exclusive newsletters, commenting, and virtual events with our leading journalists
Already have an account? sign in
Register for free to continue reading
Registration is a free and easy way to support our truly independent journalism
By registering, you will also enjoy limited access to Premium articles, exclusive newsletters, commenting, and virtual events with our leading journalists
Already have an account? sign in
Join our new commenting forum
Join thought-provoking conversations, follow other Independent readers and see their replies