'Appalling behaviour is outrageously funny': How the Irish sitcom took over telly
The Emerald Isle has been making the world laugh for forever, but a recent wave of comedies have found a new level of success. Ellie Harrison meets the stars behind them, including Sharon Horgan and Domhnall Gleeson, to find out why Ireland does dark humour best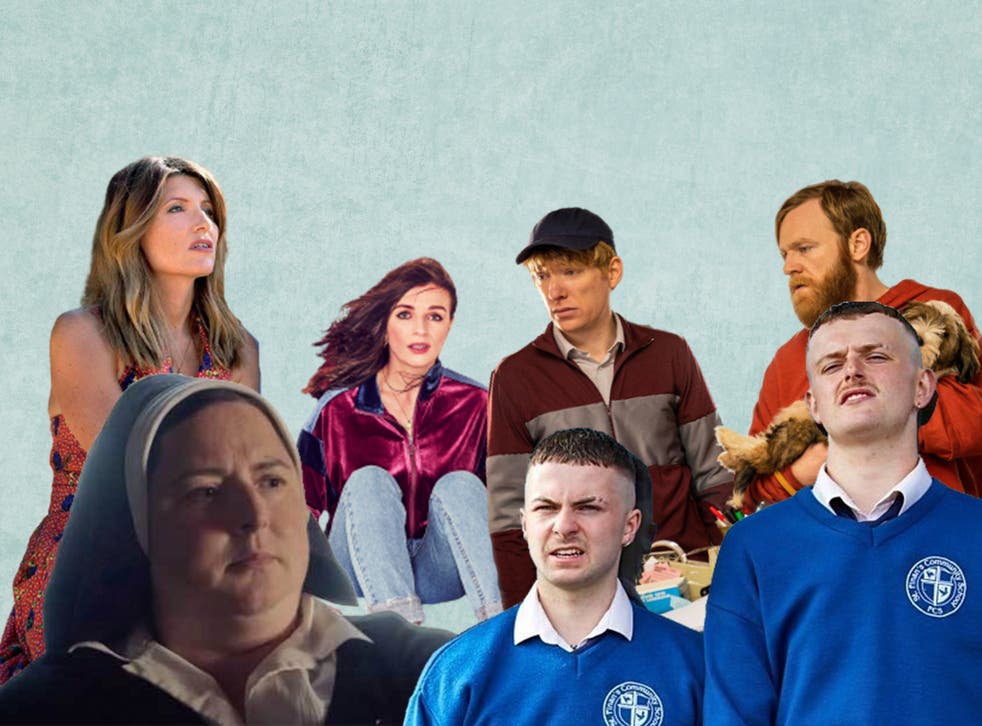 Finding mirth in misery is one of the most fundamental qualities of being Irish. "Sure, if you didn't laugh, you'd cry," my mother, a Dubliner with a wicked ability to see the funny side of life, is fond of saying. There has always been an obsession with darkness in the country's folklore, and its modern literature also revels in it. Flann O'Brien's 1941 satire, The Poor Mouth, set in an impoverished region of Ireland where it rains relentlessly, is regarded as one of the greatest Irish-language novels of the 20th century – at once hilarious and macabre. Comedians, too, have skilfully mined Ireland's traumatic past over the years, from Seventies satirical storyteller Dave Allen, to stand-ups Ardal O'Hanlon, Tommy Tiernan and Dylan Moran.
That has translated to telly as well. But none more so than in recent years. Irish TV comedies may have been around for decades – the deliciously giddy and subversive Father Ted was a groundbreaking water-cooler hit when it arrived in the Nineties, followed by the surreal sitcom Black Books and the mockumentary Paths to Freedom in the 2000s. In the past five years, however, there's been an explosion of them and they're drawing in fans from around the world.
The new era began with Catastrophe, with its Irish co-star and creator Sharon Horgan; then came Derry Girls, The Young Offenders, This Way Up and My Left Nut. A new dawn for Irish comedy is upon us, each show with its own distinct voice and influences, and yet with an undeniable bleakness uniting them in grim hilarity. Perhaps it's the rain. 
"It's just in our blood," says actor Domhnall Gleeson, who co-wrote the new Channel 4 sitcom Frank of Ireland, about a misanthropic man-child who lives with his mum, alongside his brother Brian and his school friend Michael Moloney. "We're naturally quite pleased with ourselves but also historically shat upon," says actor/showrunner extraordinaire Horgan, musing on why the Irish are so brilliant at black comedy. "I suppose Ireland is the natural underdog, in many ways. And we're very good at telling the truth." 
The first episode of Frank of Ireland homes in on something else that feels distinctly Irish: a chaotic wake. An Irish mammy admits, with a shrug, that she's just there for the "free booze and a bit of craic". Later, two men competing for the affection of a woman exchange insults over an open casket. Finally, a fight breaks out at the ceremony and one of the guests gets an erection. "There's nothing funny about a funeral," says Gleeson, "but there is something funny about not being able to stop laughing at a funeral. Appalling behaviour is just outrageously funny and that's quite Irish." 
Wakes are a formative experience for many of the people I speak to here, and are often ripe for laughs. Chris Walley, who plays bonehead Jock in BBC Three's high school caper The Young Offenders, says he was at a wake when he was a child, showing off in front of guests, when he first realised he could make people laugh. Aisling Bea, the creator and star of This Way Up, adds that Irish people are "brought up in a culture that makes, sometimes literally, a big song and dance about death".
"You go to funerals as kids, see dead bodies and run around looking for free sandwiches and sweets," she says. "Also, Irish people like to talk a lot and not get into anything at all, so humour in dark moments helps you avoid getting in touch with your sadness and then one day it all collapses on top of you halfway through your LIDL shop and you've a big breakdown." 
"This sounds terrible but I've had some great times at funerals, if the person who died was old enough and had a happy life," says Lisa McGee, creator of Northern Irish sitcom Derry Girls. "When people are bringing up stories about their past, I just can't stop laughing. The tense situation makes it much funnier. You go to a wake and people do say things like, 'God, doesn't she look great?' No, she looks dead! That's so Irish, I don't know anyone else in the world who behaves like that around death. And when I was younger, the funniest thing was something happening at Mass, because you couldn't laugh if the priest said something stupid, it was a forbidden thing." 
Mischievous humour has always been a huge part of the way my Irish grandparents conduct themselves. "There'll be wigs on the green!" my grandmother would warn my sister and I, using an old Irish phrase as she told us off, struggling to repress a fit of the giggles herself. My grandfather, meanwhile, is always writing extremely long, humorous letters to The Irish Times and chuckling away at comedy by Seventies stars Niall Tóibín and Eamon Morrissey. My grandparents, both in their eighties, still flirt with each other outrageously. 
Access unlimited streaming of movies and TV shows with Amazon Prime Video Sign up now for a 30-day free trial
Sign up
Alex Murphy, who plays Conor in The Young Offenders, says humour has been integral in his upbringing and the way his relatives communicate. "My immediate family are very funny," he says. "It's a kill or be-killed situation. You've got to join in with the craic to fit in. I have such a big family, my mum has a few brothers and a few sisters, and they all have a load of kids, my dad has five brothers and they all have a load of kids. Any time we get together, for a communion or a confirmation or one of the many weddings, they're the most fun weekends ever. A lot of it stems from my granny, who is just the funniest lady. Chris's granny is the same. They've met a few times and there's no stopping them."  
Walley agrees. "They're so witty, sharp, fast. My granny told a story recently about her elderly neighbour, Birdy, who'd had a fall. My granny was with her and told her, 'Oh, the Pope's in town today.' And Birdy, just lying there, goes, 'Great, and I'm on the fecking floor.'"
McGee's relatives inspire her writing all the time. "Everyone in my family is a storyteller," she says. "And there are people who don't know they're funny but they're hilarious and I use them a lot. In Ireland, having the craic is as important as your job. It's high up on our agenda. Everything is weighed up on how much craic things are or the people are. It's a big deal."
Irishness is inherently funny. Even the names are gas. Catastrophe, Horgan's sitcom set in Hackney, perfectly nailed what it's like to have an Irish name abroad. Horgan's character Sharon calls her baby girl Muireann, a name her American husband Rob (Rob Delaney) can't even pronounce. This storyline is made all the funnier by the fact it is based in reality: Horgan wanted to call her eldest daughter Muireann, but it made her husband cry with frustration, so she named her Sadhbh, instead.  
Catastrophe's portrayal of Irish dads – "hard to talk to, like a piece of granite with bushy eyebrows" – is also spot on. "For the baby," says Sharon's elderly father, as he shoves a €10 note into her hand at the airport.
"We always threw in little Irish things," says Horgan. "Like when Rob and Sharon are having huge money problems, I remember I have a post office account. Because everyone in Ireland had one, and most people still do, and there's probably like 76p in there. Just referencing the post office account made me crack up and I knew Irish people would really get it. We also constantly reference 'f***ing Ryanair' all the way through. And then there's Kate (Eileen Walsh). She's one of my favourite things of all time. Her running away from her husband and kids to come over and just get f***ed up. That's all she wants to do. From the minute we introduced her she was falling over backwards onto the road and cracking her head open. It's that thing of your Irish friends exploding into London. God, I loved that."
Bea, who created and starred with Horgan in nervous breakdown sitcom This Way Up, says her favourite funny Irish moment from the series was the pair of them seriously singing the anti-IRA protest anthem, "Zombie" by The Cranberries, at the family talent show, to the bemusement of their relatives. In the forthcoming season of the Channel 4 show, she says, they reminisce on what they were able to "pick" when their granny died. "I was jealous that my sister took the porcelain egg holder shaped like a duck and I took 'the Spanish tin'," she says. "It's just a tiny moment, but I am actually laughing now thinking about it." 
For the stars of the Cork-set The Young Offenders, the zingiest, most authentic exchanges in their show happened during the school scenes. "They're relatable for everyone but also so specific to Cork," says Murphy. "In America, you've got the jocks and the cheerleaders. It's almost the same in Cork, but just not as cool. You've got the people who play hurling and the people who don't. And people who have terrible non-fights at the back of school and rip off people's pockets. Why? Just because you can." 
For McGee, meanwhile, what sets Derry Girls apart as a Northern Irish sitcom – one that follows a group of friends and cousins as they navigate their teenage years at a Catholic girls' secondary school – is how the "gang of dicks", as she calls her characters, don't always pay attention to serious issues. Instead they treat very trivial things like a huge deal, "so they might not be that freaked out by a bomb," McGee says, "but if the girls got the order wrong for the fish and chips on a Friday night, that'd be the worst." 
The show is set during The Troubles, and one of its highlights is the relationship between the girls and their English pal James (Dylan Llewellyn), who is the butt of every second joke. "I can't tell my rebellions from my risings," he whines during one group work assignment. "And whose fault is that?" his Northern Irish cousin Michelle (Jamie-Lee O'Donnell) fires back. "If your lot had stopped invading us for five f***ing minutes there'd be a lot less to wade through! English prick."
Another fan-favourite in Derry Girls is Siobhán McSweeney's acerbic Sister Michael. At one point, students suggest to the nun that they pray for a classmate's recovery. Perplexed, Sister Michael simply asks, "What use would that do?" McGee cites Father Ted as a "massive influence" on her show. "It was such a big deal for my generation, we'd never seen anything like it," she says. "I'd never really seen an Irish sitcom before, and then it was priests. It was just so brilliant." 
Aside from Father Ted, Black Books and Paths to Freedom, there wasn't a huge amount out there in terms of Irish narrative comedy until recently. "Back in the day, it was like it was for female comedies," says Horgan. "Networks were like, 'Oh sorry, we have our one Irish sitcom.' But now, it's just part of what's put out there. I think people have just seen that they can do brilliantly well internationally. It's like when people realised that not only women watch female-centric comedies. It's so simple and so f***ing obvious." 
Horgan notes that there's also more of a cultural exchange in comedy. Where American humour used to be broad and English jokes were darker, now they intertwine. "There's more of a world connection," she says. "It's the same with European comedy. Everyone's talking about Call My Agent!, and there are Israeli comedies out there, and Danish drama. Everyone's open to content. Everyone wants as much as they can shove into their eyeballs." 
Irish sitcoms are especially popular with English audiences, and many of the funniest people in English shows – Chris O'Dowd's Roy in The IT Crowd and David Kelly's feckless builder in Fawlty Towers – are Irish. "There are huge connections between Ireland and England and lots of Irish people live there," says Gleeson. "In theatre, look at Martin McDonagh, who spent his summers in Ireland but grew up in England. He writes some of the funniest Irish plays that exist." 
Walley says the Irish and the English share funny bones. "It's a self-deprecating humour that differs from other places," he says. "A lot of the jokes are at the expense of the person making them. The Inbetweeners, This Country, it's all that awkward humour." 
"People like watching people realise the faults in themselves," Murphy adds. "You go to America and I don't know how people can be so confident in promoting themselves and bigging themselves up. We just seem to be very bad at it. But again, that's down to the shame in our history. Deeply embedded shame."
Shame, perhaps. Catholic guilt, certainly. But it didn't stop the Irish going worldwide – and that's only set to continue. "Ireland is so small but we've made such an impact," says Murphy. "The actors that come out of Ireland – the Gleesons, Saoirse Ronan, Aisling Bea, Colin Farrell – it was always good growing up and seeing that and going, 'Ah, that's nice.' The Irish are grounded as well. They know when they come home they'll be taken down a few pegs and they'll realise they're not the big star they think they are." 
Horgan agrees. "It's a small island, a small population," she says. "The fact we are making our mark in as big and noticeable a way as we are is kind of extraordinary."
Frank of Ireland starts on Thursday 15 April at 10pm on Channel 4
All episodes are then available on All 4, alongside Derry Girls, This Way Up, Catastrophe, London Irish and Father Ted
Merman, the production company founded by Clelia Mountford and Sharon Horgan, is the producer of Frank of Ireland and This Way Up and are co-producer of Catastrophe
The Young Offenders is available on BBC iPlayer
Register for free to continue reading
Registration is a free and easy way to support our truly independent journalism
By registering, you will also enjoy limited access to Premium articles, exclusive newsletters, commenting, and virtual events with our leading journalists
Already have an account? sign in
Register for free to continue reading
Registration is a free and easy way to support our truly independent journalism
By registering, you will also enjoy limited access to Premium articles, exclusive newsletters, commenting, and virtual events with our leading journalists
Already have an account? sign in
Join our new commenting forum
Join thought-provoking conversations, follow other Independent readers and see their replies