Who should play Donald Trump in the Fire and Fury TV series?
Whether it's called 'The Donald', 'The Elephant in the Room' or just simply 'Trump', it's probably going to happen
Christopher Hooton
Thursday 18 January 2018 10:23 Comments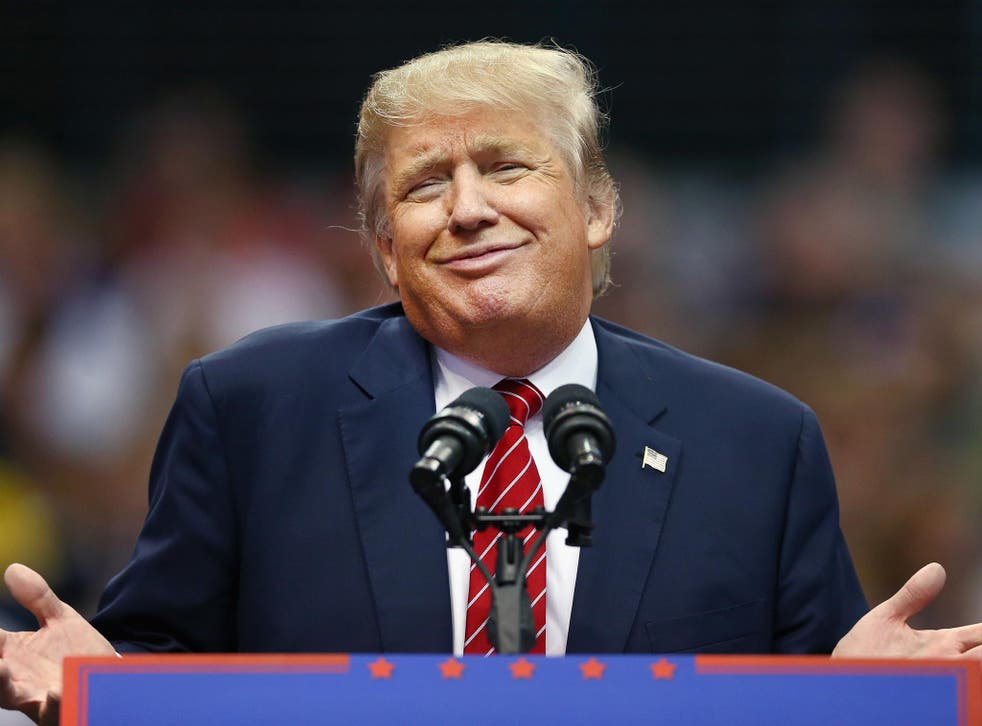 Between The Social Network, The Big Short and Spotlight, Hollywood has been pretty successful in making inherently uncinematic real-world events cinematic in recent years, and, while elections can have their tedious moments, a film about the often farcical, always dramatic US presidential election of 2016 feels like a certainty. Hell, if Kanye can get away with filming a waxwork of Trump's supine naked body without getting sued, someone can surely slip a biopic by without litigation.
What kind of movie it will be probably depends on the election's outcome, possibilities including a Coen brothers-esque farce or a Milk-style social justice piece about the riots that will almost certainly break out if Trump is elected (this is assuming Trump doesn't cut all arts funding and pre-emptively extinguish Hollywood).
Update I (November 2016): Trump won.
Casting for the movie will be a lot of fun (Meryl Streep for Hilary? Larry David for Bernie? Kevin from The Office for Ted Cruz?) and finding the right actor for the dubiously-haired Republican will be key.
Sadly my first choice, Philip Seymour Hoffman, is no longer with us, and Johnny Depp has already made the biopic, sort of, but here's a few other likely candidates:
Alec Baldwin
30 Rock's Jack Donaghy was pretty solid Trump training, and Baldwin would be a strong, if obvious, choice for the role. He's won awards for playing Trump on Saturday Night Live, though, for me, the impression wasn't actually that good.
Tom Cruise
Hear me out. I'm not talking about current era, perennially alien-blasting Tom Cruise, I'm talking about the one who starred in Magnolia.
He blossomed in that role, playing a loathsome public speaker who managed to hoodwink all he stood in front of with hyperbolic rhetoric. An important performance to channel.
Leonardo DiCaprio
Okay, he's hardly a dead ringer for Trump and a little young, but he's made a living playing rich maniacs. He's also no stranger to political roles, excelling in 2011's J. Edgar.
Matthew McConaughey
'Donald Trump says China' feels as though it was designed for a dramatic reading by Matthew McConaughey, who would have to shake off his beloved Southern drawl but would bring real charisma to the role.
Nicolas Cage
As would Nicolas Cage. His time-honoured lack of believability would perfectly mirror our astonishment at Trump's slow march on The White House.
John Travolta
I don't know why, I can just see it.
Kevin Spacey*
Cut his teeth playing a president who outwardly wants to make American great again but inwardly schemes for his own ends on House of Cards.
*Update (December 2017): Well, we can safely rule out this one.
Bryan Cranston
Also not a newcomer to political figures (played Lyndon B. Johnson on stage and screen) and knows how to blend comedy and drama.
James Spader
Has that requisite creepiness in (appropriately) spades.
Christian Bale
I'm thinking some approximation of his Patrick Bateman and Bruce Wayne performances. Mostly just intrigued to see him in a blonde wig.
Mickey Rourke
Going more down the physical suitability route, Rourke has the necessary stocky build and luminous tan.
John Goodman
Cuts a similarly looming Trump-esque figure on screen, and nailed playing a Republican senator in Amazon Prime's Alpha House.
I'm obviously forgetting tons of other options, so please let me know your thoughts below.
Register for free to continue reading
Registration is a free and easy way to support our truly independent journalism
By registering, you will also enjoy limited access to Premium articles, exclusive newsletters, commenting, and virtual events with our leading journalists
Already have an account? sign in
Join our new commenting forum
Join thought-provoking conversations, follow other Independent readers and see their replies