This Is England '90: 'When we first got together we were just dysfunctional'
Shane Meadows' remarkable 'This Is England' saga is back for a final fling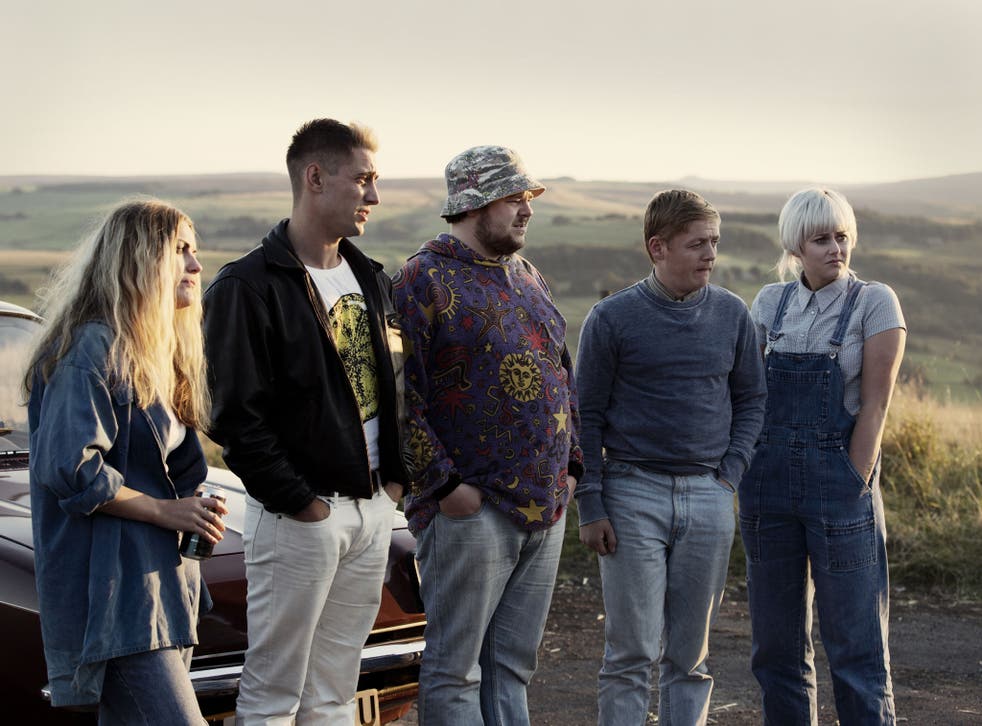 Shane Meadows' 2006 feature film This Is England took place in 1983 in an unidentified but economically depressed Midlands town (it was filmed in Nottingham and Grimsby; Meadows is from Uttoxeter in Staffordshire). The story followed a group of friends involved with skinhead gangs – skinheads as both a racist menace as well as a relatively affable teenage style sub-culture.
Channel 4's continuation, This Is England '86 (this time filmed in Sheffield) saw the same friends as they became older if not wiser, the Mod revival replacing the skinhead look. A Christmas special, This Is England '88, was almost a coda to those storylines – Lol (Vicky McClure) and her killing of her rapist father (played by Johnny Harris) and Woody (Joe Gilgun) and his fear of commitment, while following Shaun (Thomas Turgoose) to drama school and the loss of his first love, Smell (the extraordinary Rosamund Hanson).
Now Meadows (along with co-writer Jack Thorne) brings their saga to a potential conclusion in 1990, the backdrop laid out in the opening credits: Italia 90 and Gazza's tears, BSE and poll tax riots and, above all, the resignation of Margaret Thatcher. "We're leaving Downing Street after eleven and a half years", says the exiting prime minister, mockingly counter-pointed by the soundtrack song: "There She Goes" by The La's.
Of more relevance to our protagonists in 1990 is the Madchester acid house scene with the younger members of the gang swapping their Fred Perry t-shirts for flared Joe Bloggs jeans and bucket hats. Fittingly enough, Meadows was unable to commit to this latest instalment in 2012, as originally planned, because he was making a documentary about his favourite band, The Stone Roses.
"The expectation is crazy this time", he says. "I hope it lives up to it. [This Is England] '86 went out in 2010, '88 went out in 2011, and then the Stone Roses came in and derailed anything happening. So there's a blessing and a curse to the gap.
"The curse could be that people might not be interested any more, but it feels like the opposite has happened. And we've had a bit of reflection time, to look at all the stories, and to figure out how to do justice to the last series. If this is the last one, it needs to fulfil its promise."
The series opens with Lol and a now bearded Woody mired in domesticity, while it's the younger characters who come raving to the fore, not least Shaun, the central figure in the original This Is England film (and the character based on Meadows himself), who was slightly more marginal in the earlier TV series. "Through 86 and 88 we investigated Lol much more deeply", says Meadows. "Shaun was less of a character, and that's partly because my life wasn't as dramatic in those years. In 83 I became a skinhead, but it wasn't until 1990 that the Stone Roses, Madchester and the rave scene all kicked off, that things started to change again for me.
"The focus in this series shifts back to the younger characters a bit more. A lot of people get a chance to shine in this series in a way that maybe hasn't happened before."
In the original 2006 film, Shaun was a bullied, fatherless 12-year-old who was adopted by Woody's skinhead gang. Thomas 'Tommo' Turgoose was famously recruited after having been excluded from his school in Grimsby and attending the casting simply because he saw a queue outside his local youth club. Before he won the part, Turgoose reckoned he had a one-way ticket to prison. "I always knocked around with the same group of kids from when I was younger", he tells me. "We were just getting into the wrong kind of things."
Turgoose is 23 now, having grown up under the gaze of Meadows' camera, and with the cast as a surrogate family. His character Shaun was only one of many potential stories, says the director, hence the sequels.
"I'd never go back if I didn't have enough stories to tell", says Meadows. "86 and 88 were born out of a little bit of remorse that came from the film. With a 90-minute film, it sounds like a lot of time, but weirdly, when you've got all these incredible characters, you can't follow 10 lives, whereas a series is a beautiful thing, in so much as you can look at a lot of different people. One person can have an arc through one episode, it's like their own feature film."
Also prominent this time around are Milky (Andrew Shim), Gadget (Andrew Ellis) Trev (Danielle Watson), Shaun's mother Cynth (Jo Hartley), Kelly (Chanel Cresswell) and the wonderfully despicable Higgy (Joe Dempsie), a buffoonish bully whose bromance with the inseparable Flip (Perry Fitzpatrick) provides a rich seam of comedy.
Ellis was born in 1990, Turgoose in 1992, while Dempsie was only three at the time. "It's a period I've always been kind of being regretful that I was never old enough to experience", says Dempsie. "For me and Perry, a lot of our comedy comes from our obscure celebrity references and a lot of its improvised so you have to quickly Google whether certain people were around then."
The improvisation went further, says Ellis: "Shane set up and a rave and put someone on the DJ box, played lots of music and gave us a beer and said 'Go and have fun and we'll film around you'. So you're walking in and it's like you're going into a rave for the first time."
TV reboots in pictures

Show all 12
It wasn't the first rave for 43-year-old Jo Hartley, who plays Cynthia. "I was there!", she exclaims nostalgically. "I actually started going clubbing in '88, and I was friends with Noel Gallagher before he was famous; he used to be a roadie for Inspiral Carpets and my mate Gilly [Craig Gill] was the drummer. "We'd all get on the bus and meet at the Hacienda, and after the Hacienda at two in the morning everybody would come out sweating and you'd get in a car with eight people and you'd go to Blackburn and have a rave all night. It was amazing."
Hartley was working as an air hostess for Japanese Airways during her Hacienda years, before she was cast by Meadows in his 2004 film Dead Man's Shoes and joined the This Is England family. "He's a bit like Fagin", she says of the director. "He puts all these dysfunctional people together and lets them do the best of what they're at. We've all grown and got careers now, but when we first got together we were just dysfunctional."
The cast do indeed all now have burgeoning careers. Was it difficult for Meadows to reassemble his players for This Is Britain '90? "It was much, much harder than it's ever been before", he says. "Not that they didn't want to come back. But Michael Socha, for example, is in a Canadian series [the ABC fantasy Once upon a Time], but we were so lucky because one of the show's producers was a big fan of This Is England, and so released Michael when he was contracted to them.
"I think Joe Gilgun was doing auditions in the States, Stephen Graham was going on to Pirates of the Caribbean, so we had to be finished by a certain time. And Vicky McClure's always busy..."
McClure (along with Andrew Shim) goes way back with Meadows – plucked as a 15-year-old from Nottingham's Television Workshop to play the sister of the title character his 1999 film A Room for Romeo Brass. The actress, who went on to win the Bafta and RTS Television award for This Is England '86, was understandably devastated on the final day of filming.
"I cried like... it's that one where you don't make a noise", she says. "Yes, it was grieving. And then we went back to base and absolutely nailed the make-up truck. It was a wrap party before the wrap party."
"There wasn't a dry eye", concurs Turgoose. "Even though we're saying goodbye to the series not to each other, because we'll always see each other. But as actors to come together and play with each other... improvisation and things like that... we won't get to do that again."
"I don't think this experience will ever happen again with a group of people... that will last 10 years," says Hartley. "I don't want to think about it too much because it's pretty heartbreaking."
Gilgun thinks it may be for the best, rather than say dragging it out like a once great show like Shameless, while Danielle Watson is more humorously down to earth in her response. "We'll get another when Shane needs his mortgage paying", she quips. So what does the man himself say? Is this really it for Shaun, Woody, Lol and the rest?
"Well, if it finished here, I'd have absolutely no regrets", replies Meadows. "But I can't say never. I wouldn't come back and do it a disservice. I wouldn't come back and do 24-parts and make myself a multi-millionaire. There are temptations around to sell it off.
"I've done everything I can to make this feel like the end of something, and I don't mean like a fucking Emmerdale-style plane crash. Most of them make it through pretty unscathed. But at the same time, this feels like an end. It has a full stop, even if it's only in pencil."
'This Is England '90' begins on Channel 4 on 13 September
Join our new commenting forum
Join thought-provoking conversations, follow other Independent readers and see their replies