The Independent's journalism is supported by our readers. When you purchase through links on our site, we may earn commission.
ER 25 years on: How Michael Crichton made the definitive medical drama and made a star of George Clooney
It has been 25 years since the first episode of 'ER' aired on 19 September, 1994. Clémence Michallon takes a look at how Michael Crichton's medical drama, set in the emergency room of a Chicago hospital, came to deserve its own chapter in the history of network television
Thursday 19 September 2019 13:34 Comments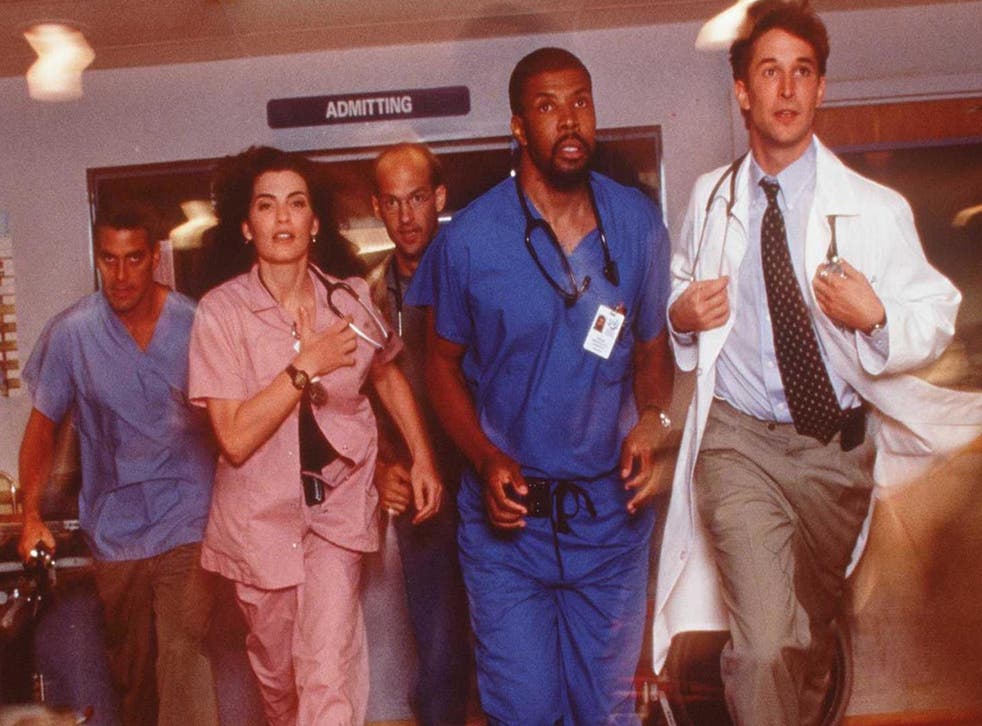 The world of pop culture owes so much to Michael Crichton. It's hard to believe, sometimes, that seminal works such as Jurassic Park, Westworld, and ER all originated in the same brain.
Crichton, who graduated from Harvard Medical School in 1969 and began publishing novels when he was still a student, never earned his licence to practice, devoting himself to his writing career instead. Among his legacy are the 331 episodes of ER, an award-winning show that deserves its own chapter in the history of network television. The premise was simple: viewers would follow the travails of an emergency room in Chicago, Illinois.
It has been 25 years since ER's first episode aired on 19 September, 1994, and the show's story begins in 1974, a long 20 years before that series premiere. Crichton, who had published more than 15 novels at that time, had just finished writing and directing Westworld, the 1973 science-fiction film later adapted into an acclaimed TV series on HBO.
With Westworld, Crichton had immersed himself in an alternative world, and he wanted a project that would bring him back to reality – so he decided to write a "quasi-documentary about 24 hours in an emergency room".
"I had spent time in the ER during my medical training, and I felt that environment had never really been portrayed on film," the late Crichton recalls on his website. "I set out to show the hectic pace and the quiet heroism of the physicians who do this work. I tried to reproduce the way individual patients were seen briefly, in glimpses – they came and went, and often you never knew what happened to them."
The best TV cliffhangers of all time

Show all 38
Two decades went by before Crichton revisited this first ER script. The literature about Crichton doesn't entirely explain why he returned to what would become one of the most celebrated medical dramas of all time. Broadly speaking, the narrative goes as follows: Crichton was basking in the success of the first Jurassic Park movie, which came out in 1993. Such a hit would presumably serve as a springboard for a writer looking to dust off a long-abandoned passion project – which might be how ER ended up being pitched again, almost by accident, as television executive Warren Littlefield remembers it.
Littlefield, who ran NBC Entertainment at the time, told The Hollywood Reporter in 2009 that when ER was pitched to the network via the talent agency CAA, network executives were "intrigued" but "a bit spooked". St Elsewhere, another medical drama, had run on NBC from 1982 to 1988, and the team weren't sure that the timing was right to revisit that genre.
"Here we had this screenplay from a very hot author that was very long and dusty and all over the place," Littlefield said.
"And yet at its core there was something quite remarkable about it. There were all of these heroic characters who were very flawed. There was a density to it that was dizzying. But it was memorable."
Access unlimited streaming of movies and TV shows with Amazon Prime Video Sign up now for a 30-day free trial
Sign up
Steven Spielberg joined the project as a producer and NBC agreed to make ER a two-hour film, but CAA insisted on a six-episode series. An agreement was reached after "lots of twists and turns", per Littlefield.
ER's pilot, aptly titled 24 Hours (which echoes Crichton's original 1974 script), premiered on a Monday night in 1994 (the series was later moved to Thursday nights at 10pm, a prime spot) and "just took off".
The show promptly received positive reviews. Variety praised its plotting and "sheer energy". The Hollywood Reporter deemed ER "blockbuster television" from the onset. Entertainment Weekly was more divided, giving its rival Chicago Hope more favourable comments, but commended Edwards as a "terrific anchor".
Writers on ER quickly demonstrated a talent for character development, with each patient's storyline contributing to the doctors and nurses' emotional journey. Mark Greene (Anthony Edwards) finds solace in his work while his marriage dissolves. A sheltered John Carter (Noah Wyle) slowly turns into a competent physician. Womanizer Doug Ross (George Clooney) admits Carol Hathaway (Julianna Margulies) is the one true love of his life.
Those personal, sentimental stories made for addictive television. In a late-Nineties interview with Rosie O'Donnell, the host discusses Clooney's, Margulies's and Edwards's storylines on the show as if their adventures had happened in real life – and even the actors talk about their characters in the first person. Clooney complains about Margulie's character, famously involved in an on-again, off-again romance with his Doug Ross.
"She kissed another guy," Clooney says.
"Like you didn't deserve it!" O'Donnell shoots back. Clooney then pleads to the crowd: "Have I been a good guy? I've been a good guy."
ER season 1: Doug asks Carol for another chance
Crichton, who once described himself as a "very involved" editor and producer in the first two seasons of the show, eventually scaled back his work, though he remained as an executive producer. In a 1999 online chat hosted by CNN, he explained: "I felt it was important to let the other writers take over the show, since as a practical matter, I simply couldn't – I didn't have time. In more recent years, I have just been an audience for the show, which I think is terrific. I admire it a lot."
Despite ER's penchant for personal drama, the show appeared to take medicine rather seriously, at least by Hollywood standards. Liz Jazwiec, a former director of the emergency department at Chicago's Holy Cross Hospital, served as a consultant during ER's first season and part of the second one. She remembers being asked detailed questions by "nervous" producers who wondered whether their show would measure up to Chicago Hope, another Chicago-based medical drama that premiered just one day before ER in September 1994.
The questions, as Jazwiec recalls, were mainly procedural and quite detailed. ER was shot in California but set in the state of Illinois –meaning the team had to account for the geographical discrepancy. They asked Jazwiec "what was legal to do in Chicago that was not OK in California", "what kind of procedures do they do in Chicago", and what type of equipment medical personnel might use in an ambulance. After a car crash, medics in California might place a patient on a different kind of board than their Illinois peers. Someone might wonder whether nurses can legally process sexual assault kits in Chicago or whether a patient can be pronounced dead and be taken straight to the morgue.
Jazwiec remained available to the team via pager, sometimes taking calls late at night depending on when the show was filming. Her "favourite" inquiry – and perhaps the most indicative of the challenges of bringing Illinois to life on a Hollywood set – came during the filming of one of ER's famous disaster episodes.
During or after a disaster, medical personnel will sort patients according to triage procedures, basically ranking them according to the seriousness of their conditions. In California (more specifically, in the LA area), Jazwiec recounts, medics would have been expected to set up non-emergency patients outside, where they would likely wait in relatively mild weather. But in Chicago, a city where temperatures dropped so low this January that residents were told to avoid breathing in too much air when outside, such measures would be strongly unadvisable. Thus, Jazwiec explained to a "confused" team how an Illinois ER would handle a large influx of patients (ie, by clearing out indoor areas).
Through this combination of drama and realism, ER became an awards show staple. Margulies (who wasn't supposed to stay on the series past the pilot but became one of its most popular actors) won the Emmy for Outstanding Supporting Actress in a Drama Series in 1995. ER was named Outstanding Drama Series at the Emmys the following year, and cast members picked up nominations throughout the decade. All in all, the show and its actors won a combined 23 Emmys and scored 124 nominations. ER also earned a Peabody Award in 1994 and was commended for "shattering the conventions of television narrative".
ER provided breakout roles for most of its cast. Perhaps the most striking illustration is Clooney, who moved on to dramatic Hollywood roles after five seasons on the show. The actor has acknowledged the impact the show had on his life, telling The Hollywood Reporter in 2011: "I was walking through the streets of New York halfway through the first season of ER, and I'd been on a lot of TV shows so people would kind of recognise me, 'It's that guy from that thing,'
"And I remember walking down the streets in Manhattan and them going, 'Hey George,' and they knew your name as opposed to your character," he told the publication. "I remember that was a moment where I thought, 'Things have changed.'"
Support free-thinking journalism and attend Independent events
Parminder Nagra, the English star of Bend It Like Beckham, made a similar comment in an interview with The New York Times in 2009. "I was a fan of the show as a teenager in England. I was in LA to do publicity for Bend It Like Beckham when I met with [executive producer] John Wells, and he made me an offer. I had no idea how my life was going to change."
For a while, ER had longevity on its side. Up until February this year, it had cemented its status as the longest running primetime medical drama in the history of American television. Only Grey's Anatomy, which broadcast its 332nd episode that month, was able to overtake it. And while ER's later seasons often lacked the pizzazz of its beginnings (despite valuable additions to its cast), the show's appeal has evidently endured. When the series debuted on Hulu last year, 35,000 people watched all of the show's 331 episodes within two months, according to the platform's chief marketing officer – proof if needed of the show's long-lasting fan appeal.
Celebrate the 25th Anniversary of ER with ER: The Complete Series on DVD available at the WB shop - ER will be also be available on All 4 from today.
Register for free to continue reading
Registration is a free and easy way to support our truly independent journalism
By registering, you will also enjoy limited access to Premium articles, exclusive newsletters, commenting, and virtual events with our leading journalists
Already have an account? sign in
Join our new commenting forum
Join thought-provoking conversations, follow other Independent readers and see their replies