Game of Thrones, The Sopranos, Lost – why is it so hard for TV shows to pull off the perfect ending?
Series finales are not just about wrapping up a story – they're about leaving behind a legacy. Louis Staples questions why so many struggle to stick the landing Comments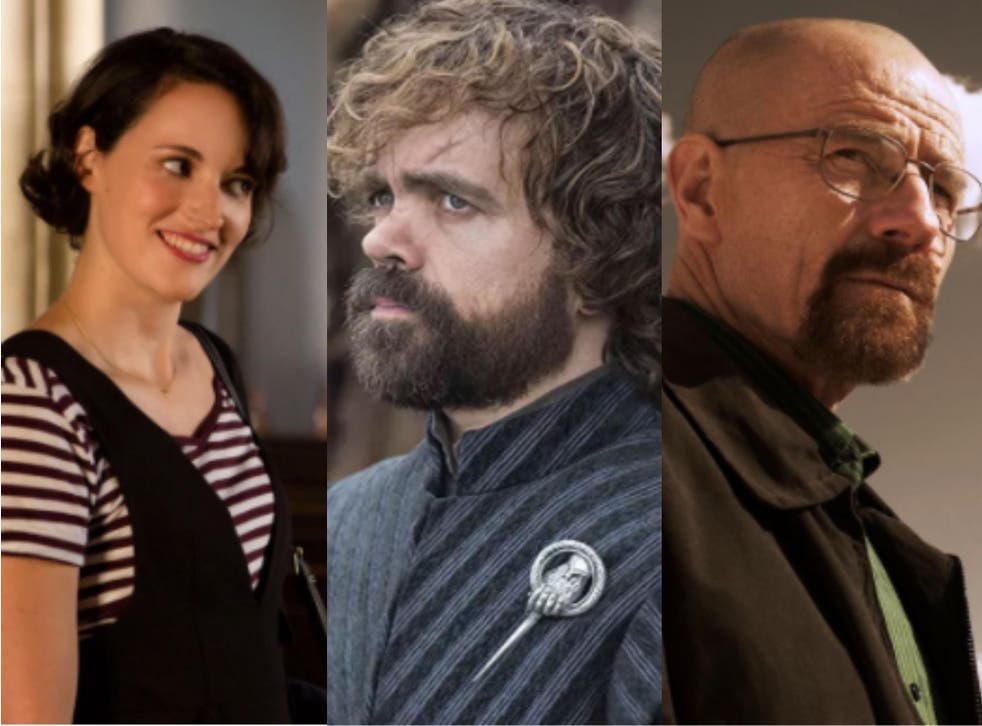 In the final minutes of the Game of Thrones finale, Tyrion Lannister (Peter Dinklage) declares: "There's nothing in the world more powerful than a good story. Nothing can stop it. No enemy can defeat it." But if there's one thing we've learnt over the course of GoT's final season, it's that, in fact, one thing can defeat a good story: a misjudged ending.
Few expected the way the show's eighth season would draw to a close. Even fewer were happy with it – though the jury of public opinion had already sentenced Thrones to death by dragon fire long before its final scenes. Ahead of its last episode, hundreds of thousands of people had signed a petition for the final season to be remade with "competent writers". It soon gained 1.5 million signatures, as disparaging memes and tweets flooded the internet, including a clip of Emilia Clarke – whose character Daenerys lost the plot in the penultimate episode – nervously laughing when asked if she liked the final season, as if to "warn" fans about the show's ending.
"There has been nothing quite like it," says Radio Times TV columnist Scott Bryan on the outcry. "I don't think we can expect that social media reaction to a drama for a long time." The core issue with GoT, says Bryan, is that the show went beyond the written material from author George RR Martin. "It made us all feel that we have a say in the narrative arc of the story and where we think the show should go, but also where it deserves to go. Game of Thrones is so utterly unique, though, because it is built for the ending – who deserves and who will get the Throne?"
But Game of Thrones is not the first long-running TV drama to disappoint with its ending. After six seasons and 119 episodes, the ending of Lost was universally panned. Breaking Bad's finale was met with a mixed reaction. David Simon's Baltimore-set crime drama The Wire ended with a montage that suggested that the cycle of drugs, murder and corruption would continue – a divisive, if ultimately realistic, conclusion. David Chase's New Jersey-set gangster drama The Sopranos was similarly divisive. Following the finale, Chase simply said: "Guess what? Life does not end well."
House of Cards, which continued without Kevin Spacey for its final season, hurtled towards a ludicrous and laughable ending, devoid of everything that made the show popular. Online reaction to the final episode of Mad Men in 2015 was so severe that it prompted its showrunner Matthew Weiner to say, in his first interview after it aired: "I don't think there's enough empathy right now in the world."
But why do we have such visceral reactions to TV endings? Why do they mean so much to us? "We all inherently know how to tell a story," says scriptwriter Furquan Akhtar, writer of upcoming BBC Three comedy Thirst. "If you cheat stories that we've spent years investing in, for the sake of a twist or another story, then we as an audience are going to be unhappy. We all successfully tell stories in our day-to-day lives, that's a massive part of human interaction."
Henry Swindell, former script executive at the BBC, who has worked on The Fall, Line of Duty, and Channel 4 drama No Offence, tells me that a successful TV ending usually starts at the beginning. "Why are we telling a story? We tell stories in order to make sense of a world that is random, chaotic and haphazard."
Swindell says that a central function of drama is to test our worldview, which can be a delicate balance to strike when bringing TV shows to a close. "Much of the way we consume information challenges our 'thesis' of the world. The culture we consume often shows us the antithesis of our worldview, so we've got to explore it, engage with it and ultimately decide whether our view prevails," he explains. "That's what stories do too, they show us characters who face these dilemmas and conflicting ideologies, and we see whether they're going to overcome them and find resolution."
The best TV cliffhangers of all time

Show all 38
There are three types of on-screen ending, he adds. The closed ending, where either everybody lives happily ever after, or everybody's dead. "This world is closed, we've dealt with it and there's no need to come back here," he says. These endings often feature what Hitchcock calls the "morality" or "redistribution" clause" – where the good are rewarded and the bad are punished – which gives the audience catharsis. Next, there's the open ending, which could be a cliff-hanger, and finally, the ironic ending. "An ironic ending is where the good aren't obviously rewarded and the bad aren't obviously punished," he says. "This often happens in political thrillers where a character gets the power they wanted but have had to sell their soul to do it. So their 'punishment' is that they are haunted by their choices and will never actually find happiness."
Access unlimited streaming of movies and TV shows with Amazon Prime Video Sign up now for a 30-day free trial
Sign up
Not all shows fall at the final hurdle. Fleabag, the BBC Three series written by and starring Phoebe Waller-Bridge, came to an end earlier this year after two series, and was met with almost unanimous praise.
Sian Clifford, who plays Fleabag's sister Claire, tells me that Waller-Bridge had originally intended to keep the show to just one series. "We were asked to do another series early on and Phoebe wasn't sure," she explains. "Her source material had been the one-woman play and she felt the story was complete then. But fortunately, she was able to have the time that she needed and during the time she had ideas."
Although she initially thought the show could go on for longer, Clifford thinks it ended at the right time. "I often encounter people who say: 'Do more! Do more!' But I really defend the decision now. I think the story is complete."
Not that Fleabag's story was neatly tied up. In fact, the ending was beautiful in part because it denied viewers the blissful romantic ending they craved. "It wasn't about tying things up. I don't think that was in Phoebe's mind," Clifford explains. "Because life is messy. You never reach a point where everything is fixed and healed and dealt with, it doesn't work like that. But there is hope, and hope galvanises people."
Fleabag has taught Clifford that collaboration is the key to success, but she says that the hierarchical nature of the entertainment business can have a negative impact on how other stories are told and ultimately concluded. "I wish projects felt more collaborative and not so hierarchical. That's why there have been so many abuses of power. When you have very powerful producers it can be difficult for people to be creatively free," she says. "It's notorious that projects are completely hamstrung by producers, who won't let writers tell their stories or directors create their vision … If you're in a situation where you feel restricted, it definitely impacts storytelling and means that projects don't fulfil their potential towards the end."
Bryan thinks that, in general, it's easier to bring shorter shows like Fleabag to a conclusion. "Shorter shows always seem to do well, primarily because it has a narrative arc that is usually planned from the start," he says. "British shows are very good at this, because even shows on commercial networks here are never planned for more than a couple of series at the start and actor availability can be quite limited to commit for a longer run." The longer a show runs, the higher the chances it will be cancelled before the story reaches its conclusion. "It's hard. How many shows have we continued all the way through until the end? So many just drop off."
TV critic and Independent arts columnist Fiona Sturges thinks that TV conclusions are becoming increasingly complex. "I think endings are more challenging than they used to be," she says. "You have to have scores of subplots, just to keep that level of engagement. And so when you try to wrap up the subplots at once, it's pretty much impossible. There's so much choice that you don't give shows the attention you used to, because you think, 'f**k it, there's something else on that I can start and it'll give me that sort of instant satisfaction.' That's why soap operas are so skilled, because they manage to keep people endlessly engaged."
Sturges also warns of "multiple ending syndrome", where TV shows limp on and spend too much time on their conclusions. "I think there are a lot of writers who do think everything has to be neatly wrapped up," she says. "That doesn't necessarily have to be the case. You can leave a bit of mystery".
Swindell agrees. "One of the mistakes that is made with endings is people often spend too much screen-time on them," he says. "If you think about the best endings, the drama, crisis and climax go on as long as possible, but the resolution is as quick as possible. Because that's what's exciting for us to see."
Bafta-winning screenwriter Jimmy McGovern once said, "A great ending should be both surprising and inevitable." The ending of Game of Thrones was certainly surprising, and it seemed inevitable it wouldn't please everyone. Now we're consuming stories at a faster pace than ever before, shows like this, that make us wait every week, face increased pressure.
But the upset proves that TV endings are not just about wrapping up a story – they're about leaving a legacy. Viewers have an emotional connection with the few stories and characters we follow until the end, and the conclusion of these narratives greatly affects our experience. Just like our real-life relationships, it seems we often remember TV shows by how they end, rather than the joy they once gave us along the way.
Register for free to continue reading
Registration is a free and easy way to support our truly independent journalism
By registering, you will also enjoy limited access to Premium articles, exclusive newsletters, commenting, and virtual events with our leading journalists
Already have an account? sign in
Join our new commenting forum
Join thought-provoking conversations, follow other Independent readers and see their replies