interview
Hank Azaria: 'I didn't want to cave to so-called PC pressure'
The star who played Apu in 'The Simpsons' talks to Tom Murray about the controversial 'sexual shenanigans' in the new HBO show, and seeing both sides of the outrage about his voice portrayal of the famous Indian cartoon character
Wednesday 07 June 2023 17:31 BST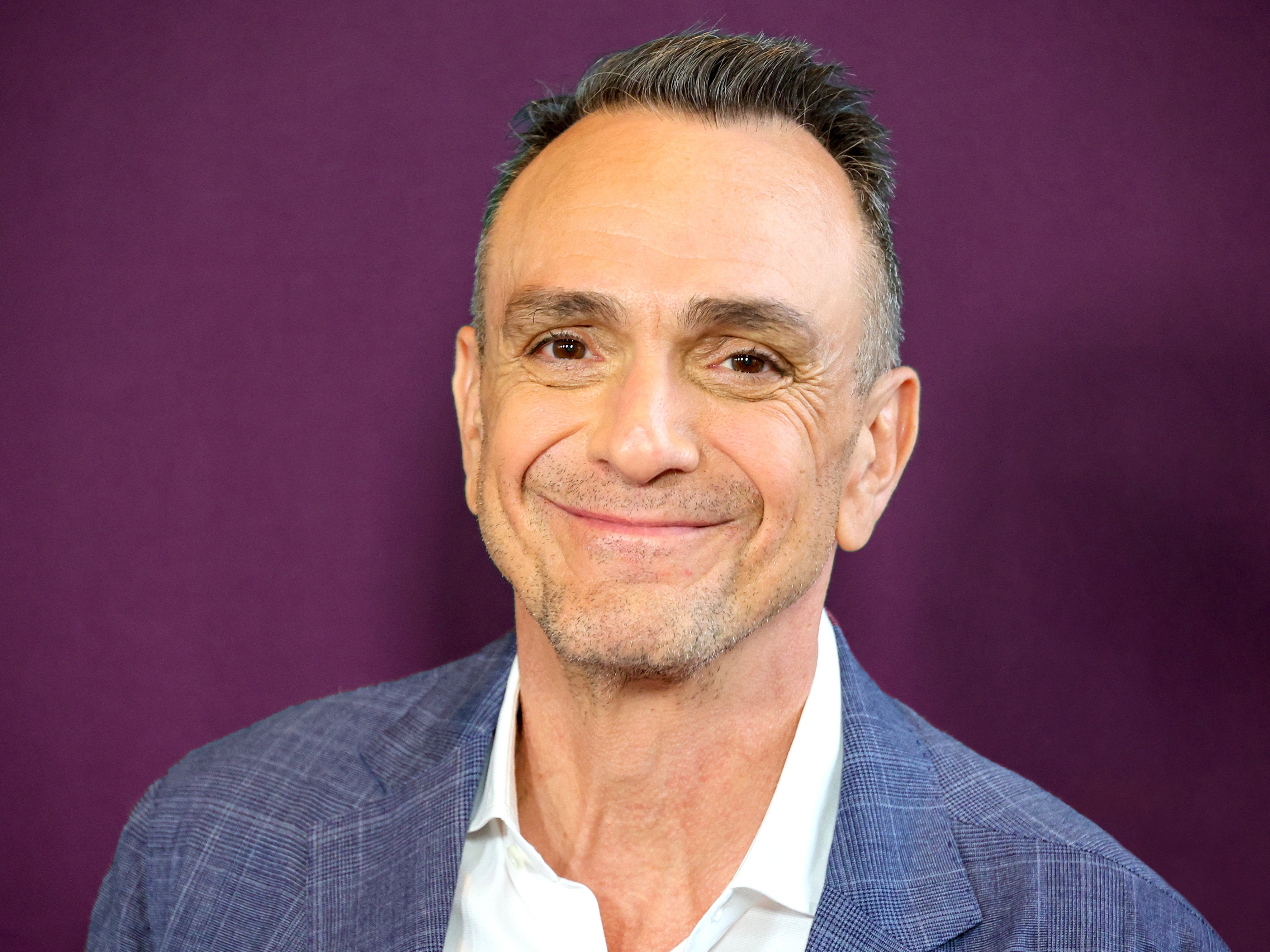 Hank Azaria just can't help himself. Less than a minute into our interview, the voice behind so many denizens of The Simpsons is breaking into one of his countless accents and characters. As a Nineties kid, I can't fail to hear the nasal tones of Moe Szyslak, Springfield's surly bartender, or the recidivist criminal Snake Jailbird when listening to Azaria's familiar voice. "Snake was inspired by my stoner friend at college. I think he sounded like that when he was wasteeed," he says in the character's signature SoCal drawl.
His latest incarnation is Chaim – the dubious music manager of Lily-Rose Depp's fragile pop star in The Idol, HBO's controversial new drama from Euphoria creator Sam Levinson and Abel Tesfaye (better known as pop megastar The Weeknd). It's not a voiceover – Azaria appears on screen – but the attention to vocal detail is the same. "Chaim eez an Israeli guy, so I worked wiz an Israeli dialect coach to create zis," Azaria explains, flipping excitedly into his character's thick accent. He was loosely inspired by Menahem Golan and Yoram Globus – the infamous pair of Israeli producer cousins who terrorised Hollywood in the 1980s with their violent, often racist, always sexist, B-movies like Bolero and Sahara. "Chaim is one of those guys who made it in the entertainment industry through legit and not-so-legit means… to put it politely," he says.
The 59-year-old, on video call from his apartment in New York, was brought into The Idol when Levinson took over directing duties from The Girlfriend Experience's Amy Seimetz in April of last year. Levinson and Tesfaye reportedly felt the show was leaning too much into a "female perspective" and gave it a complete creative overhaul, despite 80 per cent of filming already being completed. In a damning March report in Rolling Stone magazine, which cited 13 sources, the resulting product was described as "twisted torture porn" and the set as having apparently gone "disgustingly off the rails". Azaria has a different take. "I can understand how, from a distance, especially if you're the person in charge of putting out script pages that day or making sure the right actor has the right wardrobe, that you would see it as chaos," he says.
This, however, was all part of Levinson's "organic" process, Azaria says, describing scenes that were entirely improvised and on one occasion being told to charge into a scene that his character wasn't even supposed to be in. "From the outside, that appears like chaos. From the inside, it's thrillingly creative, especially when there's a guy who's really watching what you're doing, and really trying to help you bring out the best version of that."
The Idol had its screen debut at the Cannes Film Festival in May ahead of its June release. In his four-star review for The Independent, Nick Hilton argued that the show's "perverse, almost horrific" examination of human frailty came close to offering a "profound insight into our times". Many at Cannes did not agree. As Hilton notes, the show was "widely lampooned" in early reviews, largely due to its gratuitous sex scenes – a criticism with which Levinson is more than familiar by now.
Euphoria star Sydney Sweeney previously told The Independent that she pushed back on the amount of nudity that Levinson had written for her character in that show. "I wasn't involved in any of the sexual shenanigans in [The Idol]," Azaria says, getting up to shut the door behind him; his 14-year-old son, Hal, is playing Chopin on the piano in the background. "But I can tell you that there was tremendous respect, collaboration, feedback, and checking in from Sam about whether everybody was comfortable with what was going on."
Depp (daughter of Johnny and French singer Vanessa Paradis), for her part, has defended the number of nude scenes, saying that the "occasional bareness" of her character physically is meant to mirror her emotional state. "I understand anybody being daunted or triggered by what they might be seeing. That's understandable. All I can say is in making it, a lot of care was taken with everybody," Azaria says.
Chaim, like Azaria, is a Sephardic Jew, part of the Jewish diaspora that originally settled in Spain. The actor was born and raised in Manhattan, where he continues to live, and it was there in America's melting pot that Azaria discovered his talent for mimicry. "From the age of five, I had one of those giant tape recorders and that was like the ultimate toy to me. I would just make voices and entertain myself for hours alone in my room," he says.
It's clear from speaking to Azaria that his characters live in him long after their time on-screen is up. When describing his past roles, he jumps reflexively into their accents, be it Sopranos-style Italian-American or a Spanish octogenarian based on his grandmother. Like all great impressionists, there is no small dose of comedy in each delivery. "I just thought everybody could do it," he says, "I didn't realise it was a marketable skill until I was like 20 years old." Marketable it was. At the peak of The Simpsons' popularity in the mid-Noughties, its main cast members were being paid a reported $400,000 (£320,000) per episode. "It worked out well for me," Azaria says.
Access unlimited streaming of movies and TV shows with Amazon Prime Video
Sign up now for a 30-day free trial
Sign up
Access unlimited streaming of movies and TV shows with Amazon Prime Video
Sign up now for a 30-day free trial
Sign up
The Simpsons was Azaria's gateway to live-action TV and cinema. His rap sheet includes the Mike Nichols cult classic comedy The Birdcage (1996) and popular US drama series such as Ray Donovan and Brockmire. Aside from The Simpsons, he is perhaps also best known for his role as Phoebe's Minsk-bound scientist boyfriend David in Friends. David was involved in a love triangle with Lisa Kudrow's character and Paul Rudd's Mike, although Rudd ultimately got the girl. "Story of my life," Azaria says.
In a weird moment of Hollywood parallels, Rudd also happened to be there when Azaria met his now-wife, former actor Katie Wright. "Luckily, [Rudd] was married at the time, so we were safe," he jokes. Azaria also had a memorable role as Simon Pegg's infallible romantic nemesis in David Schwimmer's 2007 rom-com, Run Fatboy Run. Both stars, he said, were kind and patient while he was "very newly sober" and "adjusting" at the time.
In 2017, one of Azaria's most popular Simpsons characters, Apu Nahasapeemapetilon, became the subject of a cultural reckoning. That year, Indian-American comedian Hari Kondabolu released a documentary titled The Problem With Apu, which exposed the racist stereotypes associated with the immigrant character voiced by a white man. After taking on the role in 1989, Azaria revealed he had drawn inspiration from the 1968 Blake Edwards comedy The Party, in which Peter Sellers wore Brownface to play a hapless Indian actor. "That represents a real blind spot I had," Azaria said previously. "There I am, joyfully basing a character on what was already considered quite upsetting." During one of his stand-up shows, Kondabolu referred to Azaria as "a white guy doing an impression of a white guy making fun of my father".
My conversation with Azaria comes just weeks after his first public discussion with Kondabolu on NPR's Code Switch podcast. "It felt healing for everybody involved," Azaria says. "I think it's a good example of how a really uncomfortable conversation can turn into a really productive one."
Although Azaria stopped voicing Apu in 2017, it wasn't until 2020 that he officially stepped down from the role of the servile Kwik-E-Mart clerk. At first, Azaria admits, he questioned whether the backlash was sufficient to kill the character. "On the one hand, I didn't want to cave to so-called 'PC pressure' or 'the woke mob' – whatever you want to call it. On the other hand, I didn't want to continue to engage in a harmful practice if that's what I was doing," he says. To his credit, he researched the issue, attending seminars and having conversations with South Asian people. During the NPR talk, Azaria remembered reading a news story about a store clerk who was the victim of a violent attack. His assailants were heard yelling "Apu" at him. "I think if I had any doubts at that point… I got the answer. Apu had become a slur," he said.
Nowadays, Azaria does not perform any characters of colour on the show, such as his previous roles as Moe's Tavern regular Carl Carlson (an African-Icelandic-American) and the Black police sergeant Lou. "There was no public outcry over them. And they weren't considered stereotypical or harmful in any way. But I realised if nothing else, why am I taking the job away from an actor of colour with so much less opportunity than I have?"
Azaria was not "cancelled", despite the strength of feeling about the character of Apu. "He has done a lot of work with anti-racist organisations, and has really taught himself about privilege, and is really actively working on educating other white people about how oppression works," Kondabolu said in a recent interview. So, what does Azaria make of comedians like Ricky Gervais and Dave Chappelle who claim that cancel culture will be the death of comedy? "I think extremism in any form is the real enemy here," he says. "I would say that the baseline, especially for white people, [is to] at least get fully informed. If that's your decision [to make controversial jokes], I suppose fair enough. But at least have it be informed by a fairly deep dive."
Azaria is very clear about the importance of taking this type of criticism seriously: "It's easy to say, 'All that woke nonsense, I'm not gonna pay attention.' But that doesn't mean that there often isn't a very good point in there that needs to be pondered at least. Too often, the baby goes out with the bathwater." He begins to quote Donald Trump before stopping himself: "Let's leave him out of it."
'The Idol' airs on Mondays in the UK on Sky Atlantic and is also on NOW