Hinterland and 35 Diwrnod: Step aside Scandi thrillers, here comes Wales
The next big television thrillers are set not in Sweden or Denmark, but in Wales. Gerard Gilbert on the gripping Welsh-language dramas that are making waves internationally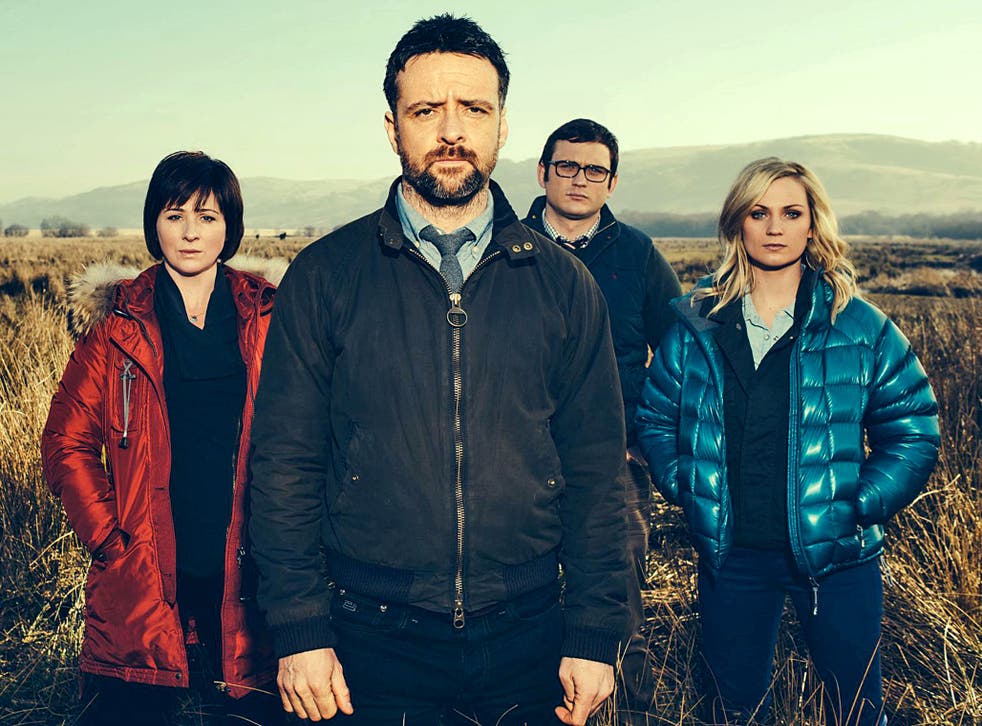 Dankly atmospheric European-fringe landscapes? Check. Murder detectives? Check. Subtitles? Check. BBC4? Check. And yet Hinterland, the latest drama to follow in the hallowed footsteps of The Killing, The Bridge and Wallander is not set in Denmark or Sweden but in the peat bogs and ancient woodlands of Ceredigion in Mid Wales. Filmed simultaneously in English and Welsh, the S4C detective drama known in its native tongue as Y Gwill stars Merthyr Tydfil-raised actor Richard Harrington as a troubled policeman newly transferred to Aberystwyth from the Met.
Already screened on S4C, the publicly funded Welsh-language television channel based in Cardiff, and BBC Wales, the drama has also proved a hit domestically and internationally – having been snapped up by broadcasters in various countries, none more eye-catchingly than by DR, the Danish state broadcaster who make The Killing and Borgen. And now, The Independent can exclusively reveal, Netflix, the online streaming giant responsible for House of Cards, has purchased Hinterland for broadcast in North America and Canada. Little wonder that S4C have simultaneously announced that a second series will start filming in September.
The only disappointment for subtitled-noir purists is that Hinterland won't be shown in Welsh when it goes out on BBC4 later this month. The decision to film in dual languages was purely financial, says S4C's drama commissioner Gwawr Lloyd. "In order to sell it beyond Wales, we needed an English version," she says, adding that this was before the success of The Killing. "I think the success of those Scandi shows has proved the world really likes seeing the drama unfold through a different language," says Ed Thomas, the Swansea-born playwright who created Hinterland.
An acclaimed playwright, Thomas decided that his central character should be the mysterious and under-exploited landscape of the Welsh Mid West. "We wanted to try and grow the story out of that landscape and give it a local feel with a universal reach," he says.
Thomas came up with the idea for Hinterland before the vogue for Nordic noir. "We were aware of Wallander," he says. "But The Killing and The Bridge hadn't been aired. But [when they did] it certainly made it easier raising the finance, because people would think, 'Ah, okay, this is that kind of drama…' People liked that it had a sense of place." And that place is Aberystwyth and the dramatic hinterland that gives the show its title. Richard Harrington, who plays DCI Tom Mathias (a troubled soul, it almost goes without saying) and his co-star Mali Harries, who plays DS Mared Rhys, spent time with the local murder detectives, some of whom had worked on the case of April Jones, the five-year-old from Machynlleth murdered by Mark Bridger in 2012. "The sensitivity around that case [affected] what stories we developed and how we handled them," says Thomas.
Hinterland isn't S4C's only foray into the genre, and 35 Diwrnod, which translates as 35 Days, is an innovative crime drama in which viewers play the detective. Written by Bafta Cymru-winning scriptwriter Siwan Jones and Welsh-language novelist Wiliam Owen Roberts, it starts with the body of a woman lying murdered on her suburban living-room carpet, the action spooling back 35 days as it introduces the victim's neighbours. "It's a murder mystery without police procedure," explains Gwawr Lloyd. "We try to work it out for ourselves."
In my opinion, 35 Days, which started screening in Wales in late March, is every bit as gripping in its smaller-scale way as Broadchurch, and you can find it on S4C's catch-up service, Clic. Non-Welsh-speakers should hit the subtitles button as, unlike Hinterland, 35 Days isn't a dual-language production. What was it like, I asked Ed Thomas, filming in two languages? "We'd rehearse and shoot it in English, because only some of the crew could speak Welsh," he says. "The actors soon got used to it." He adds that the use of Welsh had an unexpected benefit for those who feel that cop shows can become bogged down in official jargon. "Welsh is terrific for poetry and everyday speech and history," he says. "But it doesn't really lend itself to police procedural or legalese. Anyway, we wanted to be quite fast and loose about the procedural stuff."
It seems that viewers are in accord with Thomas's instincts, and crave this combination of localism and landscape; witness the success of BBC1's Shetland and the fact that Sky Atlantic are busy filming (in Iceland) a 12-part drama set in the Arctic Circle, and Fortitude, which will star Sofie Grabol from The Killing. "Maybe it is the fact that modern life is so homogenised," muses Thomas. "In Hinterland, the stories never take place in the suburbs… and there's no obvious reference to the sprawl of out-of-town shopping developments or things that would render Aberystwyth like everywhere else. Not that Aberystwyth has many of those. "
'Hinterland' begins on BBC4 on 28 April; '35 Days/35 Diwrnod' is on Sundays on S4C
Join our new commenting forum
Join thought-provoking conversations, follow other Independent readers and see their replies