Josh Hartnett goes gothic for new Sky Atlantic series Penny Dreadful
The Hollywood star tells Gerard Gilbert the show is a welcome change
Gerard Gilbert
Wednesday 07 May 2014 10:50 Comments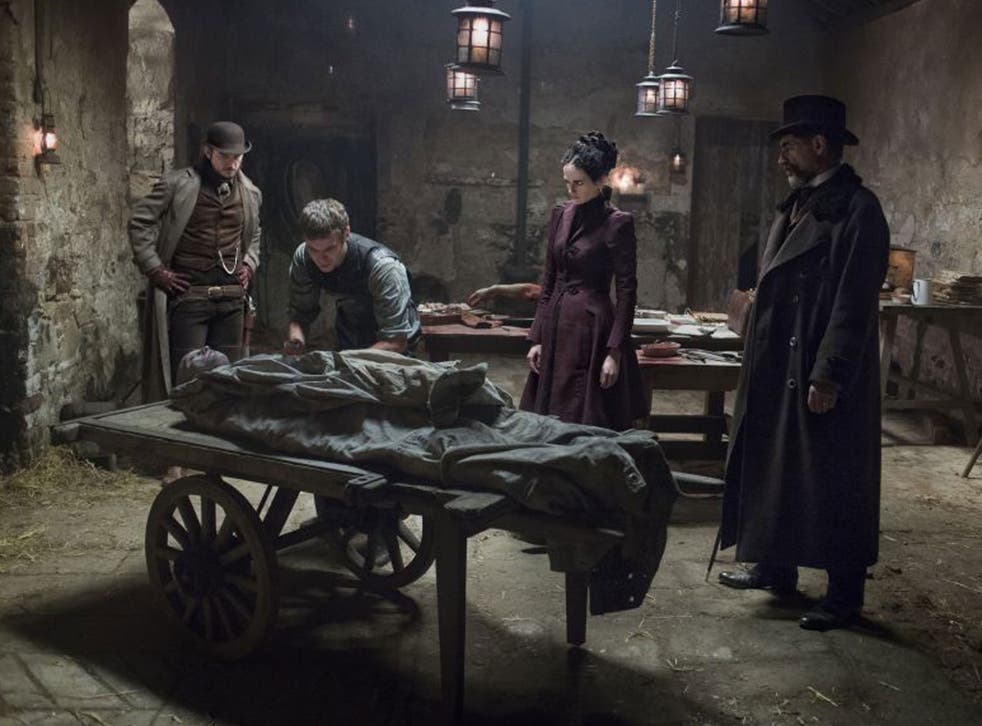 If some modern-day Victor Frankenstein – presumably a geneticist – were to resurrect Bram Stoker and Mary Shelley and sit them down in a screening room, what would these 19th-century authors make of what film and television have done with their legacy – especially the promiscuous, so-called monster mash-ups that began with the Universal movies of the 1940s and that nowadays see vampires interact with werewolves, ghosts, Frankenstein's creature and even Jack the Ripper?
They might be amused by Universal's Frankenstein Meets the Wolf Man, or the Sixties TV sitcom The Munsters, but there's a good chance that Stoker and Shelley would actually be intrigued by Sky Atlantic's Penny Dreadful, with its seeming understanding of the gothic imagination and ambitions that surpass the cheap thrills promised by its title. Written by John Logan, whose screenplays include Gladiator, The Aviator and Skyfall, and produced by Skyfall director Sam Mendes, the new eight-part drama combines vampires, Frankenstein, Ripper-lore and Egyptian mummies, and somehow also manages to squeeze Dorian Gray into the mix.
Starring Josh Hartnett, Timothy Dalton, Eva Green and Rory Kinnear (as Frankenstein's monster), on the evidence of the opening episode the show might just break out of the limitations of its genre. As Game of Thrones has attracted non-fantasy fans, so might Penny Dreadful entice viewers prone to yawning in the face of bared fangs.
It was certainly enough to attract erstwhile Hollywood young gun Hartnett back to television for the first time in 15 years. Hartnett plays one Ethan Chandler, a mysterious American touring in his own Buffalo Bill-style Wild West show when he is recruited by Dalton's African explorer to find his missing daughter. "The thing about working in TV is that you must have collaborators you really trust, who are going to see the thing through and have a lot at stake in its outcome," he says. "John Logan's reputation as a writer is fantastic… and Sam and John worked on Skyfall. God, there's a lot of Bond in this, isn't there? Tim was Bond, Eva was a Bond girl…"
Hartnett was an 18-year-old unknown when he was cast in the American TV remake of Cracker. He made his cinematic debut as Jamie Lee Curtis's son in Halloween H20: 20 Years and impressed as Kirsten Dunst's boyfriend in Sofia Coppola's The Virgin Suicides, while his good looks and natural athleticism then lent themselves to action blockbusters such as Pearl Harbor and Black Hawk Down as well as romcoms like (and most people did not like) 40 Days and 40 Nights. A succession of film-star girlfriends, most prominently Scarlett Johansson (he supposedly currently dates British actress Tamsin Egerton), didn't exactly hurt his heartthrob profile either. But still only in his early twenties, Hartnett was beginning to chafe.
"I turned my back on specific types of movie," he says. "Quite naively I started going off and doing smaller independent films that I thought were worthy of exploration. Basically, I took a lot of major bets and some of them were successful but more often than not they didn't achieve the audience that I hoped."
He reckons that the bets that did come off include the crime thriller Lucky Number Slevin, the dotcom drama August, which Hartnett also produced, and the leftfield martial arts film Bunraku. Hartnett however gradually came to understand the value of the A-list profile he had blithely abandoned. "I've always wanted to write and direct and that has to do with your clout in the acting world and not with your having worked with avant-garde French-Vietnamese directors," he says referring to his role in I Come with the Rain, the 2009 neo-noir by director Tran Anh Hung.
"I was young and I was naive to the monetary elements of the game in Los Angeles and Hollywood – that you need to keep a box-office profile in order to get good scripts coming your way." And then there were the films like Singularity, which Hartnett made in 2011 and didn't know had been released until a friend said he had seen it recently on Netflix. "It can be very difficult… the way that distribution works."
TV drama, with its mushrooming galaxy of talented writers and showrunners, and vast online fan forums, is where the thespian-challenging action is now, as Hartnett (like so many of his Hollywood peers) has come to realise. "And television is part of national dialogue," he says. "People are speaking about it week after week after week whereas even a huge film has an audience for four weeks – that's half the run of our show and we've got a very short run."
Access unlimited streaming of movies and TV shows with Amazon Prime Video Sign up now for a 30-day free trial
Sign up
Penny Dreadful was filmed in and around Dublin, a homecoming of sorts for the Catholic American Minnesota-born actor whose father is half-Irish. "And my stepmother's entirely Irish, so it was a pretty Irish household growing up," he says. Dublin's intact Georgian and Victorian squares and terraces stood in for the long-gone streets of London's 1890s East End. "Dublin can be dangerous," he replies to the question of whether the cast enjoyed the craic. "You have to be home by a certain hour so you can get up and perform."
He'd like to make a second series, not least because Ethan Chandler is something of a mystery. "The thing about my character is that he's a slow burn," says Hartnett. "You don't learn much about him for the first few episodes. That's brave… you're not allowed to do that in film."
Penny Dreadful promises to be a lot more complex and unusual than the other horror fare clogging the multiplexes and TV box-sets in recent years. And there's a scene at the end of the first episode that must surely be the most haunting re-enactment of the Frankenstein-awakes scene since James Whale was in his pomp. "It's an odd world for audiences to be a part of… with more chaos than you expect from something in this genre," says Hartnett. "But the people who are running this show are aiming very high with their artistic ambitions."
'Penny Dreadful' begins on Tuesday 20 May on Sky Atlantic
Register for free to continue reading
Registration is a free and easy way to support our truly independent journalism
By registering, you will also enjoy limited access to Premium articles, exclusive newsletters, commenting, and virtual events with our leading journalists
Already have an account? sign in
Join our new commenting forum
Join thought-provoking conversations, follow other Independent readers and see their replies