Comment
Kenneth Branagh as Boris Johnson is yet another pointless exercise in actorly showing-off
We're still living through an era of deep sadness and rampant government incompetence, writes Adam White – who'd want to watch it all over again with ad breaks?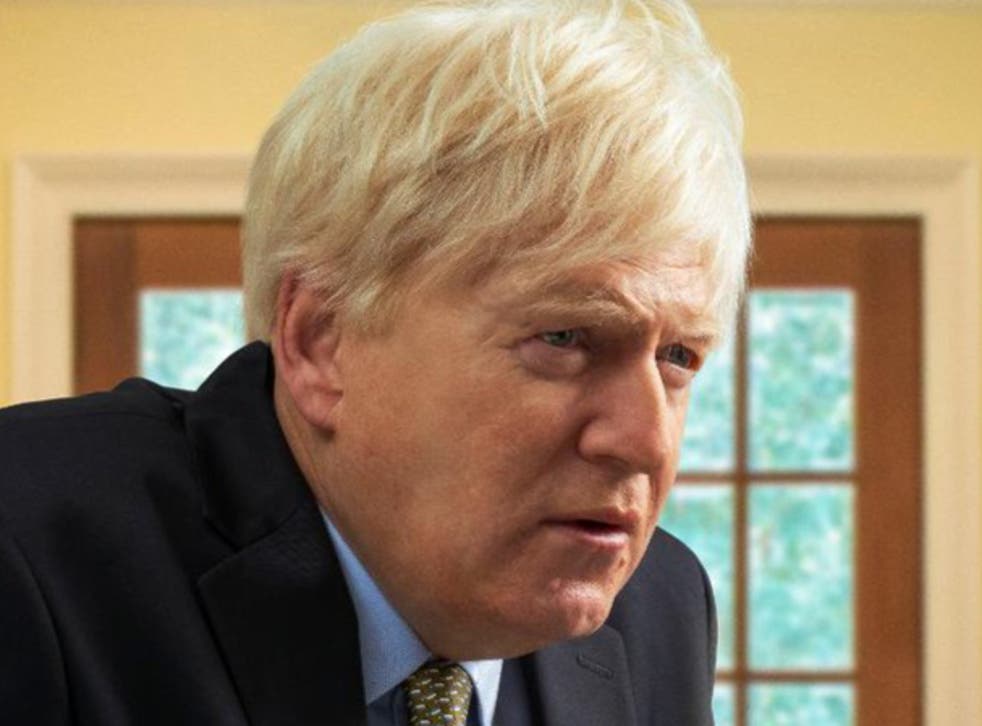 Kenneth Branagh is encased in prosthetic make-up and wearing a strawberry-blond wig. He is Boris Johnson. The nation yawns. On Thursday, the first picture was released of the actor in the guise of the British PM, who he plays in a forthcoming Sky drama called This Sceptred Isle. It's about the early days of the coronavirus pandemic, and told from the presumably dazed and ill-prepared perspective of the man in charge. You'll probably remember what happened, since we lived through it barely a year ago.
Branagh is the latest in a run of thespians turning our collective present-day trauma into a kind of awards-baiting cosplay. Last year, Brendan Gleeson donned false teeth and a lick of creosote to play Donald Trump in a US limited series. A year earlier, Benedict Cumberbatch wore a bald cap and rumpled his shirt for a Channel 4 movie about Dominic Cummings. Both were largely pointless exercises in actorly showing-off, and made for audiences who've already made up their minds about the real-life figures involved. They've been forgotten about just as quickly as they were rushed into production.
This Sceptred Isle won't be broadcast until 2022, with filming having only just started. But the show's entire purpose is reflected in that first picture of Branagh. It's the shot that goes viral, the almighty chameleon-like transformation we're meant to marvel at. Everything else is incidental. We're still worse off for it existing.
These docudramas all feel so redundant. A great dramatisation of reality allows time to be its most important character. The most recent season of The Crown, featuring the introduction of Emma Corrin's Princess Diana, was so powerful because we know how Diana's story ended. It was impossible to separate the young, naive teenager we were watching with the woman killed a decade later in that Paris car crash, who'd by then survived royalty, scandal and potential disgrace. It gave every one of Corrin's performances extra weight.
A number of recent TV series, from The People vs OJ Simpson to It's a Sin, have used gaps in time to challenge the narratives we tend to remember. They also exist in sharp contrast to shows like Brexit: The Uncivil War, featuring Cumberbatch as Cummings. Those have tended to be pontificating photocopies of day-old news, which fruitlessly try to reflect events still rattling on long after they were broadcast.
We've lived in ghoulish circumstances for nearly a year at this point, with many of us losing loved ones, jobs and money. Alongside it all has been a government unclear about its own messaging, comprising people who've thrown money and responsibility to friends and donors, and who have squandered countless opportunities to combat a virus that has brought the world to its knees. The idea of dramatising an early chunk of it – as if the "first wave" of coronavirus was somehow more troubling or more awash in corruption and absurdity than anything that followed – feels not only pointless, but deeply un-fun.
This Sceptred Isle will arrive some time in the autumn of next year, which seems deliberate on the part of Sky – a kind of protective stance against cries that it is "too soon" for the commissioning of a Covid-19 drama. But it's a stance dependent on the idea that there will be an endpoint to all of this, or that the coronavirus pandemic will be wrapped up by a specific date.
Regardless of the existence of vaccines, it will be hard to grapple with the psychological damage left in the wake of coronavirus. Much like the consistent hovering of Brexit both before and after the vote itself, and the endless spectre of Trump that made the last four years so heavy with anxiety, Covid-19 has been all and everything for the last year. There has been little respite from the agonising toll of job losses, cancelled events, government incompetence, breaking news alerts and dashed hope.
Outside of Branagh and the empty space on his awards cabinet he's looking to fill, who on Earth wants to look back on what has just happened and relive it all over again? It'll be coronavirus with ad breaks. Don't we deserve better?
Join our new commenting forum
Join thought-provoking conversations, follow other Independent readers and see their replies