Meet the showrunners: From Steven Moffat to Toby Whithouse, how did writers end up seizing the reins of British drama?
Behind hit dramas such as Sherlock, Line of Duty and The White Queen is a new superbreed of TV executive. They create the idea, cajole the talent and control the money. But is the showrunner the presiding genius or a dictatorial micro-manager?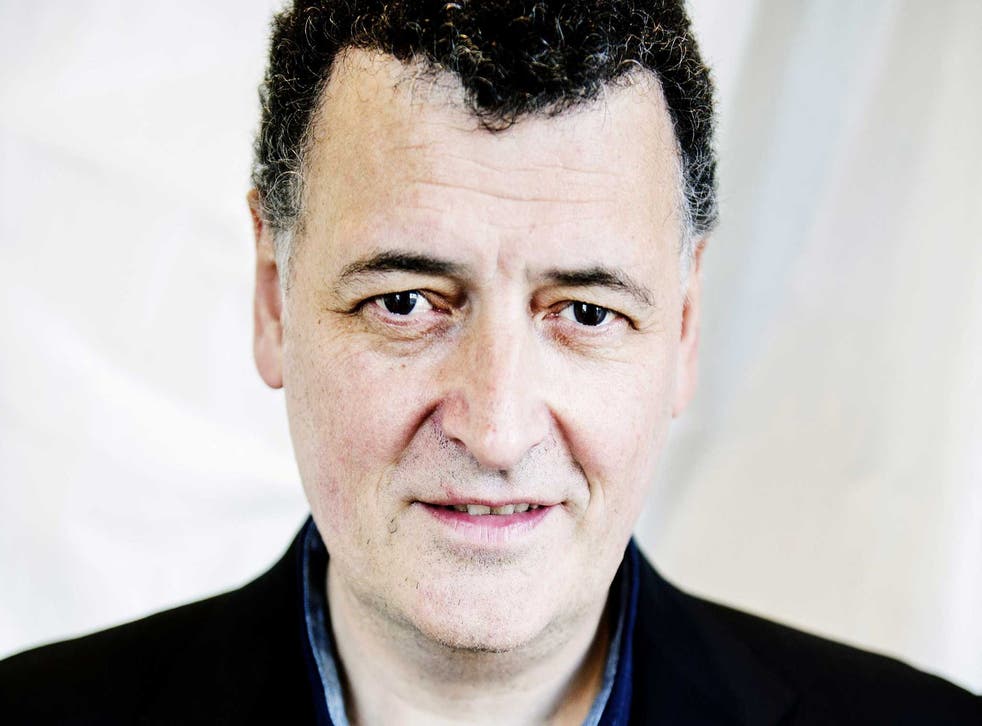 Last October , 'The Hollywood Reporter' published its sixth annual list of the Top 50 Power Showrunners – a roll call that includes television titans such as Vince Gilligan ('Breaking Bad'), Matthew Weiner ('Mad Men') and Terence Winter ('Boardwalk Empire') alongside newcomers Beau Willimon ('House of Cards') and Jenji Kohan ('Orange is the New Black').
There were even some British names on the list: Julian Fellowes ('Downton Abbey'), Armando Iannucci ('Veep') and Steven Moffat ('Doctor Who' and 'Sherlock'). 'The Hollywood Reporter' knows exactly what it means by 'showrunner', and yet there are no Emmys or Baftas for any showrunner category and you won't see the name on any programme credits or contract of employment. Subeditors often query the term when I use it in my copy, and even the spell-check on my Microsoft Word underlines the word in red. So what, exactly, are showrunners?
"The showrunner has become semi-formalised into a name," explains Steven Moffat. "The showrunner is the creative force behind the show… a term for head writer who's the executive producer… the kind of writer who wants to engage in the production process." And being a nebulous position, the specific duties of the showrunner often depend on the interests of the individual showrunner.
Matthew Weiner on Mad Men knows his 1960s world inside-out and likes to be across every single decision, from the cut of Don Draper's suit to the music that ends each episode. Jed Mercurio on Line of Duty takes a deep interest in the technical aspects of filming – the cameras and lighting and editing – while Steven Moffat is primarily interested in the scripts. "I'm in charge of the ambition of the narrative," he says. Showrunners of Moffat and Mercurio's stature, while rare in British television, are almost the norm in the US .
Showbiz trade magazine Variety has long had a pioneering "slanguage" all of its own – the socalled "Varietyspeak", which has been credited with coining the words "sitcom", "biopic" and "flop". Variety first used the word "showrunner" to describe a producer in 1992. "I remember the first time I heard it, around 1997 or 1998," says Matthew Weiner, who created and showran (in the spirit of Variety I am conjugating the term) Mad Men. However Weiner adds that the role is older than television itself.
"It actually comes from radio where the head writer kept the single vision of the show," he says. "And on television there's no better example of a showrunner than Rod Serling on The Twilight Zone or Larry Gelbart on M*A*S*H."
Control geeks: Meet the brains behind some of the best TV shows

Show all 9
Steven Moffat agrees: "I don't see that what Gene Roddenberry did on Star Trek isn't showrunning. The term didn't exist but the job did." Others date the idea of a single creative visionary force (or micro-managing autocrat, depending on your point of view) to David Lynch and Twin Peaks (1990-91), or to Steven Bochco with Hill Street Blues (1981-87).
Author Brett Martin's recent book Difficult Men has been influential in enshrining the concept of a new golden age of cable TV drama created by demanding middle-aged males such as the so-called "Three Davids" – David Chase (The Sopranos), David Simon (The Wire) and David Milch (NYPD Blue, Deadwood). The idea that the person behind the camera might be of more interest than the mannequins in front of it has been cemented by a new type of fan-cum-critic, exhaustively recapping each episode in blogs or live-tweeting their thoughts during transmission. And sometimes the showrunner would tweet back.
Buffy the Vampire Slayer showrunner Joss Whedon was an early adopter of what The New York Times dubbed "interactive showrunning", but others keep their distance. "You would go mad if you had to read what every Doctor Who and Sherlock fan had to say about the shows," says Moffat. And then there are those who are sceptical about the godlike status bestowed on this new breed of writer-producer. A counterblast by New Republic journalist Craig Fehrman entitled "The showrunner fallacy" stressed the essential collaborative nature of making television. But while accepting that he doesn't work alone, Matthew Weiner knows exactly the worth of the capable showrunner.
Access unlimited streaming of movies and TV shows with Amazon Prime Video Sign up now for a 30-day free trial
Sign up
"When you are investing all that money each week in a TV show you expect a show each week, and that's what someone who's a showrunner can promise," he says. Or, as a television veteran quoted anonymously in Difficult Men puts it:
"This isn't like publishing some lunatic's novel or letting him direct a movie. This is handing a lunatic a division of General Motors."
"There aren't that many people who can sleep and do this job," says Weiner. "It takes a very special personality and what helps is working for good ones, like David Chase. He knew how to manage actors, keep the network and studio happy and turn those dollars into a show. You can hire someone who has a really vibrant creative mind and give them the money and you don't get anything." Weiner speaks for the legions of scribes who have laboured anonymously over the decades while directors and actors gained all the glory: "That people know our names now, that's really cool. It's cool that writers can come out from behind the woodwork."
'Mad Men' continues on Sky Atlantic, 'Doctor Who' returns to BBC1 in September, 'Glue' begins on Channel 4 in the autumn, 'Line of Duty' returns to BBC2 next year
STEVEN MOFFAT
Known for 'Coupling', 'Doctor Who' and 'Sherlock'.
Big break Writing and producing the teen drama 'Press Gang'. 'What I do now doesn't feel desperately different to what I did in "Press Gang" all those years ago… the wildly bossy writer.'
Favourite showrunner Russell T Davies. 'The rise of the term over here dates from when Russell took over "Doctor Who" [in 2004] and became identified as the showrunner. I can assure you from my knowledge of Russell, he wasn't doing anything different from what he was doing on other shows; he was always in charge.'
"I'm slightly embarrassed by the term," says 51-year-old Moffat. "It seems slightly power mad. It's used far more by people writing about television than people working in television. When I introduce myself at the Doctor Who read-throughs I say, 'I'm the executive producer,' and sometimes I say, 'I'm the head writer' and sometimes I say, 'I'm the writer of this episode.'
"The biggest single problem you have on a dramatic TV show is how are you going to generate all those scripts in a short amount of time; whom are you going to put in charge of that process?
"I'm in charge of the fiction. That doesn't mean I booked the camera crew or checked the catering. It puts the writer at the heart of the process, but I would argue that on well-organised shows they always have been. It's just that we are celebrating them more, and I suppose people call me 'boss' now. They never used to."

EMMA FROST
Known for 'Shameless', 'The White Queen' and 'Jamaica Inn'.
Big break '"Shameless" showed I could helm a long-running series . And "The White Queen" was very well received in the States, which has opened a lot of doors for me over there.'
Favourite showrunner Lena Dunham ('Girls'), Jenji Kohan ('Orange is the New Black') and Shonda Rhimes ('Scandal', 'Grey's Anatomy'), 'for kicking arse in a role that's still very male dominated, and doing so without compromising the integrity of their female voices'.
"There are conversations taking place over here about 'What are showrunners?'; but you go to LA and the writer is king and queen over there.
"I go over to America, and as a given they say, ' I want you to create a show and showrun it… it's very different to the culture historically in the UK."
"My experience in LA is that the fact that I am female and evidently at a level where I can showrun is hugely in my favour. Everyone is saying, 'Oh my god, this is so fair – we need women doing this.'
"The BBC has always been supportive of the writer, and now the smart independent companies in the UK are realising that they need to treat writers well and give them a real producing voice. Increasingly, having the best writing talent is the difference between getting your show made and not getting it made."

JACK THORNE
Known for 'Skins', 'This is England '86' and 'The Fades'; currently showrunning 'Glue', a sort of rural 'Skins'
Big break 'My first play was called "When You Cure Me" at the Bush Theatre, west London, and Jamie Brittain, one of the co-creators of "Skins", came to it. And on the second preview [co-creator] Bryan Elsley asked me to be part of "Skins".'
Favourite showrunner 'Bryan Elsley on "Skins" really showed me what being a showrunner is. And Shane Meadows on "This is England…" is undoubtedly a showrunner. It's wonderful watching him work.'
"A friend of mine worked on Breaking Bad and said that Vince Gilligan at one point stopped filming because he wasn't happy with the colour of Skyler's nail varnish. "You want that level of precision, and that's why Breaking Bad was so brilliant.
"My favourite TV show that I go back to time and time again is Boys from the Blackstuff (1982). I don't know if Alan Bleasdale was a showrunner… in those days maybe the relationships were different – like that between Dennis Potter and Kenneth Trodd [Potter's long-term producer at the BBC].
"I don't know if that allowed for showrunning of a different sort, in that Dennis was across the decisions that mattered because Kenneth allowed him to be.
"I think with Glue I'm trying to be a showrunner, but I don't think I'm doing it quite right yet. It's about trusting that your judgement is the most important judgement there is on the show, and I am not sure that I'm in possession of enough knowledge to say that I am that, yet. But I would like to be."

JED MERCURIO
Known for 'Cardiac Arrest' and 'Line of Duty'. Currently showrunning the real-time BBC medical drama 'Critical'.
Big break 'When I did "Cardiac Arrest" I was still a doctor, and as the series was very medical that actually gave me access to all aspects of production.'
Favourite showrunner 'Steven Moffat, who has to serve a big mainstream audience in contrast to a lot of us. And in the US, Steven Bochco ("Hill Street Blues", "LA Law'") inspired my generation of TV writers with higher ambitions for long-running series.'
"When I started out with Cardiac Arrest in 1994, I probably had exactly the same experience as the majority of writers, which was delivering the script and then the production being handled by producers and directors, often with no reference back to the writer," says Mercurio. "I've heard of much worse experiences from writer mates, finding their lines have been changed or meaning lost or things missed out or added in.
"Showrunners are few and far between, but because I started directing as well I did get heavily involved in deciding the style of the show. Showrunners also have a big influence on casting.
"What I've learnt over the years is that being calm and collaborative and polite to people gives you the best programming. Maybe early on in my career I was guilty of being a little bit hot-headed, and I regret being like that."

TOBY WHITHOUSE
Known for 'No Angels' and 'Being Human'. Currently showrunning BBC1 spy thriller 'The Game'.
Big break 'Everyone would expect me to say "Being Human", but I would say my first ever job, which was writing an episode of "Where the Heart Is".'
Favourite showrunner 'In this country, Steven Moffat and Russell T Davies. They do extraordinary work on "Doctor Who" and have redefined modern British television. And in the States, Aaron Sorkin: "The West Wing" was a huge influence on me.'
"It wasn't until Being Human that I became a showrunner, and I'm incredibly relieved it didn't happen before then, because the workload and the 1,001 decisions you have to make every day – the rushes or the audition tapes that you have to watch, or the outlines of the scripts that you have to give notes on, or the meetings you have to go to – is absolutely spectacular.
"I often talk to young writers and they're often desperate to get their own first show, and personally I think that's a terrible thing to happen to a young writer, because you have to learn the industry.
"You have to serve some sort of apprenticeship."
Join our new commenting forum
Join thought-provoking conversations, follow other Independent readers and see their replies