rising stars
Industry star Myha'la Herrold: 'Black women have to be undeniable otherwise we'll be overlooked'
The breakout star of horny banker drama Industry is a refreshing force, both on and offscreen. She gets frank with Ellie Harrison about imposter syndrome, shooting with Lena Dunham and being up for sex scenes
Sunday 06 December 2020 08:00 Comments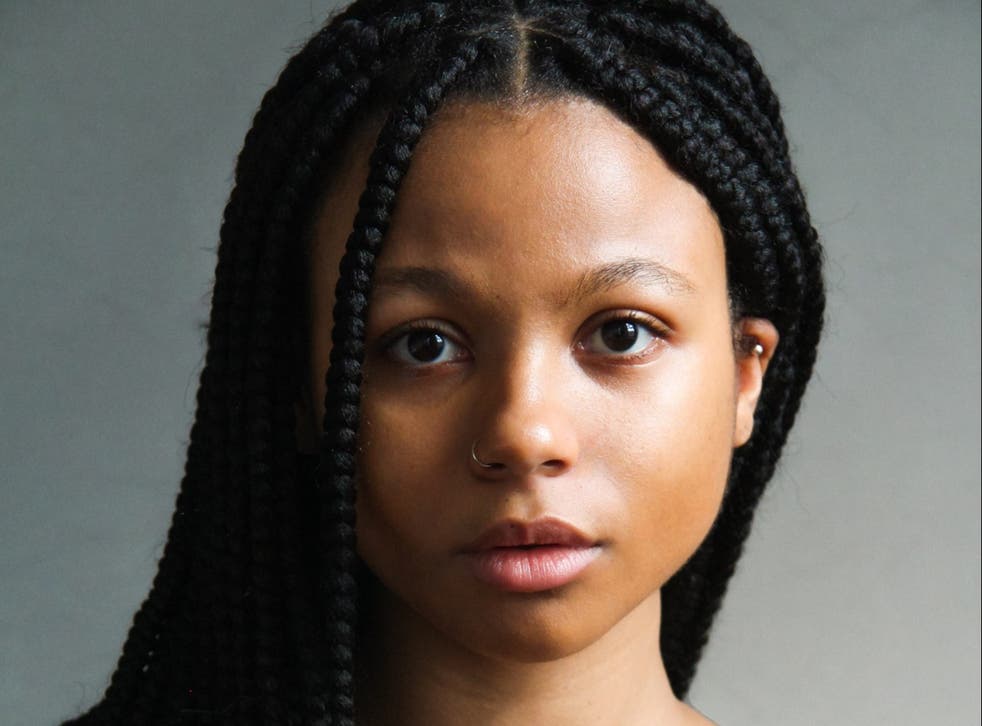 It was a huge deal for me," says Industry star Myha'la Herrold, recalling the first time she ever left the US. "Going out of the country hadn't really been an option for my family. It's expensive as s***."  
The California native's first stamp on her brand new passport was for the UK, when she flew over to do a screen test for the hit HBO and BBC co-production in 2019. She got the part, and has subsequently become one of the most exciting newcomers of 2020 with a lead role in the one of the year's cleverest and most addictive series.
Industry follows a group of horny, hard-working and even harder-playing graduates competing for a job at an investment bank. It's been described as a millennial Mad Men, a cross between Skins and Billions and, so said the director of its first episode, Lena Dunham, Melrose Place meets The Wolf of Wall Street. Written by two former bankers, Londoners Mickey Down and Konrad Kay, the show is a damning portrait of how the industry chews up and spits out its young employees, and a thrilling, sometimes unsettling, insight into the hedonism a City salary can afford.
At the centre of it all is the astute, sharp-elbowed Harper Stern, played by Herrold with a spiky brittleness. As a biracial American from humble beginnings, Harper is a fish out of water at Pierpoint & Co, an office full of white, wealthy Oxbridge grads who think she is a token hire. Herrold – who is, by contrast, warm and breezy company – strongly relates to Harper's misplaced self-doubt.
"What I imagined her feeling, because it's what I feel, is that the world has never been for us," says the 24-year-old over Zoom from New York, where she lives with her pet cat, Salad. "We feel imposter syndrome from day one. My entire life has been fighting the feeling that I don't belong here, even though I know I'm qualified. Harper comes in so hardened, so obviously overcompensating and way too sure of herself because we, as Black women, have to enter these rooms like there is nobody better than us for the job. We have to be undeniable otherwise we'll be overlooked."
In episode four of Industry, Harper tells Robert, a white male grad played by the brilliant Harry Lawtey: "I'm not allowed to make any mistakes. People like you are allowed to make mistakes. Mistakes are a privilege." Herrold – who seems to vibrate through the screen every time she appears, her voice cracking at just the right moment, her eyes betraying just the right amount of inner-torment – says that line "hit close to home". "As Black women, we know that there's an expectation of us to fail in some way," she says. "So we have to work a thousand times harder all the time. I've noticed that if a peer of mine makes a mistake, there are all kinds of excuses made for them, which is f***ing irritating because I'm over here working so hard. Failure is not an option for me."
In the show, her character's desperation to secure a job at the bank and her fear of failure manifests as arrogance and a coldness towards her contemporaries. Like in Succession, none of the characters in Industry are just "nice". Harper's line manager Daria (Skins alum Freya Mavor) is the personification of passive aggression. Gus (David Jonsson) is a pompous Etonian. Yasmin (Marisa Abela) is a nepotistic rich girl. Robert (Lawtey) is a womaniser. But somehow we're rooting for all of them. "There's no such thing as a perfect person," says Herrold. "Especially not in this environment."
Herrold, an only child, was raised by her mother in San Jose, California. The first time she acted was in the local community theatre, aged six, in a show with top hats, canes and tap shoes. She studied drama and musical theatre at Carnegie Mellon and had always thought she'd end up on Broadway, having starred in a tour of The Book of Mormon aged 21. After graduating in 2018, Herrold landed small roles in the indie film Premature and an episode of Amazon's Modern Love opposite Julia Garner, but she was getting a lot of rejections, too.
"At the time I had a shaved head," she says. "I was super bald and super androgynous and very vibey. I thought, 'Ugh, okay, maybe I'm going to have to sacrifice myself a little bit and make myself more palatable for this industry'." She had "a bit of a crisis", started growing her hair out, and then the Industry creators came knocking.
Access unlimited streaming of movies and TV shows with Amazon Prime Video Sign up now for a 30-day free trial
Sign up
The series stands out in a TV landscape that is saturated with shows that revolve around teenagers and people in their mid-late 20s, but is crying out for dramas about that chaotic in-between stage. The central characters in Industry are all living in those precious years when they are finally earning their own money and have autonomy, but are not yet lumped with grown-up responsibilities.
Herrold agrees. "No one talks about how, between the ages of 21 and 23, we're all still holding onto the emotional, tumultuous attitude of being young while getting thrust into an adult world where everyone expects you to know what you're doing," she says. "When you're that age, everything feels like it's life or death. It's so intense."
For one of the characters in the show, work literally is a matter of life or death. The first episode focuses on the downward spiral of Hari (Nabhaan Rizwan). Based loosely on City intern Moritz Erhardt, who died from an epileptic fit after working 72 hours straight in London in 2013, Hari's combination of energy drinks, sleepless nights and taking the "smart drug" Modafinil causes him to collapse in the office toilets. "That is reality, unfortunately," says Herrold. "We as young people are very impressionable and are taught to do everything within our power for our jobs. In drama school, there's this air of, 'You will sacrifice everything for this.' It's so crazy."
During the working day, the kids in Industry take study drugs. After dark, they switch to a cocktail of alcohol, cocaine and ketamine. The party scenes in the show are overwhelming, shot at suffocating proximity and in long, relentless sequences. They were intense to shoot, too. "The substance we used was powdered milk," Herrold recalls. "I have a tiny nose so it would get all bunched up inside. Then as our sinuses drained there was a sort of sweet drip, which was very odd." After filming one montage scene, Herrold suffered headaches from clenching her teeth so much as she pretended to gurn.
This being a show about messy twentysomethings, there's obviously sex too. Lots of it. In the opening episode, Harper strips on a webcam and pleasures herself for an ex. Elsewhere, we see grads sexting, masturbating in the loos at work and having threesomes. Herrold had never had more than a bit part in a TV show before Industry, let alone appeared naked on screen. "I might be a special case here but I was stoked to do all of those scenes," she says. "I am a very – I was going to say sexual person – but I think what is more appropriate is that I refuse to detach myself from sexuality because that feels inhumane." She does not see the sex as gratuitous. "Every bit of sex in the script felt like it was in there for a purpose," she says. "Also, these kids are aged 21 to 23: they're having sex all the time."
Industry does not shy away from full-frontal male nudity, either, Normal People fans may be pleased to learn. Herrold says "f*** yeah" to the idea of "redressing the balance of the boob-to-d*** ratio" on screen. "I think that's awesome," she says.
There were intimacy coordinators on the set to make the actors feel safe, and Girls creator Lena Dunham wanted the sex to look as realistic as possible. "I don't look like a Victoria Secret model when I'm having sex," says Herrold. "It's messy and awkward and clunky. Lena encouraged this realness in us. I was so excited to be a part of this new wave of sex on screen that shows what really happens and doesn't just show conventionally attractive bodies. I'm really short and kinda skinny, I have a bunch of tattoos and I don't have big titties. I would have liked to have seen this on screen when I was young."
Before filming began, Dunham threw a party for the cast at the country cottage where she was staying in Wales. "She ordered a bunch of pizza and we drank tea and ate biscuits and talked," says Herrold. "She was like, 'Okay, so who's dating? Who's single? I'm single'."
Dunham's creative process was interesting to observe. At one point during filming, Herrold found Dunham lying face down on a huge bouncy ball, rolling back and forth. "She was like a full plank," Herrold says, laughing at the memory.
The pair became close. In a recent Vogue interview between the pair, Dunham told Herrold: "You inspire me. You make me want to show up to work with passion and enthusiasm and brightness. You reminded me why I love to do what I do. And it changed my life and impacted me forever, and I'm so proud of you."
Industry hasn't been renewed yet, but as Harper might say on the trading floor, I'd be prepared to "go long" on the show getting a second series. In the meantime, Herrold is starring as a "cool lesbian drummer" in a new Hulu film, the details of which are under wraps.
"It's an awesome juxtaposition to Harper," she says. "I'm excited for people to see that I'm not actually this tiny person who works in an office – I'm other things, too."
Industry is currently available as a box set on BBC iPlayer
Register for free to continue reading
Registration is a free and easy way to support our truly independent journalism
By registering, you will also enjoy limited access to Premium articles, exclusive newsletters, commenting, and virtual events with our leading journalists
Already have an account? sign in
Join our new commenting forum
Join thought-provoking conversations, follow other Independent readers and see their replies