Interview
Natasia Demetriou: 'Music, fashion and media all push the idea that women are more attractive if they look like little girls'
The stand-up and 'What We Do in the Shadows' star talks to Charlotte Cripps about industry sexism, on-stage anxiety, and why she wants to bring back the sketch show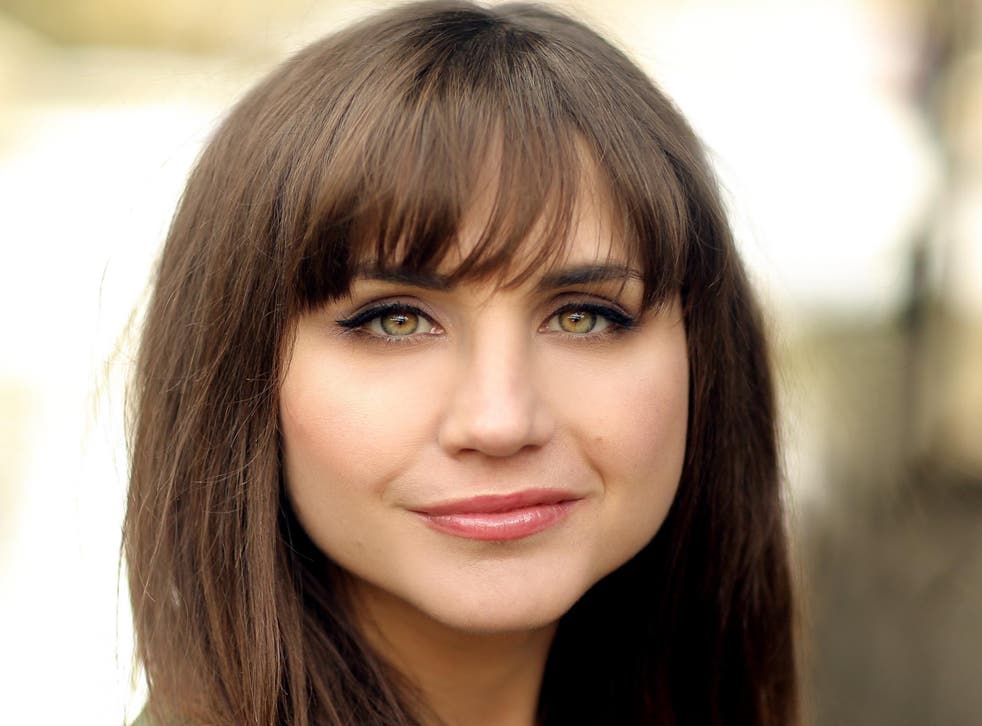 Natasia Demetriou is sitting in her trailer, eating broccoli, on the set of her brother Jamie's Channel 4 sitcom, Stath Lets Flats, in which she plays his onscreen sister. We're chatting about how she came to meet her comedy partner, Ellie White.
Demetriou and her brother were at university together in Bristol, where they were both members of Bristol Revunions's sketch troupe, Comedy Biscuit. "Jamie said to me, 'I've met a girl who is funnier than you.' I said, 'Who is she?'" Her tone is definitely similar to that of a love rival. "Then we met, and I was like, 'I love her'."
And so the collaboration began for the character comedians/writers who could be the next French and Saunders. The pair soon started gigging together – "I don't know what it is that works. I'm just lucky I found her. We have the same sense of humour." The duo have just landed their own BBC3 comedy sketch show pilot, Ellie & Natasia.
In one sketch, the double act morph into suburban mums, Lemily and Cassandra, with obsessive compulsive disorder (OCD). Wearing Marigolds to avoid germs and tight Lycra leggings with protruding "camel toe" crotches, apparently caused by giving birth, they host a Mum's the Word vlog. Cassandra's (Demetriou) overreaction to leaving the lid of the kettle open, which could let dirt in, sums up their dry wit: "What kind of mother am I? I've shamed my family. God, I feel exposed. I feel sick. I feel like I've just filmed a porno. I feel raw. I feel like I've been ridden."
10 best black comedy films of all time

Show all 10
"If there is a theme of the sketch show, it is about social anxiety and being a woman today," says Demetriou, who lives in north London with her dogs and enjoys gardening.
"Sometimes it's taken in an abstract direction – other times, it manifests itself in a variety of characters. The main thing is that we wanted to make it funny and relatable to everyone."
They also satirise pop stars like Ariana Grande, taking the sexualisation of women to new heights. Performing in a slick pop video but wearing nappies, they sing: "Try and look cute when I poo myself" with a "Goo Goo Goo" chorus.
"We are trying to shine a light on the infantilisation of women in the music industry," says Demetriou. "It's in the fashion and media industries too – this idea that women are more attractive if they look like little girls." But on the whole, they steer away from social commentary, often preferring pure absurdity instead.
It's only been four years since Demetriou's debut solo Edinburgh show, You'll Never Have All of Me, which she approached with jittery nerves. It covered topics such as Tinder dating and her dog, and won the 2014 Skinny Debutant Award, for best newcomer doing their first full-length show.
Despite previously suffering from anxiety during her live shows, she says, "it gets easier" and doing live shows is "something that she will always go back to". But for now, apart from the odd stand-up show with White, she is far too busy making a name for herself in TV, taking her character acting to a wider audience.
The laugh-out-loud British sitcom, Stath Lets Flats, about a dysfunctional family-run estate agents, also stars White as the best friend of Demetriou's character, Sophie.
"It's a dreamy, dreamy job," she says about the show, which is inspired by their eccentric north London Anglo-Greek-Cypriot upbringing, and returns for a second series later this year.
Although her family are not estate agents – her dad, Sotiris, is a chef, who makes a cameo in the final episode of series one, she has described her family setup as a "madhouse", not dissimilar to the one in Jamie's sitcom.
Both close in age, Demetriou and Jamie spent their childhoods "obsessed with being funny". They grew up watching Sesame Street and The Muppets, which appealed to their shared sense of humour. They are very close both on and off screen – and while their screen careers are taking off simultaneously, on both sides of the Atlantic, there is not a hint on competitiveness. "I get to work with my brother and all my friends, who I started out doing comedy with. We have an affinity and the same sense of humour."
She is also starring as the vampire seductress, Nadja, in the BBC2/FX comedy series What We Do in the Shadows, alongside British actors Matt Berry and Kayvan Novak. This well-received US television adaptation of the cult 2004 vampire mockumentary of the same name has just been renewed for a second series, which could catapult the British talent into stardom on both sides of the pond.
Demetriou, who grew up on shows such as French and Saunders, The Royle Family, Absolutely Fabulous, Father Ted, I'm Alan Partridge and The Office, says: "We still have a long way to go in such a misogynistic industry. But the discussions that we are having on social media and in politics, about the equal representation of women, which wasn't happening when I started out, is definitely changing things."
She lists some examples: "We would get called a female double act, but if we were two boys, it would be a double act. We are just humans trying to do a job."
Now Demetriou hopes to revive the sketch show, which has been "lost to panel shows and stand-up comedy-based vehicles", she says.
"They are cheaper to make and easier to do; you can just cram in loads of talent into a format that works and works. But if you look back, a lot of people we love today like French and Saunders, Ricky Gervais and Steve Coogan, all started in sketch shows. I feel passionately that we need more space on TV for sketch shows for character actors to experiment."
Both Demetriou and White worked as nannies while doing "comedy gigging and Edinburgh", which gave them plenty of observational material on mums. They don't rule out doing political material, but "our strength lies in doing mad funny characters".
In 2015, they made up a comedy supergroup of writer-performers in BBC3's People Time alongside Jamie, Liam Williams and Claudia O'Doherty, before taking their own live comedy show Natasia Demetriou and Ellie White are Gettin' Big to Edinburgh and the Soho Theatre, for a sell out run in 2018.
They also featured in character as Mum's the Word in Dictionary Corner on Channel Four's 8 Out of 10 Cats Does Countdown. Then, earlier this year, the duo filmed their BBC comedy pilot, produced by Harry Hill.
Does she worry about running out of material?
"Yes, all the time. I think it's a very common thing with writers," she says. "Especially comedy people with 90 per cent of their brain taken up with worry, fear and self-doubt."
She is, naturally, surprised by her success: "For all of us, it's like, 'Oh God, pinch me'," says Demetriou. "But I've been working in this industry long enough to know that everything can turn quickly in the opposite direction, so I don't take it for granted."
Ellie & Natasia is available on BBC iPlayer now
Join our new commenting forum
Join thought-provoking conversations, follow other Independent readers and see their replies