Why all the fuss over a same-sex kiss on CBBC? My kids watch Anna and Kristoff make out in Frozen
While the same-sex kiss on CBBC's 'The Next Step' is a leap forward for LGBT+ representation, the fact the BBC has been flooded with complaints is disheartening, says Charlotte Cripps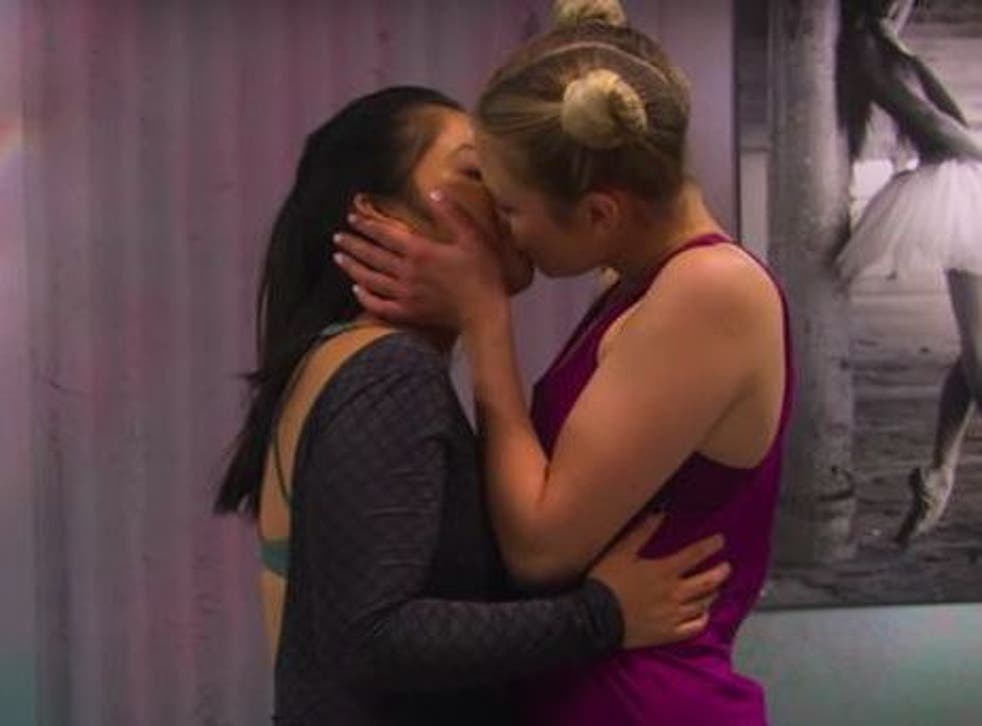 When two teenage girls kiss in an episode of CBBC's teen drama series The Next Step, it's uplifting: they look so happy. It reminds me of the wonder and excitement of my first kiss when I was a teenager, even though mine was with a boy.
Yet some BBC viewers are outraged that a same-sex kiss was aired on the children's network, claiming that it's not appropriate for a young audience. Since the scene aired two weeks ago in the episode "Room Service", the BBC has been flooded with complaints.
The popular Canadian mockumentary drama series – now in its seventh series – is about a dance troupe whose members train and compete in championships. But as I watched Molly Saunders's Jude pulling Danielle Verayo's Cleo closer during a flirtatious dance routine, and then kiss her passionately, I couldn't see what all the fuss was about.
"I'm so lucky to have Cleo in my life," says Jude in a voiceover just before they embrace. Afterwards, her face lights up; she's clearly over the moon that her feelings are reciprocated. As they walk off the set hand-in-hand to twinkly music, Cleo says: "Jude is so full of love. I can't imagine being with anyone else."
The scene has been praised by fans of the show, who say it's a huge leap forward for representation of LGBT+ and the normalising of gay relationships. The LGBT+ charity Stonewall said it was "an exciting moment for LGBT representation" and commended the series for improving "understanding of what it means to be lesbian" for young viewers of the show.
So what exactly is the problem?
It's been 26 years since the first female same-sex kiss – between Beth Jordache (Anna Friel) and Margaret Clemence (Nicola Stephenson) – was broadcast before the 9pm watershed on the Channel 4 soap opera, Brookside, in 1994.
As a result, it became more acceptable for women to explore their sexuality. But in 2020, is it really possible that same-sex kisses can cause such hysteria? Sadly, the answer is yes.
In response to more than 100 complaints, the BBC has had to stand by its decision to show the scene to young viewers. In a statement on the BBC website, the broadcaster said it believed the storyline was "handled with sensitivity" and "without sensationalism". The decision to include it "was taken very carefully". Along with the production company Boatrocker who make the show, the BBC "acknowledged" that the series "could and should do more to reflect the lives of LGBTQ+ young people".
It added: "This is an important part of our mission to make sure that every child feels like they belong, that they are safe, and that they can be who they want to be."
Access unlimited streaming of movies and TV shows with Amazon Prime Video Sign up now for a 30-day free trial
Sign up
It's not the first time same-sex relationships have featured in CBBC shows – as the BBC pointed out. The CBBC football drama Jamie Johnson introduced a gay storyline earlier this year, in which teenager Dillon comes out as gay to Elliott.
Other shows on the children's network such as 4 O'Clock Club, Dixie, and Marrying Mum and Dad have also tackled same-sex relationships. The Next Step is not the first same-sex kiss on CBBC either. It happened in 1994's Byker Grove in a scene in which Noddy Fishwick kisses his friend Gary Hendrix.
So why the big deal now?
My daughters didn't bat an eyelid when I showed them the clip of Jude and Cleo kissing. Of course, at two and four years old, they aren't exactly the target audience for the show – but CBBC aired it at 5pm. What if The Next Step had come on TV when I'd stepped out of the room?
They found it exciting, saying: "Mummy will they end up living in a castle together happily ever after?"
Is it horrifying that I showed it to them? Of course it isn't. What is the fear? That they will stray from the conventional and end up loving women, not men? Is that so bad? If they can watch Anna and Kristoff kiss in Frozen – why the hell can't they watch Jude and Cleo do the same?
I also emailed the clip to my friend's children, two girls aged nine, since it's aimed at pre-teens and young teens. They were totally accepting of it – although one of them said, "It's cool but a bit strange." Isn't this exactly why it's so important that representation is inclusive from an early age – to normalise it?
Same-sex kissing has been popping up on British TV since 1974 when Alison Steadman and Myra Frances played two female army officers in the BBC drama Girl – but unlike Brookside, it was aired post-watershed after 9pm.
The scene was considered so shocking that the 35-minute programme came with a warning. Five years later, the first screen kiss between two men appeared on BBC One's drama Coming Out in 1979, as part of their acclaimed Play for Today series.
When EastEnders aired the first homosexual kiss on the lips on a British soap opera in 1989, between Michael Cashman's Colin Russell and his partner Guido Smith (Nicholas Donovan), The Sun newspaper called it a "love scene between yuppie poofs".
Fast forward 25 years and complaints were still coming in to the writers of EastEnders when in 2014, Sam Strike's Johnny Carter and Danny Pennant (Gary Lucy) kissed.
While shows with myriad queer characters, such as The L Word, Queer as Folk, Will & Grace, Orange is the New Black, and Glee, have been ground-breaking in changing attitudes and being more inclusive, there is still a long way to go. The fact there is still stigma over same-sex love, as seen in this storm over a kiss on CBBC, is disheartening. How can we normalise gay relationships for our children if they can't see realistic depictions of them?
One of TV's first lesbian relationships was Willow (Alyson Hannigan) and Tara (Amber Benson) in Buffy the Vampire Slayer – and their first on-screen kiss in 2001's fifth season was not only emotionally charged but a milestone for LGBT+ representation. But the fact that the BBC now has to defend a beautiful moment on The Next Step, shows that unfortunately, there are still big strides to be made.
'The Next Step' is on Wednesdays at 5pm on CBBC
Join our new commenting forum
Join thought-provoking conversations, follow other Independent readers and see their replies