Comment
'I felt like my life was over.' How sex tapes turn famous women into punchlines
With Paris Hilton reflecting on the torment a leaked sex tape has caused her, and as the US looks set to make a major change to federal laws regarding 'revenge porn', Rachel Brodsky examines a problematic culture that allows women to be shamed for something that isn't their fault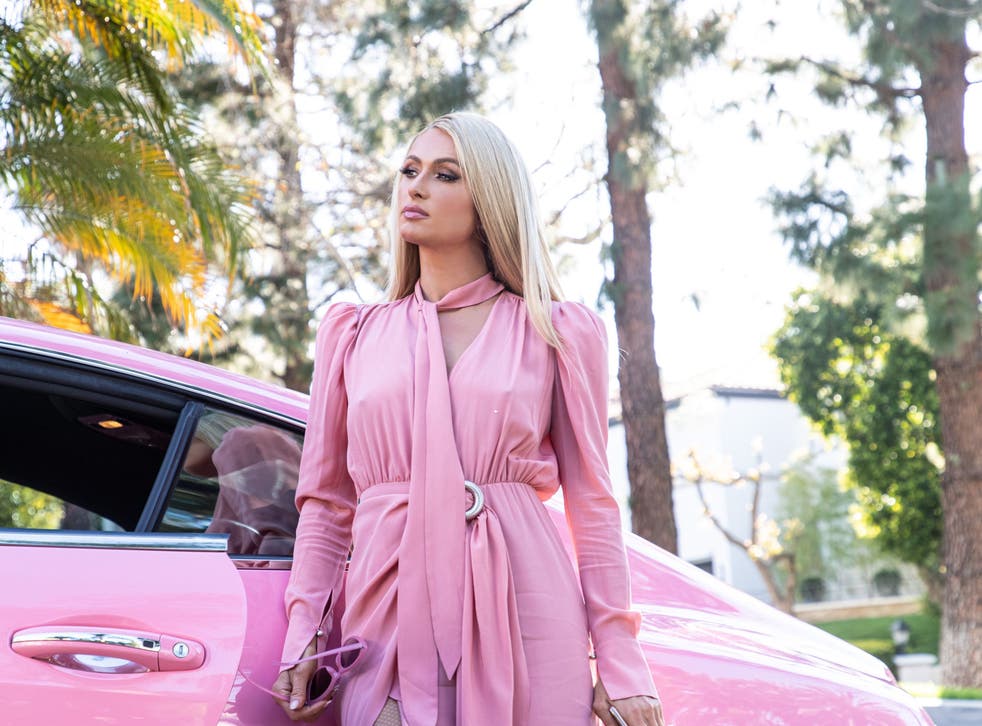 We are in the middle of a social reckoning. Catalysed in part by the docuseries Framing Britney Spears, the media and the public have spent the past few months doing a hard reassessment of the way female celebrities were treated in the 1990s and 2000s. Much like Spears, few famous women of the Y2K era were more brutalised by late-night jokes and invasive media questions than Paris Hilton. The primary reason for this? A sex tape, released without her permission in 2004 and then sold by her ex-boyfriend Rick Salomon.
Hilton, the great-granddaughter of billionaire hotel mogul Conrad Hilton, was a prominent fixture of the New York City socialite scene in the early Noughties. She had modelling contracts, a Vanity Fair spread shot by famed photographer David LaChapelle, and even earned the title "New York's leading IT Girl" from The Guardian in 2001. Two years later, however, Hilton's blossoming fame was overshadowed by a sex tape – exploitatively titled 1 Night in Paris and filmed when she was only 20 – that became available for anyone to watch to watch on pay-to-view pornographic websites.
Hilton didn't appear to suffer any financial repercussions as a result of the tape. Because Salomon released it around the same time as Hilton and Nicole Richie's just-launched reality show, The Simple Life, millions more tuned in to watch the heiress play dumb and attempt to milk cows on a rural farm and utter the then-recently coined phrase "that's hot". Movie and TV roles followed, as did a music career, a bestselling memoir, and seemingly infinite fashion and makeup product launches. So yes, Hilton wasn't banished from the public sphere, but she also wasn't taken seriously. When she hosted Saturday Night Live in 2005, Hilton did a faux interview with Jimmy Fallon, who riffed using a string of double entendres: "Is it hard to get into the Paris Hilton?" and "do they allow double occupancy at the Paris Hilton?" It's painful to watch now.
In the years since, Hilton has come to be regarded as a proto-influencer, the "famous for being famous" personality who set the stage for legions of would-be and bona fide tastemakers. Privately, however, Hilton has suffered terribly from the release of the sex tape, recently telling Vanity Fair how "humiliating" the media fallout was. "That will always be something that will hurt me for the rest of my life," she said.
"It's always there in the back of my mind," she continued. "When it happened, people were so mean about it to me. The way that I was spoken about on nightly talk shows and the media, to see things with my family was just heartbreaking. I would be in tears every single day, I didn't want to leave my house, I felt like my life was over."
Hilton, of course, is hardly the only female celebrity with a sex tape available for public consumption. Her former protégé and now queen of the influencers, Kim Kardashian, had an intimate encounter with then-boyfriend, R&B singer Ray J, leaked in 2007 and subsequently mass-marketed by Vivid Entertainment. Before, Kardashian was known predominantly as Hilton's friend and closet organiser, and as the daughter of OJ Simpson's defence attorney, Robert Kardashian. Combined with the launch of her reality series, Keeping Up With The Kardashians, the sex-tape leak catapulted Kardashian to stratospheric levels of fame. Ian Halperin's "tell-all" 2016 book The Kardashian Dynasty claimed Kim's sex tape was "a complete set up to become famous", and alleged that her mother, Kris Jenner, was behind its leak. Both Jenner and Kardashian have denied the allegations. Kardashian told OWN in 2012: "Why would anyone want to put that humiliation on their family, like that? That's something that I'm going to have to live with the rest of my life and have to explain to my children one day."
The list goes on. In 2007, nude photos of the then-18-year-old Disney star Vanessa Hudgens were leaked after her phone was hacked, around a year after she shot to fame as the lead in High School Musical. At the time, Hudgens issued an apology for the photos – as though the leak was her fault – and said she regretted taking them. With hindsight, and in the era of #MeToo, she appears to have realised what a violation it was. "It was a really traumatising thing for me," she told Cosmopolitan UK earlier this year about the experience. "It's really f****d up that people feel like they are entitled enough to share something that personal with the world."
In 2014, a mass hack casually referred to as "The Fappening" (a verbal combination of "The Happening" and "Fapping", a slang term for masturbation) threatened to expose intimate photos of a huge number of celebrities. These included Rihanna, Kate Upton, Selena Gomez, Jennifer Lawrence, Cara Delevingne, Vanessa Hudgens, Kaley Cuoco, Avril Lavigne, Mary-Kate Olsen, Amber Heard and Dave Franco. Most of the affected personalities were, of course, women. Perhaps in a sign that things were already changing since the Hudgens photos were leaked, though, Lawrence refused to apologise.
"I started to write an apology, but I don't have anything to say I'm sorry for," she told Vanity Fair that same year. "I was in a loving, healthy, great relationship for four years. It was long distance, and either your boyfriend is going to look at porn or he's going to look at you."
Access unlimited streaming of movies and TV shows with Amazon Prime Video Sign up now for a 30-day free trial
Sign up
"I can't even describe to anybody what it feels like to have my naked body shoot across the world like a news flash against my will. It just makes me feel like a piece of meat that's being passed around for a profit."
She added: "Just because I'm a public figure, just because I'm an actress, does not mean that I asked for this. It does not mean that it comes with the territory. It's my body, and it should be my choice, and the fact that it is not my choice is absolutely disgusting. I can't believe that we even live in that kind of world.
"People forget that we're human."
Then there's the godfather of all viral sex tapes. In 1995, an electrician named Rand Gauthier stole an explicit tape made by Baywatch superstar Pamela Anderson and her then-husband, Mötley Crüe drummer Tommy Lee, on their honeymoon. "It's a 54-minute home video, depicting about eight minutes of the sex Americans are most likely to sanction: white, straight, married and in love," wrote Rolling Stone in 2014. "The couple already had a reputation for carnal and pharmaceutical indulgence, but peeping on their love play offered an entirely new level of dirty, thrilling violation, as we leap-frogged PR flacks, centrefold photographers and even the paparazzi to land squarely in the most private of worlds."
For Lee, a rock'n'roll lothario whose band is known and generally celebrated for revelling in the dingiest depths of hedonism, a leaked sex tape might be inconvenient, but certainly not a PR disaster. If anything, Lee earned winking praise for the size of his manhood, while Anderson became so stressed over the legal ordeal that she started to worry about her pregnancy. "I was seven months pregnant with Dylan [Lee] and thinking it was affecting the pregnancy with the stress," she told Andy Cohen in 2020. "''I'm not going to court anymore,'" she recalled telling herself. "'I'm not being deposed anymore by these horny, weird lawyer men. I don't want to talk about my vagina anymore or my public sex – anything.'"
I'm not so naïve to think that, in a ruthless environment like Hollywood, sex tapes and nude photos can't possibly be leaked on purpose to jump-start a career. It is plausible. But more often, they're career damaging. In 2014, singer-songwriter Tulisa Contostavlos said she felt her own "fall from grace" began with the malicious release of her sex tape in 2012. "I think it was the tape where it all went wrong for me mentally," she told The Mirror. "When the tape came out I felt like I had lost control again. This isn't how I wanted to be portrayed as and afterwards going back out there, it was the thought of facing the audience, the crowd."
For female stars such as Hudgens, whose brands were initially built around a squeaky-clean image, the backlash can be even more vicious. Can you imagine how much people wouldn't care if nude photos came out of, say, the Jonas Brothers, even in 2007? And that's without even beginning to touch on the psychological impact of such an ordeal. Being in the knowledge that thousands, if not tens of thousands, of people were examining your body. Judging you for it.
When famous men's bodies are exposed, fans chuckle, occasionally applaud, and move on. When a leaked tape of A$AP Rocky showed up on PornHub in 2019, the rapper was able to make a joke out of the situation by posing as his genitals' defence attorney. When paparazzi photos leaked of Orlando Bloom paddle-boarding in the buff with Katy Perry (who was dressed), the actor's name began to trend on Twitter. But the social-media commentary around those images were good-natured: primarily googly-eyed gifs of TV characters doing double-takes. Howard Stern later asked Bloom if he had a name for his penis. Can you imagine how different the media reaction would have been if Perry was the naked one? And she almost could have been, had Bloom convinced her to strip down, too. (The couple later said that they had been in Italy, where everyone was naked.) "He tried to get me there, and I was like, 'Nah,'" she told Stern in a separate interview. "In the back of my mind – I am Jim Carrey in The Truman Show a little bit – I feel like, 'You know, maybe there would be a chance [of paparazzi being there].'"
Chris Evans, too, one of the most bankable stars in Hollywood, was able to laugh off the moment he accidentally leaked an explicit photo from his Instagram page. People even praised him for handling the situation with such good humour. Would this have been the case had a female celebrity done the same?
Things are changing, albeit slowly. As of February, 46 states and Washington DC have passed laws prohibiting the distribution or production of non-consensual pornography. And just last week, Verge reported that a new measure that would ban knowingly or recklessly distributing "intimate visual depictions" of non-consenting subjects was added as an amendment to the Violence Against Women Act. If it is signed into US federal law, it would mean offenders could face up to two years in prison for each person whose images they distribute. It's a (potentially) promising step in curbing the sexual exploitation of women. For now, though, the reckoning goes on.
Register for free to continue reading
Registration is a free and easy way to support our truly independent journalism
By registering, you will also enjoy limited access to Premium articles, exclusive newsletters, commenting, and virtual events with our leading journalists
Already have an account? sign in
Register for free to continue reading
Registration is a free and easy way to support our truly independent journalism
By registering, you will also enjoy limited access to Premium articles, exclusive newsletters, commenting, and virtual events with our leading journalists
Already have an account? sign in
Join our new commenting forum
Join thought-provoking conversations, follow other Independent readers and see their replies