Police, camera, action: After playing the brilliantly awful Alan Johnson in 'Peep Show', Paterson Joseph has joined the Met Police
Joseph will star in Channel 4's big winter tent-pole drama Babylon as Deputy Commissioner Charles Inglis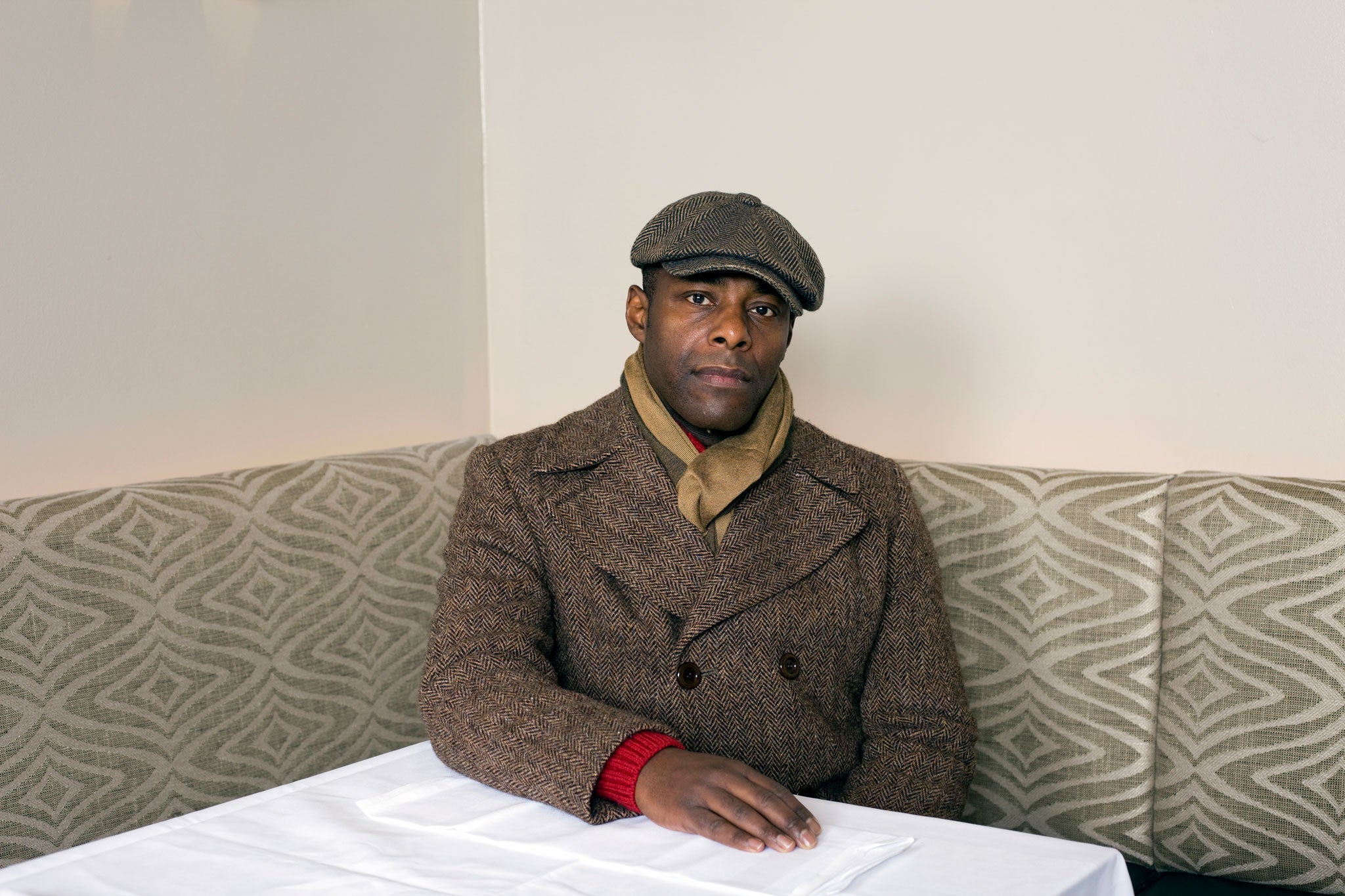 About halfway through my conversation with Paterson Joseph, Channel 4's press officer bids us farewell. "Finally!" he says in a deliberately too-loud voice, as she winds through the tables. "Now we can really talk." He waits a beat. "I'm joking!" he calls after her. "Ooh, she's hovering." Paterson Joseph is very charming.
We're in a restaurant in west London to talk about his role in Channel 4's big winter tent-pole drama – with a script by the ever-prolific Sam Bain and Jesse Armstrong, directed by Danny Boyle and starring a plethora of British talent – Babylon. "Can I just point out that I think it should be pronounced" – he affects a Jamaican patois accent – "Baby-laan". He smiles. "Because that's where Sam and Jesse have nicked it from." (At the programme's first screening at Bafta the following week, the writers confirm this is the case, also noting its biblical connotations of confusion and disarray.) He puts on another accent, plummy BBC historian this time. "Well, the term really refers to the way young black people would refer to the police, particularly in the 1970s and Eighties." A pause. "I think they call them the Five-0 now."
Babylon tracks the course of a single day in the life of London's Metropolitan Police, from the officers on the street all the way up the food chain to the commissioner's office overlooking Whitehall, all tied together via the arrival of a new PR wunderkind (Brit Marling) from America, brought in to modernise the way the Met interacts with its public. It opens with a feature-length episode; a subsequent full series is expected to go into production in spring.
Joseph's role is somewhere close to the top, playing Deputy Commissioner Charles Inglis to James Nesbitt's Commissioner Miller. "Babylon's about two major things, I suppose," he says, sipping water. "One is how the police service, at the very upper echelons and those on the streets, deal with a city like London, which is just a melting pot of all sorts of people, some criminal, some not. When things kick off, what happens? How do they, as human beings, deal with it? The other thing is our media culture and how it has infiltrated every single decision-making body in this country." How so? "Nobody wants to make any mistakes. Nobody wants a bone to fall out of their mouth and say something stupid," he continues. "And so we end up with nonsense-speak. People speaking in order to obfuscate the truth." He pauses a little self-consciously. "I did actually use that word. You can change it to a word that doesn't make me sound like such a dictionary..." It's a good word, I reassure him. He nods. "It's very specific, isn't it? It is what they're having to do. Not giving away your responsibility, not letting people know that you are responsible for decisions that go wrong." But, he smiles wryly now, "also trying to find a way so that if things do go right, you can take the credit for it."
He found himself having some sympathy for the people in the institution, but acknowledges that his experience of the Met is probably going to be different to many others. "I think I am not qualified to talk about what the average Brit who looks like me – not white – and whose parents are immigrants, feel about the police now," he says, refreshingly honestly. "I know what I thought back then. But I don't live in that world any more: I live in France, I'm an actor, I've got 'special status' in inverted commas because of my position. I don't, and I wouldn't, get treated like any other black man in this country." He refers to 'stop and search' and the hierarchies of experience when it comes to the police. "It will always be different for people who are considered to be not working class in this country. I think the middle classes have a very different idea of what and who the police are."
His Babylon character is walking the tightrope of being effective while protecting his neck. "There's something slightly humourless about him," Joseph says, "and when his humour does come out, it's rather bitter." He has an idea of his backstory: "He's ambitious, he didn't come into the service to be a grunt, you know? He came in so he can sit at the top table and get things done. Now this is up to Sam and Jesse, but how much integrity there's left in him by the time he reaches this position, I don't know."
Paterson Joseph has been on British stages and screens since the late 1980s. Born and raised in north-west London, a child of immigrants, he joined a youth theatre group as a teenager, which is where he discovered Shakespeare. It changed his life. Since then, he's gone on to work on acclaimed productions of the Bard's works, from Julius Caesar (in 2012, he turned in a well-received Brutus in an RSC production set in Africa) to the Duke of York in the BBC's adaptation of the Henriad tetralogy, The Hollow Crown. In 2005, he won plaudits across the board for his portrayal of Eugene O'Neill's titular Emperor Jones.
But there's been a lot of telly alongside his theatre work, and few more arresting than the role of Alan Johnson in Peep Show. Does he get many people coming up to him and saying "turkey-fucker"? He splutters. "No, people do not come up to me and say that!" He acknowledges it's been a pleasure and surprise to find how much people like the character. "He's a big personality. I do one, two scenes in a series, and I think it's a less-is-more thing or else we'd have enough of him. He usually has something awful to say, or do, and I think people sort of look forward to that," he says. Does he have any favourite Johnson lines? "There's one particular scene, after doing the 'Do you think the guys who invented Google sat around watching Trumpton?' line. He goes in and he says," – here Joseph transforms into the weird, oily thing that makes Johnson who he is – "'I want to make you an indecent proposal. Every man has a price and I gauge yours to be... £530'. And that scene just has me crying." He giggles. "He's a really awful person."
Joseph has something of a long-term relationship with Bain and Armstrong thanks to Peep Show. The sitcom's ninth series, showing later this year, will also be its last. Did Babylon feel like stepping into another of their distinct worlds? Yes and no, says Joseph. "It's a bit like Shakespeare. You think you know what he does, and then you read a play and think, 'I can see why there's a conspiracy theory that it might have been written by some other guy'. You know, A Midsummer Night's Dream is lyrical, fun slapstick and The Merchant of Venice is awful, dark, very painful and religiously intolerant."
Access unlimited streaming of movies and TV shows with Amazon Prime Video
Sign up now for a 30-day free trial
Sign up
Access unlimited streaming of movies and TV shows with Amazon Prime Video
Sign up now for a 30-day free trial
Sign up
Which camp does Babylon fall into? "I get this script and it's Sam and Jesse, so I pick it up and open it and I'm like, 'Where's the Johnson-esque snidey lines?' This could be misconstrued, this work, as a drama." He laughs. "It's very subtle. It's not on the nose like Peep Show can be. But somehow it inhabits the slightly skewed and under-the-table 'I can see everything' world that Peep Show does. You don't cringe in the same way, but there's something in you that slightly clenches with Babylon." He grasps > for the right words. "Sam and Jesse have written another new kind of comedy. I want to call it satire but it's not quite that, and it's not the sort of embarrassing drama that's the comedy of The Office. They've written a perfect hybrid, I think." As for director Danny Boyle, he and Joseph go way back: "I've worked out he's the director I've worked with the most," he says. "He has not changed one iota, he even looks the same and we first worked at the RSC 25 years ago."
Johnson may be his best-known television role, but there was a time when many believed the role of the eleventh Doctor could be his. What was that experience – of being linked with Doctor Who, and then not getting it – like? "I think the god of acting is kind to me," he says after a thoughtful silence. "I was in South Africa at the time, and I think if I'd been in England I probably would have suffered some sort of trauma." He laughs. "But I'll be very honest with you. I was overjoyed. Not that I thought I had been considered, because I hadn't been – they hadn't approached my agent at that point – but I was overjoyed. I thought, 'How interesting that nobody says how ridiculous this is'."
He flew back home to audition. "But then I came back and I think I pretty much knew that I hadn't got it [the part went to Matt Smith], and weirdly wasn't disappointed." In the end, he says the actor's mortal fear of being typecast or pinned down meant he didn't lament it too long. "I walk down the street and no one knows me, but if I were the Doctor, that would certainly be the case [that people would know him]. Even in France where I live, it would still be the case." There was a bonus silver lining to the whole episode: a noticeable lack of dissent based on his skin colour. "I'm not a great one for looking at blogs but I did catch some threads," he says. "There was no backlash as far as I could see. And so I was really gratified. That's enlightened." He drinks from his glass again. "It's an accolade. Years later, I'm still being asked that question and I'm not embarrassed by it," he says. "It tickles me pink because I didn't even have to do the job and yet I got a bit of kudos!"
In recent weeks, the Culture Minister, Ed Vaizey, chaired talks between arts organisations from the National Theatre to the BBC regarding the flight to Hollywood of black and minority ethnic actors from Britain. Last summer, Joseph wrote a Guardian column addressing this very issue – "...if Chiwetel [Ejiofor], Sophie Okonedo and Idris Elba had to leave these shores to make their name," he wrote, "then surely something must not be right about the UK's distribution of roles."
We meet on the day the Oscar nominations are announced; his face lights up when I tell him that both Ejiofor and Steve McQueen have been nominated for 12 Years a Slave. "I think that Steve and Chiwetel are the answers to my prayers," he says. "I don't know either of them – I've met Chiwetel once or twice– but both of them have done what I want and desire for every black practitioner to do: they've come back." He mentions Ejiofor's recent turn in A Season in the Congo at London's Young Vic, and the rumour of McQueen developing a series about the black experience in Britain. "I want to be in all of these things, by the way, Steve," he deadpans.
He is passionate about British theatre being an excellent training ground, and understands market forces being what they are. "I don't have anything against someone going to the biggest market in the world for the job that we do. What I don't want there to be is talent drain, particularly among excellent black practitioners, because other, younger practitioners have no one to look to," he says. "Why are British actors revered in America? Because it's a place of excellence. This is where we are trained to be excellent. There's a richness here."
Our time together over, he pops on his tweed cap and coat. On the way out, a middle-aged woman stops him. "Excuse me," she says. "At the risk of sounding ridiculous, I loved your Othello." He thanks her warmly. As we walk away, he says, "I hated to burst her bubble – it probably wasn't me". I bet it was, though. He's just being charming again.
'Babylon' is on Channel 4, tomorrow at 9pm
CV
Education
Cardinal Hinsley RC High School, London.
Studio '68 of Theatre Arts, London.
London Academy of Music and Dramatic Art (LAMDA)
TV
Law & Order: UK (2013-14); Survivors (2008-2010); Doctor Who (2005); Green Wing (2004-6); Peep Show (2003)
Films
The Other Man (2008); Æon Flux (2005); The Beach (2000)
Theatre
Othello, Henry IV, King Lear, Hamlet. Brutus in an African-set RSC performance of Julius Caesar
Alan Johnson: TV's strangest boss
"Women. I mean, does a balance sheet ever come crying and saying that it needs some time to think about things? A business doesn't say it loves you then run off with a buddy."
"What this department needs is a kick up the arse so hard, my foot'll go right up your digestive tract and wiggle out your mouth like a little leather tongue."
"So Mr Corrigan, we've examined your loan application and I just have one question for you. Are you a pathetic, worthless punk?"
Join our commenting forum
Join thought-provoking conversations, follow other Independent readers and see their replies